'Christmas In July' Chronic Illness Card Swap Aims To Bring Joy
Those who suffer from chronic illness often live a life of isolation, and for many, that feeling has only been amplified during this time of global pandemic. To help foster social connections during this challenging era, the Chronic Warrior Collective is hosting a joyful, public card swap to bring light to the lives of spoonies worldwide.
Spoonie is a term that defines those with chronic illnesses. It all comes from a way to explain chronic fatigue and other symptoms. In the analogy, spoons represent energy reserves and show chronically ill people losing the ability to complete normal tasks due to a lack of energy. You can read more the story that sparked "spoon theory" here.
The chronic illness community announced the first annual Christmas In July holiday card swap this month and expects participants around the world to send a physical or digital card to a stranger with a chronic illness. Not only is it a way to brighten a chronic illness fighter's day, but it opens the door for global friendships with people who understand the unique struggles of living with a chronic condition.
Denise Archilla, the founder of Chronic Warrior Collective, explained the concept behind the Christmas In July event.
"Christmas in July events, though very American, have such fun appeal and have been picked up in other countries," she told Newsweek. "We thought it would be fun for the warriors in the southern hemisphere to get to have a Winter 'Christmas' celebration! We realize that not everyone celebrates Christmas which is why the official name is Christmas in July Holiday Card Swap so that everyone would feel welcomed and realize that any card goes."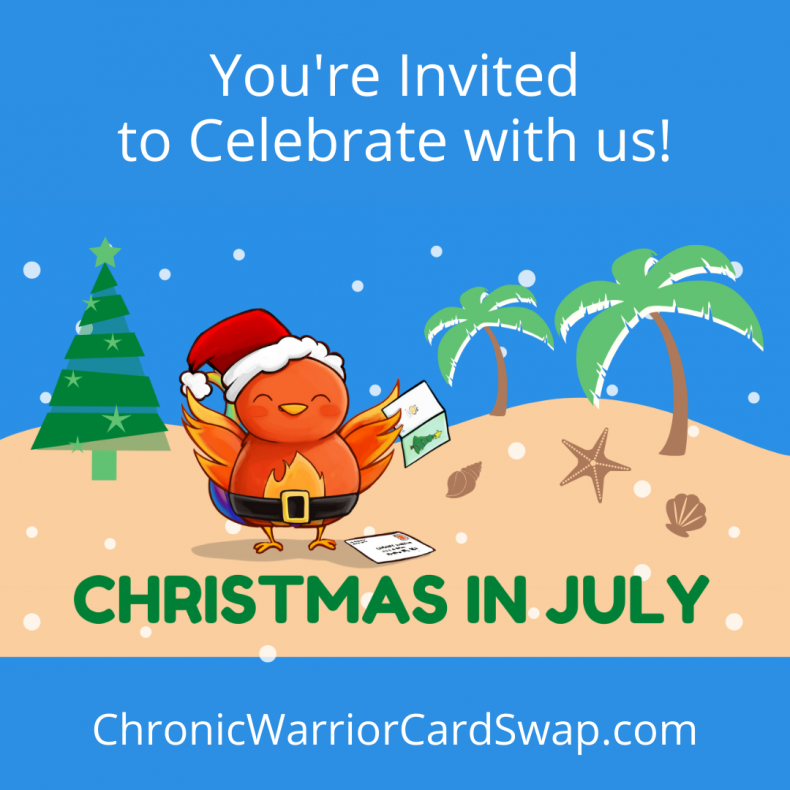 This isn't the first card swap promoted by the collective, but it is the first winter-in-summer themed event. Each month, the group hosts a card swap that's free to the public. Through this, numerous friendships have been born, and some have even met up in person.
"We have warriors around the world that regularly Skype. We have some that have met in person, even traveling to another country or meeting at Disney World," Archilla said. "We have those that message often and those that have been ongoing penpals for years. Many would tell you that this is where they've met their closest and even best friends."
So how can you participate in the card swap? Those who are interested in sending and receiving a card from a new friend can follow this link to the sign-up. Users will be required to add their address or select "digital card" to send and receive E-greetings. This new option was inspired by mail restrictions in some countries post-Coronavirus.
The deadline to sign up is July 1, and those participating are asked to send their card by July 10 to keep the cheer on schedule. A person who sends a card will match with two people: who they send a card to and who they receive one from.
Chronic Warrior Collective also has an "Extra Card Crew" who step in when a chronic illness warrior is unable to send their card, for any reason.
There are plenty of other ways to get involved with the Chronic Warrior Collective, too. The collective hosts a subscription-based digital platform that connects young adults and teens with chronic conditions.
It all started when Archilla and Dawn Veselka realized there was no community online for teens with illnesses. Instead of a wholesome, kind place for sharing, illness on Instagram and other apps seemed to become a competition or judgment-filled zone.
"As I researched, I couldn't find any resource that supported this age group that wasn't illness-specific," said Archilla. "It was important to me that these teens and young adults interact across a wide range of illness groups in order to better understand and support each other."
From the card swap to the online platform, lasting bonds have shown the pair how inspirational it can be to have a community that understands each other. "Each and every story and each and every connection made is why we do what we do. We hear over and over again that a card showed up exactly when the person needed it most or how wonderful it feels to share a little sunshine with someone else," Archilla said.
You can visit the Chronic Warrior Collective website here.