Christmas 2020: The Best Holiday Movies Streaming on Netflix
Christmas movies are an essential part of getting ready for the festive season, but trying to find the right ones to watch among the hundreds of identical-looking posters of people in the snow in winter gear can be tricky. Luckily, Newsweek is here to separate the tinsel-covered trash from the fantastic festive offerings streaming now on Netflix.
Though Netflix's catalog of Christmas classics has been diminished by the launches of dozens of other streaming services, the streamer still has come great movies to get you in the holiday spirit, including all-time classics and newer movies that should be added to your yearly repertoire.
The Best Christmas Movies Streaming on Netflix in 2020
Black Mirror: White Christmas
Those who feel either trapped to spend a Christmas eternity with the relatives or trapped at home get ready for a COVID Christmas will likely sympathise with the protagonists of this feature-length Black Mirror Christmas special, which sees Jon Hamm as a character to whom the song "I Wish It Could Be Christmas Every Day" seems to have become real.
Carol
Those who like their Christmas movies wistful, lush and melancholy should head straight to Carol, the lesbian love story about a wealthy wife and a department store worker (played by Cate Blanchett and Rooney Mara) in impeccable form who find love in the hopeless place that was mid-20th century America.
Christmas at Pee Wee's Playhouse
Christmas really isn't Christmas until you see Grace Jones pop out of a giant box in a plastic bustier, avant garde hat and fur coat singing "Little Drummer Boy", or Charo singing "Feliz Navidad."
The Christmas Chronicles
Netflix has developed its own line of Christmas-themed originals that run the gamut from lightly cheesy to full cave-aged mature cheddar. The Christmas Chronicles is somewhere in the middle, but does have the genuinely inspired casting of Kurt Russell and Goldie Hawn as Mr. and Mrs. Claus.
Get Santa
Every few years, someone tries to do a festive take on a new genre. British comedy Get Santa does exactly this with the prison movie, leading to Santa (a perfectly cast Jim Broadbent) getting "banged up" as the Brits call it, leading to plenty of enjoyable lowest common denominator shenanigans featuring prison breaks and farting reindeer.
How the Grinch Stole Christmas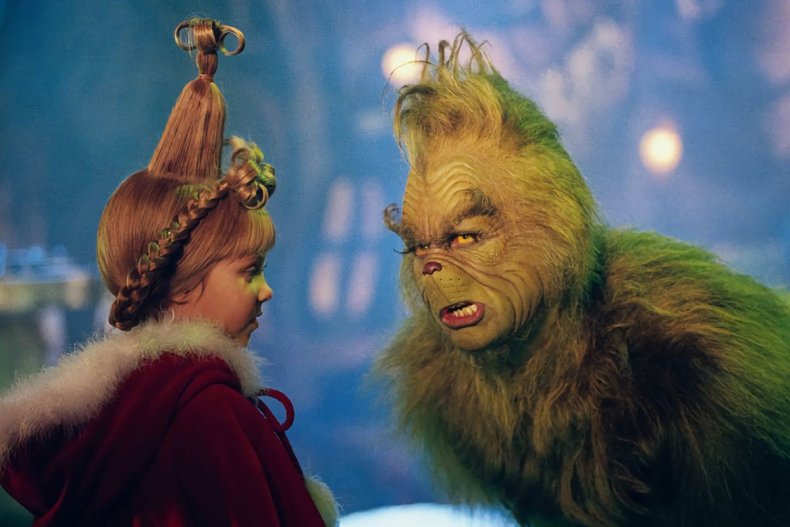 Netflix has both the Jim Carrey How the Grinch Stole Christmas and the newer animated Benedict Cumberbatch take, but the former is the better film, with the prosthetics of Carrey giving the movie a suitably creepy air perfect for Dr. Seuss that the slickly animated later version lacks.
Klaus
Though only released last year, Klaus has become a Christmas cult classic, with many viewers spellbound by its stunning visuals and fresh new take on the Father Christmas origin story. It also became the first Netflix animation nominated for an Oscar.
Let It Snow
Festive Netflix originals like The Christmas Switch and The Knight Before Christmas got the headlines, but if you want festive movies without terrible British accents and time-travel nonsense, try out Let It Snow, a gentle and cuddly Christmas romance story led by the charming Kiernan Shipka.
White Christmas
Though the song "White Christmas" (officially the biggest selling Christmas song of all time) actually featured first in the movie Holiday Inn, that movie's pretty egregious blackface makes it a difficult watch in 2020. Though White Christmas has some problematic elements in common with many movies of its time (a massive age gap in its central romance, a song about how much the protagonists love minstrel shows), it does endure as a holiday classic.
A Very Murray Christmas
The collaborations between Bill Murray and director Sofia Coppolla, like Lost in Translation and the recent On the Rocks, have always been charming, so it is no surprise that this old-style variety special is such a delight, with an all-star cast featuring everyone from Chris Rock to George Clooney.