Christmas Movies You Can Watch on Hallmark, Freeform, Lifetime Through December 25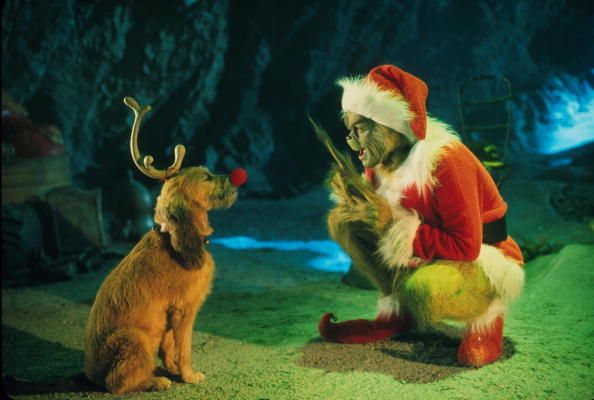 If you wanted to do nothing but watch Christmas movies from this very moment through the end of Christmas Day, you could. At most times of the day or night, you would even have to choose between a number of channels playing holiday titles. The long list of movies includes some quality classics and a whole slew of made-for-TV movies that can do the trick in a pinch.
Here are all the Christmas movies you can watch on Hallmark, Freeform and Lifetime starting at 6 a.m. on Saturday and continuing on through the final minutes of Christmas Day. Check your local listings for the most accurate and up-to-date information.
Saturday, December 23
6 a.m. — A Christmas Melody (Hallmark)
7 a.m. — National Lampoon's Christmas Vacation (Freeform)
8 a.m. — I'm Not Ready for Christmas (Hallmark)
9:10 a.m. — Four Christmases (Freeform)
10 a.m. — Let it Snow (Hallmark)
11 a.m. — A Perfect Christmas List (Lifetime)
11:15 a.m. — The Nightmare Before Christmas (Freeform)
12 p.m. — The Mistletoe Promise (Hallmark)
12:50 p.m. — Elf (Freeform)
1 p.m. — Becoming Santa (Lifetime)
2 p.m. — Love You Like Christmas (Hallmark)
2:30 p.m. — Dear Secret Santa (Lifetime)
3 p.m. — The Santa Clause (Freeform)
4 p.m. — Christmas Connection (Hallmark)
4 p.m. — Last Chance for Christmas (Lifetime)
5:05 p.m. — The Santa Clause 3: The Escape Clause (Freeform)
6 p.m. — Christmas Next Door (Hallmark)
6 p.m. — Dear Santa (Lifetime)
7:10 p.m. — National Lampoon's Christmas Vacation (Freeform)
8 p.m. — Christmas Getaway (Hallmark)
8 p.m. — The Holiday (Lifetime)
9:20 p.m. — Dr. Seuss' How the Grinch Stole Christmas (Freeform)
10 p.m. — A Royal Christmas (Hallmark)
Sunday, December 24
12 a.m. — A Wish for Christmas (Hallmark)
12 a.m. — Disney's A Christmas Carol (Freeform)
12:01 a.m. — The Holiday (Lifetime)
2 a.m. — Matchmaker Santa (Hallmark)
4 a.m. — Christmas at Cartwright's (Hallmark)
6 a.m. — A Cookie Cutter Christmas (Hallmark)
7 a.m. — Dennis the Menace Christmas (Freeform)
8 a.m. — Christmas List (Hallmark)
9:05 a.m. — Richie Rich's Christmas Wish (Freeform)
10 a.m. — Sharing Christmas (Hallmark)
11:05 a.m. — Santa Claus is Comin' to Town (Freeform)
12 p.m. — Christmas Cookies (Hallmark)
12 p.m. — My Christmas Prince (Lifetime)
12:10 p.m. — Disney's A Christmas Carol (Freeform)
2 p.m. — Christmas Getaway (Hallmark)
2:03 p.m. — Love at the Christmas Table (Lifetime)
2:15 p.m. — The Polar Express (Freeform)
4 p.m. — My Christmas Dream (Hallmark)
4:01 p.m. — On Strike for Christmas (Lifetime)
4:25 p.m. — National Lampoon's Christmas Vacation (Freeform)
6 p.m. — A December Bride (Hallmark)
6 p.m. — All About Christmas Eve (Lifetime)
6:35 p.m. — Dr. Seuss' How the Grinch Stole Christmas (Freeform)
8 p.m. — Switched for Christmas (Hallmark)
8 p.m. — The Holiday (Lifetime)
9:15 p.m. — Elf (Freeform)
9:30 p.m. — Finding Santa (Hallmark)
11 p.m. — Christmas at Holly Lodge (Hallmark)
11:02 p.m. — The Christmas Trap (Lifetime)
11:17 p.m. — Delivering Christmas (Lifetime)
11:25 p.m. — The Santa Clause (Freeform)
11:32 p.m. — A Family for the Holidays (Lifetime)
11:47 p.m. — My Christmas Grandpa (Lifetime)
Monday, December 25
12:01 a.m. — The Holiday (Lifetime)
12:30 a.m. — The Christmas Cottage (Hallmark)
1:30 a.m. — Twas the Night Before Christmas (Freeform)
2 a.m. — Miss Christmas (Hallmark)
3:03 a.m. — The Christmas Trap (Lifetime)
3:18 a.m. — Delivering Christmas (Lifetime)
3:30 a.m. — Marry Me at Christmas (Hallmark)
3:33 a.m. — A Family for the Holidays (Lifetime)
3:48 a.m. — My Christmas Grandpa (Lifetime)
5 a.m. — The Mistletoe Inn (Hallmark)
6:30 a.m. — Christmas Connection (Hallmark)
7 a.m. — Frosty's Winter Wonderland (Freeform)
7:30 a.m. — Disney Prep & Landing (Freeform)
8 a.m. — A Gift to Remember (Hallmark)
8 a.m. — A Very Merry Toy Store (Lifetime)
8 a.m. — Prep & Landing: Naughty vs. Nice (Freeform)
8:30 a.m. — Santa Claus is Comin' to Town (Freeform)
9:30 a.m. — Christmas Getaway (Hallmark)
10:05 a.m. — A Nanny for Christmas (Lifetime)
11 a.m. — The Sweetest Christmas (Hallmark)
11 a.m. — The Nightmare Before Christmas (Freeform)
12:03 p.m. — Wrapped Up in Christmas (Lifetime)
12:30 p.m. — The Christmas Train (Hallmark)
12:35 p.m. — The Polar Express (Freeform)
2 p.m. — Christmas in Evergreen (Hallmark)
2:01 p.m. — The Flight Before Christmas (Lifetime)
2:35 p.m. — National Lampoon's Christmas Vacation (Freeform)
3:30 p.m. — With Love, Christmas (Hallmark)
4 p.m. — Snowed-Inn Christmas (Lifetime)
4:45 p.m. — The Santa Clause (Freeform)
5 p.m. — Christmas Next Door (Hallmark)
6 p.m. — A Gift Wrapped Christmas (Lifetime)
6:30 p.m. — Coming Home for Christmas (Hallmark)
6:45 p.m. — Elf (Freeform)
8 p.m. — When Calls the Heart (Hallmark)
8 p.m. — The Holiday (Lifetime)
8:50 p.m. — National Lampoon's Christmas Vacation (Freeform)
9:30 p.m. — A Dream of Christmas (Hallmark)
11:02 p.m. — My Christmas Grandpa (Lifetime)
11:17 p.m. — The Ugly Christmas Sweater (Lifetime)
11:30 p.m. — Sleigh Bells Ring (Hallmark)
11:32 p.m. — The Christmas Trap (Lifetime)
11:47 p.m. — Delivering Christmas (Lifetime)