Man Who Grew Up Muslim Goes Viral for Detailing His First Experience With Christmas
What does Christmas look like to people who don't typically celebrate the holiday? A lot of work, according to one man who, in a Twitter thread on Saturday, reflected on his first experience with Christmas.
In a lengthy thread that's gone viral, social media user Mohammad Hussain shared his key takeaways from celebrating Christmas for the first time. Hussain grew up Muslim, so Christmas trees, decorative ornaments, lights and lavish holiday brunches and dinners weren't a common part of his family's life on December 25. But with the coronavirus pandemic keeping him from visiting his family, Hussain tweeted that he plans to spend the day at his own home observing Christmas—a move he's pulling off with the help of his roommates.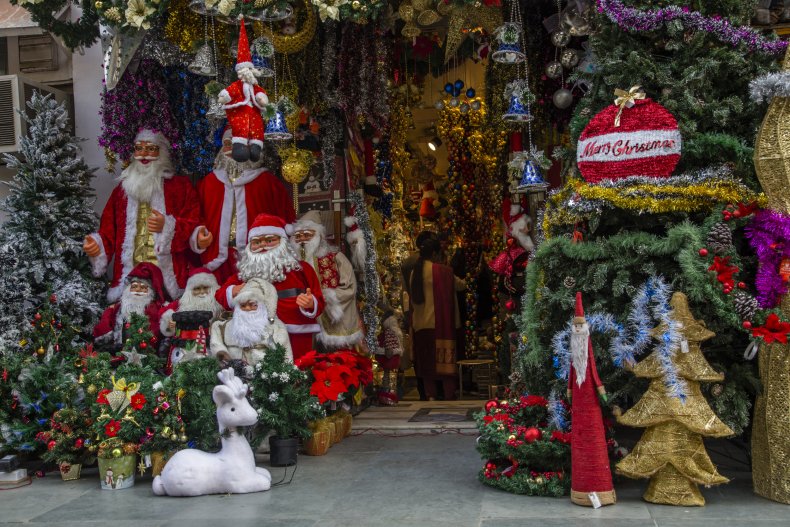 Hussain noted some aspects of Christmas that have really resonated with people who have observed the holiday year after year. His biggest conclusion is that Christmas is pretty demanding.
"Observation 1: Christmas is a part time job that you have from mid-November to the end of December. From the outside looking in, Christmas always seemed pretty simple. I always thought you put up a tree and then gave gifts to family. This is a lie," Hussain tweeted. "Do you want to sleep in on a Saturday? Too bad. Go put up some lights inside the house. Oh you want to sleep in on Sunday? Too bad. Go put up some lights outside the house. Next weekend? Nope. Every free moment you have will be spent agonizing over the gifts you must buy."
Hussain also shared that he now knows that people have their own individual Christmas traditions—and that folks tend to hold them pretty sacred. "Observation 2: People have very strong feelings about their Christmas traditions," he wrote.
He added: "If someone is insisting that *certain food* is what you have to eat Christmas morning, because that's their family tradition, DO NOT SUGGEST ALTERNATIVES. They will stab you in the neck."
Other things Hussain has learned about Christmas? That recognizing the religious elements of Christmas is "optional." He also realized that he can buy himself presents, but he shouldn't stuff his own stockings, and that no matter what the price of a Christmas gift is, it will "always be $10 too expensive."
Speaking of pricy, Hussain got a first-hand lesson on the cost of ornaments.
"Observation 5: There are two streams of Christmas ornaments. The 'fillers' and the 'keepers,'" he wrote. "The fillers are the generic ones. The keepers are meant to be more special and unique. This second stream is stored in your family's reliquary to be one day passed on to the children."
He continued: "Observation 6: ORNAMENTS ARE EXPENSIVE. That cost me $15.99. That's more than three everything bagels. I am furious. For what it cost, you best believe that I am insisting that it be passed on to my great grandchildren. If they break it I will haunt them," he tweeted.
Despite all the money and time it's taken to celebrate Christmas, Hussain wrote that overall he was "having a very pleasant time" tackling the holiday for the first time, and has since discovered a newfound joy for Christmas music and a new disdain for peppermint. "To wrap things up I want to applaud longtime Christmas celebrators. This is a lot of work and very tiring," he wrote.
The thread, which has gained thousands of likes and retweets on Twitter, struck a chord with many people who know all too well the stresses that come with putting together the perfect Christmas.
But there was just one thing Hussain forgot to mention, though: the importance of holiday-themed wrapping paper!