'A Christmas Prince 3' Recap: What Happened in the First Two Movies?
The reign of A Christmas Prince's King Richard (played by Ben Lamb) and Queen Amber (Rose McIver) has weirdly paralleled that of the real Prince Harry and Meghan Markle, who got married a few months before A Christmas Prince: The Royal Wedding and had Prince Archie a few months before A Christmas Prince: The Royal Baby, coming to Netflix on December 5.
However, Harry and Meghan are lucky to not have suffered some of the obstacles that Richard and Amber have faced, which include an evil younger prince, a secret adoption, a massive financial scandal in the fictional kingdom of Aldovia and, if the Christmas Prince 3 trailer is to be believed, a centuries-old curse that will affect their first-born child. Not even The Crown can offer that.
At the start of the franchise, however, Queen Amber was just regular Amber Moore, a magazine journalist sent to Aldovia to cover a press conference given by Prince Richard, who was rumored to be abdicating his impending ascent to the throne to allow him to return to his playboy ways.
However, when Richard does not show at the conference, Amber decides to sneak around. Soon, she finds herself going undercover (violating some major journalistic ethics along the way) after she is confused for the American tutor to Richard's sister Emily (Honor Kneafsey).
Taking on this job, she meets the rest of the royal family, including Richard's scheming cousin Simon (Theo Devaney), who is desperate for the throne, and Richard himself, who she learns stole a cab from her at the airport. The more she gets to know Richard, the more she realises that he is less a playboy prince and more of a Prince Charming.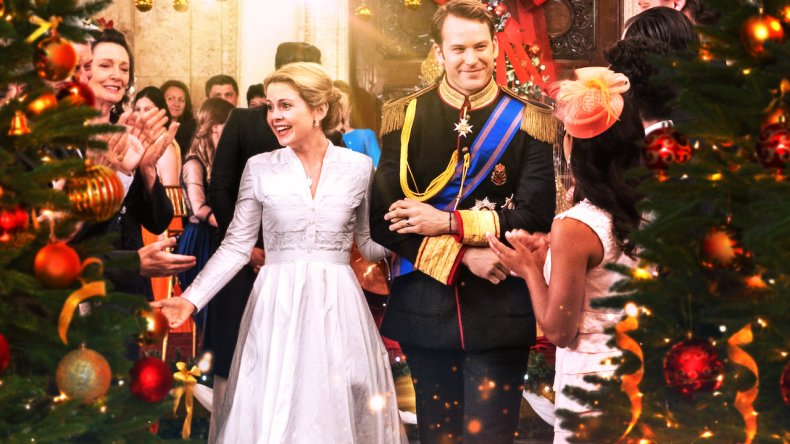 She agrees with Emily to write a piece exposing that the prince is actually a nice person after the young girl discovers Amber's true identity. As she gets to know Richard, Amber meets all the common obstacles familiar to anyone who has ever fallen in love⁠—she falls off a horse, nearly gets eaten by a wolf, discovers a cryptic poem and sparks a potential constitutional crisis after she discovers that Richard is adopted.
Simon and Richard's conniving ex Sophia (Emma Louise Sanders) discover Richard's secret and Amber's true identity, which they reveal at a Christmas Eve ball. However, Amber's journalistic skills, as well as unethical subterfuge, include working out cryptic poems, so she discovers that Richard's father had always intended for his adopted son to take the throne, so Simon's scheme to become the next king is stopped.
Back in the U.S., Amber loses her job at the magazine due to writing a "puff piece." Luckily, she is saved from the nightmares of trying to go freelance by Richard reappearing in her life and proposing.
Flash-forward to the second film, A Christmas Prince: The Royal Wedding, and Amber is ready to become queen of Aldovia. However, her busy royal schedule still allows her to blog about her royal life. On her blog, Amber starts to report the problems she and Richard are having as he becomes consumed with royal duties and she fights with the royal wedding planners.
Amber unearths a major financial scandal at the heart of Aldovia, as one of her wedding planners Leopold (Simon Dutton) is using his company the Glockenspiel Consortium (silly names are part of the fun of A Christmas Prince) to bid on projects and then take the money out of the country. Leopold is caught and thrown in the dungeon and Amber finally gets the wedding she wants.
Our third film takes us to the following Christmas, with a now-pregnant Amber part of the process to re-sign a treaty with the kingdom of Penglia (again, silly names are to be expected) which, if it is not signed on Christmas Eve, may unleash a curse on her unborn child. Just another day in the life of Aldovia's royal couple.
A Christmas Prince: The Royal Baby is released on December 5 on Netflix.