Christmas in Space: At the International Space Station, Astronauts Got Floating Gifts and 'Star Wars: The Last Jedi'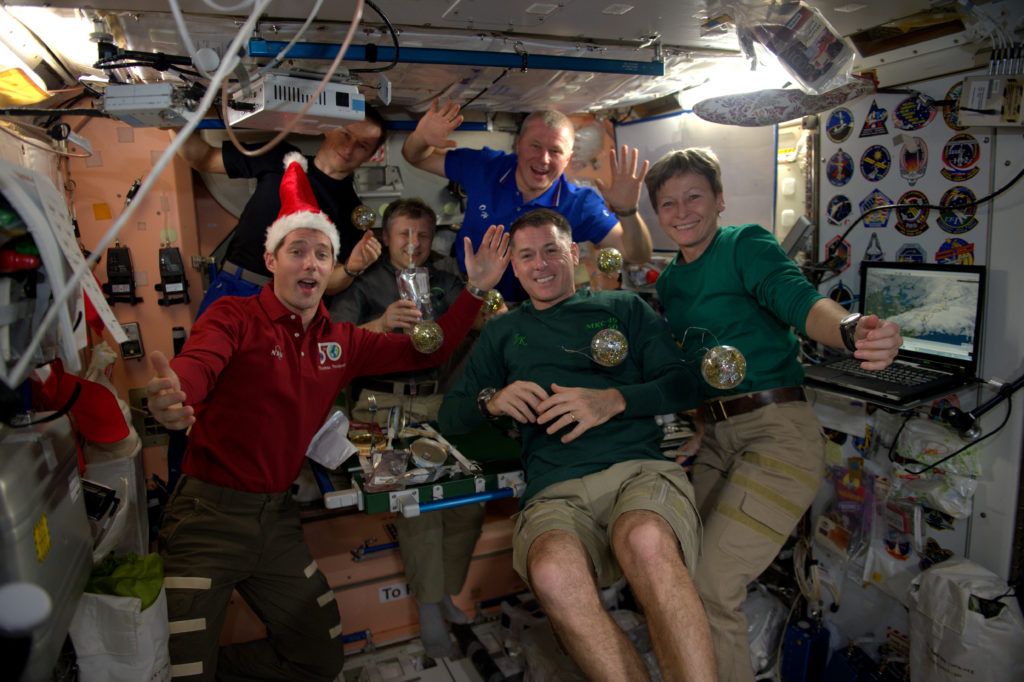 Updated | The NASA astronauts on the International Space Station get Christmas Day off to talk to their families and open the gifts that are under (or over, or next to, depending on how things are floating around) their tree. NASA astronauts normally have weekends off anyway, so will get to have a long break to relax, NASA spokesman Dan Huot told Space.com. They also recently got to enjoy a very private screening of Star Wars: The Last Jedi, according to NASA.
The three NASA astronauts currently aboard the ISS are Joe Acaba, Mark Vande Hei and Scott Tingle. Tingle joined the other two on December 19, when he arrived at the station along with Anton Shkaplerov, from Russian space agency Roscosmos, and Norishige Kanai of the Japan Aerospace Exploration Agency, according to NASA.
"We [already] have a Christmas tree aboard, and there is a new Christmas tree arriving soon," Shkaplerov told reporters on December 16, the day before he, Kanai and Tingle launched from Kazakhstan, according to Space.com. "We have packages and gifts from our families and friends, and packages on board the ISS labeled to open on December 25 for U.S. crewmembers and December 31 for us from Russia."
Along with Russian cosmonaut Alexander Misurkin, who was already aboard with Acaba and Vande Hei, the new arrivals filled out the crew of ISS Expedition 54. Under the command of Misurkin, Expedition 54 will carry forward into February 2018, at which point Expedition 55 will commence and Acaba, Vande Hei and Misurkin will come home, according to Space.com.
This holiday season is Shkaplerov's third in space, according to NASA. On Christmas Eve, NASA tweeted out a Tumblr post describing how ISS crews often spend the holiday season: taking lots of photos, eating cookies and engaging in the increasingly popular practice of "meal prep"—though the fact that the meals they prep are dehydrated might make them slightly less relatable.
Expedition 54 crewmembers are exploring, among other things, how cells change in space, according to NASA. Tingle and Kanai kicked off the morning of December 22 by collecting their own blood samples, which will later be analyzed as part of the Cell-Free Epigenome experiment. All together, the crew of Expedition 54 will conduct around 250 experiments in fields ranging from biology to Earth sciences to physics, according to NASA. Tingle and Kanai, along with Shkaplerov, will return to Earth in June 2018.
This article has been updated to include an accompanying video.
SaveSaveSaveSaveSaveSaveSaveSaveSaveSave
SaveSaveSaveSave
SaveSave
SaveSave
SaveSave