'Santa's Yumnut' Joins 'Love Sausage' in Chain's Unfortunately Named Products
The retailer Marks & Spencer could hardly contain its excitement in announcing a new cronut as part of its holiday collection. The treat—a croissant/doughnut hybrid with a Santa Claus costume made of red icing and a chocolate ganache belt—certainly looks wholesome and appropriate for the season. But the name for this creation really caught people's attention: "Santa's Yumnut."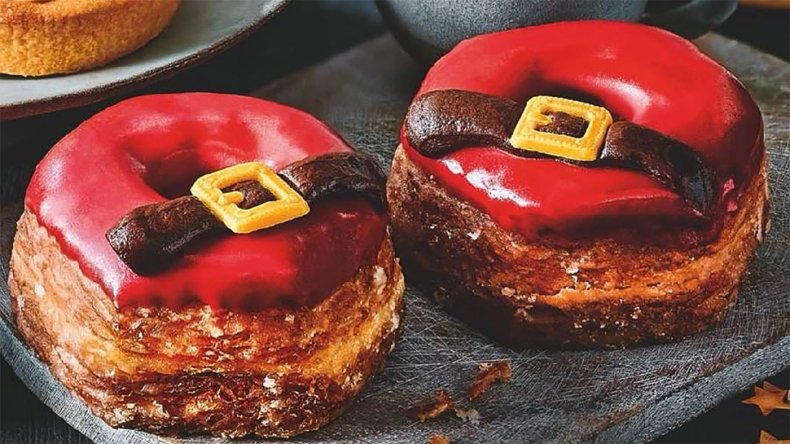 The company debuted "Santa's Yumnut" by sharing an image on Twitter this morning to the more than 600,000 people who follow the multinational company headquartered in London. The tweet immediately went viral, with people mocking the chain for the pastry's unintentionally hilarious name.
The caption for "Santa's Yumnut" was also the source of ridicule online. It reads: "Who wants a bite of Santa's Yumnut™? Our yum yum-doughnut hybrids have been given a Christmassy makeover, with delicious flaky pastry layers and a sweet Santa's belt topping. Find them in our in store bakery."
As of press time, the post has been retweeted more than 10,000 times, received nearly 2,000 comments and almost 5,000 likes.
But this isn't the first time the company has gotten some unexpected attention for an ill-advised name of a product. For Valentine's Day 2019, the company released a heart-shaped creation made up of pork sausages with a hint of truffle, wrapped in smoked bacon. This artery-clogging gift's name? "Love Sausage." After the delectable offering went viral and became a big seller, Marks & Spencer came out with a miniature version dubbed "Give a Little Love Sausage," for this year's Valentine's Day. The sausages were suggested as a perfect breakfast-in-bed dish.
With the "Santa's Yumnut" announcement, one eagle-eyed observer obviously noticed another inappropriate-sounding bit of advertising from Marks & Spencer, and shared a photo taken from a store display.
Due to the explicit nature of many of the tweets mocking the holiday-themed cronut, we can't share them here. (But feel free to look at Marks & Spencer's Twitter account for yourself.)
Even though most people took delight in mocking the company's poorly named pastry, some were happy to just have a little bit of diversion from the news surrounding the presidential election in the United States.
Pink News, a U.K.-based LGBTQ+ website, noted that Marks & Spencer also caused a stir last year with the its "LGBT" sandwich, which was made with lettuce, guacamole, bacon, and tomato. (Note the first initials of each ingredient.) Proceeds from the sandwich went to a charity that helps homeless LGBT+ youth, so at least Marks & Spencer's intentions were in the right place.
As for "Santa's Yumnut," Pink News said the name proves "once and for all why you need gays on your marketing team."