Christmas Will Be 'as Close To Normal as Possible' U.K. Advisers Say
The British government is looking to relax strict COVID restrictions over the holiday season a top COVID medical adviser has said, giving hope to families looking forward to spending Christmas together.
Current COVID measures differ across the four U.K. nations - England, Scotland, Wales, and Northern Ireland - but household mixing is currently either banned or against guidance. The four nations are said to be trying to work out a common approach to Christmas so that families living across Britain can still meet up.
The government's medical adviser on COVID, Dr. Susan Hopkins, suggested Prime Minister Boris Johnson is planning for a "Christmas as close to normal as possible". At a Downing Street briefing on Wednesday, she said: "Hopefully the government will make the decision that will allow us to have some mixing, but we will wait and see what that is."
But she said that "for every day we release [measures] we will need two days of tighter restrictions" and suggested the cost of socializing at Christmas would be stricter restrictions in January. It is expected that any break in the rules against mixing would last for just a few days.
Government minister Alok Sharma said it was too early for "conclusions" but added that he wanted to see his family for Christmas. Downing Street is clear that "no decisions have been made". It comes after The Sun reported that families may be able to mix indoors for five days from Christmas Eve.
Johnson has repeatedly stated his intention to return England to a tier system on December 2 when the current nationwide lockdown ends, but Dr. Hopkins said ministers are now working on "new tiers" after a low level of restrictions proved ineffective. The government is expected to decide on its end-of-lockdown package for England at the end of this month.
Dr. Julian Tang, a clinical virologist at the University of Leicester, tells Newsweek it's not clear what level of reproduction number (R) the Prime Minister will use to lift the lockdown and therefore still not clear if lockdown will need to extend beyond December 2.
"If it is not low enough then he may extend the lockdown with a promise to save Christmas," Dr. Tang says. "If we do get the R number down to below 1 to release the lockdown on December 2 we will still need a relatively strict tiered approach to maintain that R number so that we might be able to relax for five days over Christmas.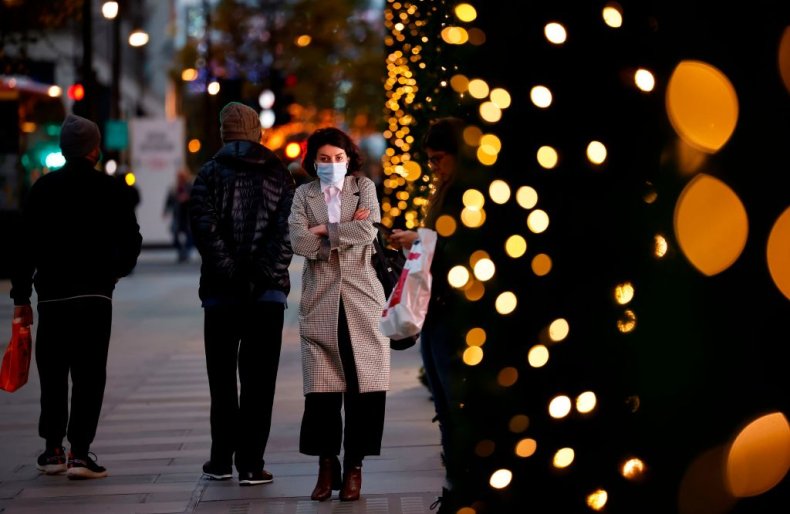 "If we achieve all of this and get a more relaxed level of restrictions, we may see a surge in cases after Christmas due to the increased mixing - especially if there are no restrictions in travel, allowing the importation of the virus to some areas with still relatively low numbers of cases
"It needs to be clear how many households in total can mix throughout this whole period, e.g. if one household A can mix with one set of in-laws and friends (households B, C, D) on a Monday, then mix with the other set of in-laws (households X, Y, Z) on Wednesday, then household A may have effectively mixed with 6 different households with a few days. Ideally, there should be some limit."
The glaring problem with a five-day break, Dr. Tang explains, is that this just happens to be the average incubation period of COVID-19.
He says: "If you visit elderly parents or grandparents on Christmas Eve and infect them, they may not develop noticeable symptoms until after all family has left five days later - leaving them to fend for themselves when they are alone again."
Dr. Tang says a break will be important for the mental health of families and individuals who may otherwise be very lonely and isolated at Christmas, but adds: "Unfortunately, if we have this five-day Christmas break there will likely be a surge of cases detectable over the following two to three weeks just due to the enhanced contacts we will have had over the festive period."
Reports that the first round of Pfizer/BioNTech vaccines could be rolled out by mid-December had sparked hopes of a more "normal" Christmas but health chiefs are still waiting to see whether cases have started to come down during the lockdown.
The latest R number is estimated at 1 to 1.2, while 176,957 people have tested positive for COVID in the past seven days across the U.K.
Dr. Hopkins, from Public Health England, said people would need to be "very careful" about the contacts they have in the lead-up to Christmas and would have to be "responsible" and reduce contacts again after the festive period.
She said she knew ministers were "working hard to develop an outline" of what new tiers would look like after December 2 and what the festive break would look like.