Christoph Waltz: 'Every Other Director Is a Nightmare Boss'
Christoph Waltz plays a "nightmare boss" in his new TV show The Consultant. Luckily for him, he's had plenty of experience to draw on, he told Newsweek, having worked with "thousands" during his career.
Waltz has worked prolifically across Europe and America for decades and has come across a fair few "idiot" directors in his time. While he didn't specify who these were, Waltz has acted under some of the biggest names in movies, including Quentin Tarantino, Wes Anderson, Tim Burton, Guillermo del Toro and Woody Allen.
He said that when he was a "young testosterone bomb" he was willing to take on the fight, but now, as a 66-year-old, he prefers to "take a step back."
The two-time Academy Award winner leads The Consultant, a new dark-comedy drama that arrives on Prime Video Friday February 24. Based from Bentley Little's book of the same name, The Consultant was adapted to TV by Tony Basgallop and also stars Nat Wolff and Brittany O'Grady.
He opened up to Newsweek about some of his own experiences dealing with difficult bosses, as the characters in his new show have to.
Christoph Waltz as a 'Young Testosterone Bomb'
Waltz plays mysterious and intense consultant Regus Patoff in The Consultant. He arrives at mobile games company CompWare and starts to implement his unusual method on the frustrated employees. By all accounts, Patoff proves to be a difficult boss to some within the show, and Newsweek asked Waltz whether he's encountered any nightmare bosses in his career.
"Thousands," Waltz exclaimed. "Every other director is a nightmare boss."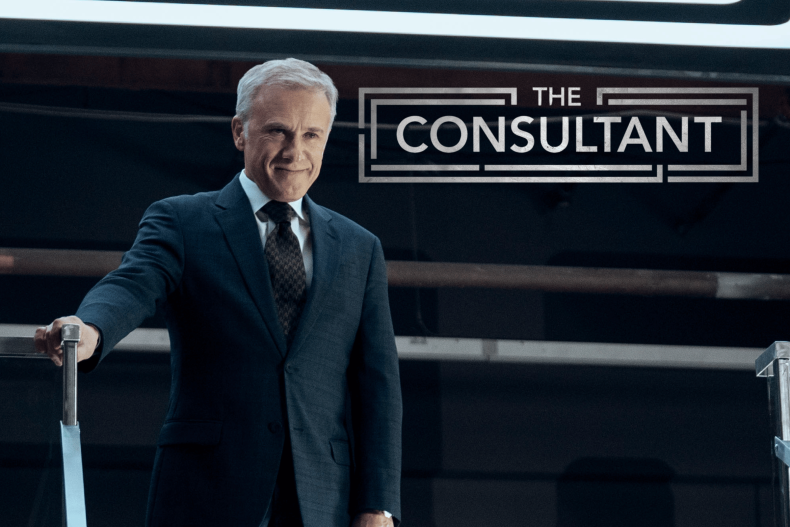 He said, "We were lucky in this case, but in the theater, you kind of force yourself through weeks of rehearsal with this idiot. The excitement for the premiere [and] the adrenaline will help you, but what do you do on the second night?"
Waltz did not specify the show or experience he was referring to, but continued with his train of thought: "You think, 'I'm stuck. And this, you know, [person] is escaping scot-free."
The actor brought up more examples of frustrating exchanges with bosses, including "discussions with directors, with producers, sometimes even with writers, where you say, 'Sorry, that doesn't really make sense, because earlier you said—Not with Tony."
"Tony, he has those conversations like that with me," added Waltz about The Consultant creator Basgallop, who was also present speaking to Newsweek.
"So nightmare boss? To answer the question, yes," Waltz said.
Waltz had appeared on the stage and screen since the 1970s across his native Austria and Germany. He played in the occasional English-language movie and TV show but really made it big with American audiences as Nazi Colonel Hans Landa in Tarantino's Inglourious Basterds in 2009, for which he won an Oscar for best supporting actor. He also won an Oscar for his role in Tarantino's 2012 movie Django Unchained, in which he played bounty hunter Dr. King Schultz.
He was acclaimed for his role as villain Stavro Blofeld in the Bond films Spectre, directed by Sam Mendes, and No Time to Die, by Cary Joji Fukunaga. He also starred in Carnage (directed by Roman Polanski), Big Eyes (Burton), Rifkin's Festival (Allen) and The French Dispatch (Anderson).
Waltz admitted his own way of dealing with confrontation on projects had changed with age.
"My approach changed over the years, speaking of experience. As a young testosterone bomb I take on the fight," Waltz said. "Now I say, 'Mhmm mhmm mhmm.' I know they can't see the difference anyway. You know I run along and take a step back." Waltz acknowledged that he has worked with brilliant people where someone being "difficult" has been justified.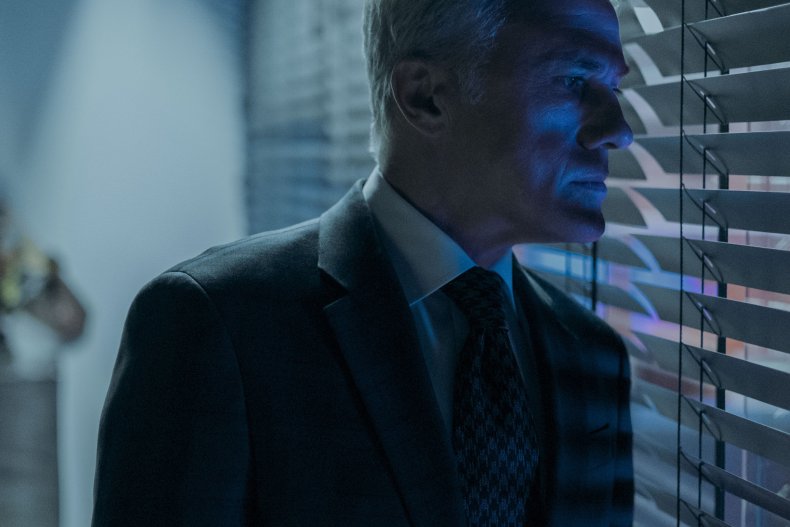 "Unless you have someone, and I'm lucky, it has happened often to me, that someone makes sense. And you trust what they say. [You think] this is what I want to follow, because I learned from it."
He likened his experience of realizing an unorthodox approach by a boss may be correct, to the journey some characters go on in The Consultant. "It may not be the way that I like, but in a way it makes sense," he pondered, taking the character's perspective.
Adapting 'The Consultant'
The Consultant is described by producer Amazon as a concoction of three genres: "a dark comedy workplace thriller." But creator Basgallop said it was the most accurate way to describe the show.
"I think dark comedy leads into thriller very naturally. The two sort of need to go hand in hand. If there's no threat with that darkness, then it doesn't quite translate," Basgallop told Newsweek.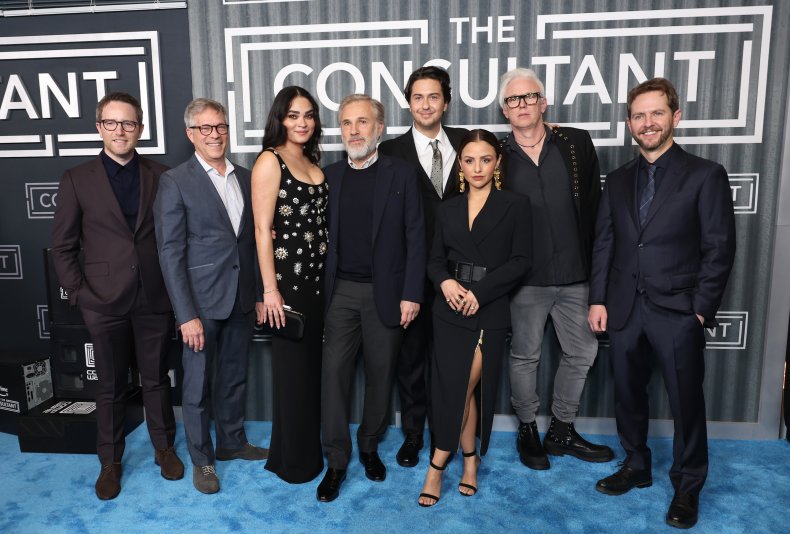 Basgallop said he was drawn to Bentley Little's original book because of the "dark cruel sense of humor," which is best personified by the character of Regus Patoff, played by Waltz.
"What Christoph brought to the role was just just a human element, which sounds really weird, because Patoff is such an inhumane character," he said. "And yet, when you give that character to the right actor, they find the little nuance in there, and the empathy you get from him in the end.
"Someone's character who you can start out resenting, and then gradually start to understand a little bit as you go along. I think that's a skill in performance more than it is in writing."
All eight episodes of The Consultant will be available to watch when they arrive on Prime Video on Friday February 24, 2023.