In Christopher Buckley's Funny New Pandemic Novel, the Subject Is Toeses
When the COVID pandemic hit, everyone was forced to come up with different ways to cope. The main character—one hesitates to call him the hero, but I probably will—of Christopher Buckley's funny new novel, Has Anyone Seen My Toes?, runs the gamut of solutions, few of which solve much of anything.
A past-his-sell-by-date screenwriter—a lesser person than me might call him a hack—he is working on a screenplay that is somewhat derivative of Jack Higgins' The Eagle Has Landed. Maybe more than derivative: With every plot twist, the word actionable keeps coming to mind. Instead of Winston Churchill being kidnapped, here, in this new screenplay, Heimlich's Maneuver—no, not that Heimlich and definitely not that maneuver—we have FDR being kidnapped and swept away on a U-boat. But first, there are a few wrinkles to be worked out, not the least of which is getting perpetually sitting president on said boat. For one thing, it's pretty tough fitting a wheelchair down that tight hatch. Not to mention sneaking that sitting president past all those pesky Secret Service agents. If only he had the benefit of Jeff Megall, the movie executive played by Rob Lowe in the film Thank You for Smoking, who could wave away a problem with the wave of a hand and a one-sentence change in the dialogue.
Our hero is not so lucky. He has no Megall, and so he is left to his own, limited talent. His schlocky year of Lear has more than a few twists and diversions. Aside from his weight gain implied in the title, there is a political race for coroner, that becomes a side obsession. Not since Tracy Flick ran for student body president has such a small race had so many possible sinister complications. As our hero's mind always seems to go toward the Hollywood twist, he hears that there is a military base and some Russian spies up the road who simply must have some bearing on the election. Well maybe not, but people are talking about it, and these days that counts for plenty.
This is not to say our hero isn't trying. In the interest of self-improvement, he is committed to reading Proust's Remembrance of Things Past. As with most earthlings where Proust is concerned, disinterest wins out over apathy and he gets nowhere. A shame there is no decent movie adaptation to help him along.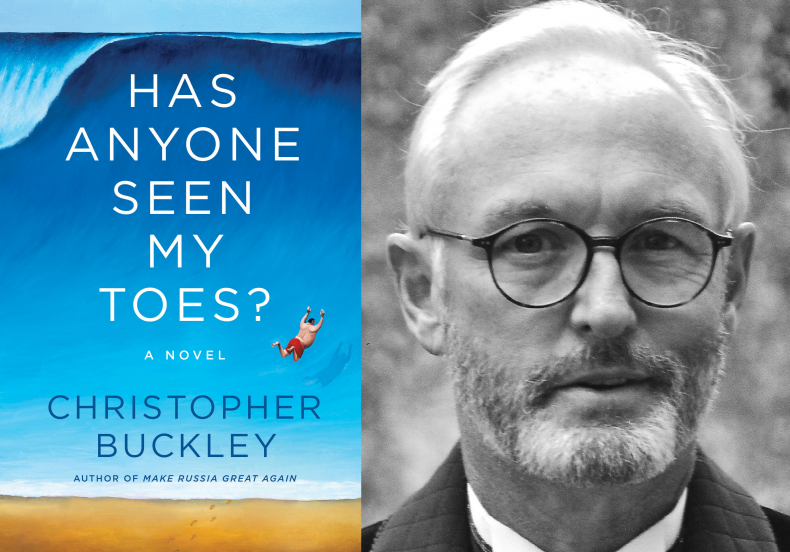 If all this seems confusing, but Buckley's sure hand keeps the reader entertained along the way. Those who have followed his works like Make Russia Great Again, Boomsday and The Relic Master can trust him to lead them through the digressions and diversions and false alarms of Has Anyone Seen My Toes?. We can relate to the hero's issues: Could his problems be COVID-related or is he losing his mind?
As strange as many of these events might sound, on one level they are not all that removed from most people's COVID experience: binge-eating, cabin fever, paranoia, conspiracy theories and half-hearted attempts at self-improvement. In many respects, at least in pandemic times, our hero is everyman.
When all else fails, and all else surely does fail, an old man's thoughts turn to—well let's not go there now: Whoever wins that coroner's race will have enough business as it is. For now, we'll just say that Buckley has a perfectly implausible and quite satisfying Hollywood ending in place.
As with all Buckley novels, Has Anyone Seen My Toes? has many turns of a phrase, clever and wonderfully sarcastic wording and plenty out-and-out funny lines. And if he doesn't send you to the dictionary at least a dozen times, then you have not been reading carefully enough. Nothing is dumbed down for Buckley readers: He assumes they have a decent vocabulary, a well-rounded education and a taste for biting satire.
In Has Anyone Seen My Toes?, Buckley has captured the zeitgeist of the pandemic in his own hysterical way. In so doing, he gives readers the chance to cleanse themselves of COVID cobwebs and another excuse to laugh.
Has Anyone Seen My Toes? is published by Simon & Schuster and is available in bookstores now.