Christopher Darnell Jones' Gun Raised Concerns Months Before UVA Shooting
Christopher Darnell Jones' gun raised concerns among officials months before Sunday night's shooting at the University of Virginia, which left three dead and two wounded.
During a press conference Monday, University of Virginia Police Chief Tim Longo announced that Jones, the suspect, had been apprehended by police. He also revealed that the university's threat assessment team received reports from the Office of Student Affairs concerning a comment Jones made to an individual about owning a gun.
"That reporting person, again unaffiliated with the university, to the best of our knowledge never saw the gun," Longo said. "The comment about Jones owning a gun was not made in conjunction with any threats."
The chief said the office of student affairs made contact with the reporting person and attempted to contact Jones. Authorities also spoke with Jones' roommate, who said that he was not aware that Jones owned a gun and never saw it. Longo also said that the university's threat assessment team was aware of Jones after he was involved in a hazing investigation.
"I don't know the facts and circumstances of that investigation. I know that it was eventually closed due to witnesses that would not cooperate with the process," Longo said.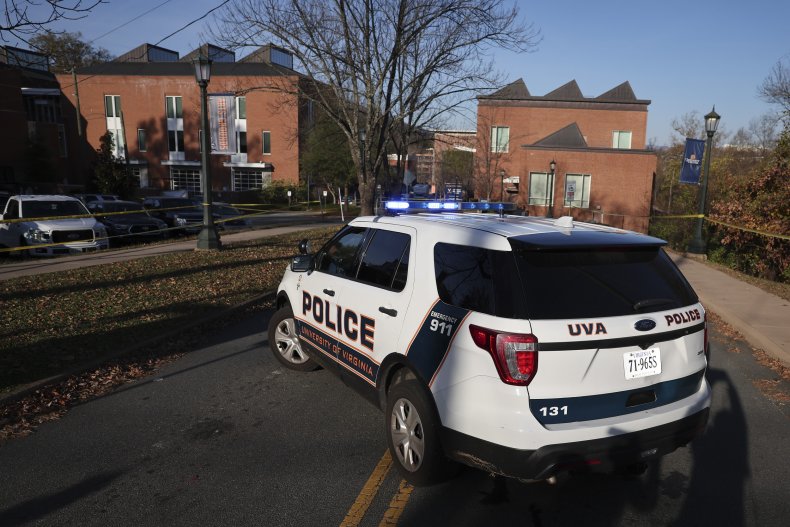 Additionally, Longo said that authorities were made aware of a prior criminal incident that involved Jones and a concealed weapon in February 2021. "What's interesting about that case is he's required as a student of the University of Virginia to report that, and he never did," Longo said. "And so the university has taken appropriate administrative charges through the university's judiciary council, and that matter is still pending."
Police said Monday that the three victims killed in the shooting were members of the university's football team. They were identified as Devin Chandler, Lavel Davis Jr. and D'Sean Perry.
Davis' cousin Sean Lampkin, an assistant football coach at Newberry College, posted a tweet following the news on Monday.
"Saddening, saddening news this morning. God took one of his most kind, humble, loving soldiers off of the battlefield last night. Please pray for my family as we are devastated by the passing [of] my cousin Lavel Davis Jr. Love and already miss you, kid," Lampkin wrote.
Virginia Governor Glenn Youngkin also posted a tweet after the shooting. "We had a horrific tragedy overnight at UVA, lives were lost and families changed forever. Due to the diligence and commitment of our law enforcement, the suspect is in custody. While there are still many details to uncover, let us lift up the entire community in prayer," he said.
Other tributes were posted on Monday, including a statement from Atlantic Coast Conference Commissioner Jim Phillips. "We are heartbroken and devastated over the tragedy last night at the University of Virginia. The ACC is a family and when one member of our family hurts, we all hurt," he said.
Newsweek reached out to the University of Virginia's Office of Student Affairs for comment.