Christopher Fitzgerald's Widow Calls Alleged Philly Cop Killer a 'Coward'
The grieving widow of a Temple University police officer killed in the line of duty has paid tribute to him and called the man accused of shooting him a "coward."
Officer Christopher Fitzgerald, 31, was shot and killed while responding to an incident near the university's campus on Saturday night.
Police on Sunday morning arrested Miles Pfeffer, 18, on charges including murder, the murder of a law enforcement officer, robbery and carjacking.
Fitzgerald's widow, Marissa Fitzgerald, has spoken out, saying she had just returned from running errands when she received a call informing her that her husband had been shot.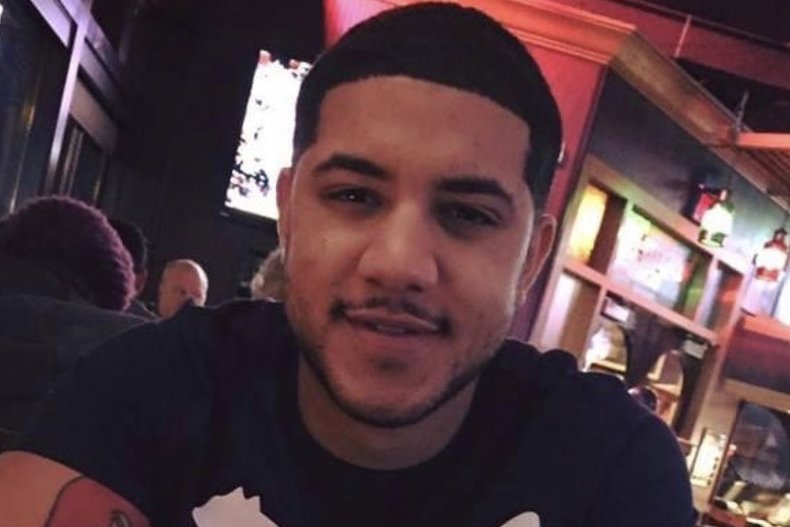 "I tried to call him, just to see if maybe he would answer, and he didn't answer," she told NBC10.
She said her husband had died doing the job he loved, but the "best job he loved" was being a father to their four children—two girls and two boys, aged between seven and 13.
"He really wanted to make a change for the city so that people could be safe and that the kids could be safe," she said. "My husband was not a bad person, he was such a good man and a good cop… awesome cop."
Speaking directly to her husband's alleged killer, Marissa Fitzgerald said: "You had no right. You are a coward, you are evil.
"I know what you did to my husband, you shouldn't even be allowed to breathe because my husband is not breathing, but you get to have air flowing through your lungs."
She added: "I hope that he's haunted for the rest of his life, I hope he rots in a cell."
In the interview with NBC10, Marissa Fitzgerald also spoke about the final hours she spent with her husband.
"It was the best day of my life," she said, sobbing.
Before heading out to work an overtime shift, she said her husband "came down the steps after he got dressed… and he came up to me and he was rubbing his face on my face.
"He gave me a kiss and he told me that he loved me. And, I said 'I love you too.' And when he walked out the door, he said he'd be right back. He said, 'I'll be right back babe.'"
Police released new details about the shooting and Pfeffer's arrest at a news conference on Tuesday.
Christopher Fitzgerald was in uniform and in a patrol vehicle when he spotted three males dressed in black and wearing masks in an area where there had been a series of robberies and carjackings, Philadelphia Police Staff Inspector Ernest Ransom said.
The males fled when Fitzgerald tried to conduct a "pedestrian investigation," he said.
Two of them hid and video from the area shows Fitzgerald catching up with Pfeffer and ordering him to the ground, Ransom said.
They struggled and Pfeffer allegedly pulled out a handgun firing several times. He shot a further three bullets into Fitzgerald as he lay on the ground, Ransom said.
"He comes back to the officer and then attempts to remove the officer's handgun, which was unsuccessful," Ransom said.
Pfeffer allegedly carjacked someone in another block a short time later.
"He is heard on camera saying 'Give me the car or I will kill you,'" Ransom said. "The pedestrian in this case complied and Pfeffer fled in that vehicle."
A patrol supervisor who was monitoring the police radio raced to the scene and apprehended two teenagers—aged 16 and 17— who later provided information to detectives that led to Pfeffer's arrest.