Christopher Walken Lists His Firsts—and Explains Why He Destroyed a Banksy
Even at 78 years old, Christopher Walken is still able to do things in his career that he has never done before.
His latest first? The movie icon makes his debut as a main cast member in episodic TV series The Outlaws, which launches on Prime Video on April 1.
Walken sat down with Newsweek to reflect on some of his career firsts, including the latest which took him from the big screen to the small screen.
Christopher Walken's Career Firsts
"I've done the occasional TV thing but this, one episode after another, it's the first time I've done that," Walken said, "I'm just going where the work is."
Born Ronnie Walken in New York on March 31, 1943, it wasn't long after that he worked as an actor for the first time, in an amateur production of Madame Butterfly.
"Madame Butterfly has this child with the naval captain, and I played that at, maybe, 6-years old? I've been doing this since I was a little kid.
"I have two brothers and my mother put the three of us in show business when we were very young. Television was being born out of New York at the time and there were 90 live shows from New York every week, all very family-oriented.
"They used children more or less as set dressing. You'd sing a little, dance a little, maybe say a line," Walken told Newsweek, "Chances are that when I had a line, I would forget it. I've always been terrible, I've never been able to remember my lines very well."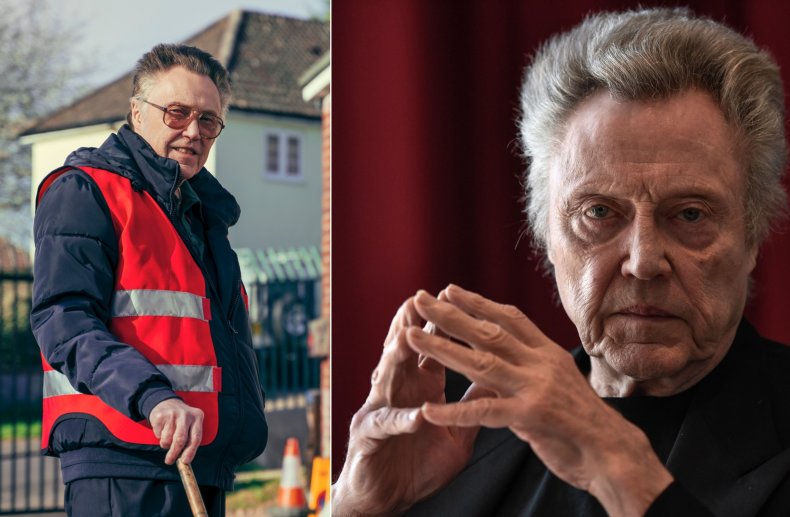 Fast-forward a decade or so and Walken continued to work on the stage, with small parts on television, earning enough money to treat himself.
"My first car? It was a brand new Volkswagen which I bought for $1,650," Walken recalled. "Isn't that amazing? A brand new Volkswagen with a sunroof, for under $2,000."
By the 1960s, Walken was starting to transition into movies where he'd spend the majority of his career. During that decade he received his first award, which he still has today, for his work on the stage. "I had this acting job in a play, and I got what they call the Theater World Award. It was for Most Promising Newcomer or something like that."
He Enjoys Christopher Walken Impressions
Walken began his love affair with the movie industry in 1966, making his debut in the made-for-TV film Barefoot in Athens. He's since gone on to star in more than 100 movies. In the '70s he worked opposite the likes of Sean Connery, Woody Allen and Diane Keaton before he broke into the mainstream with his Oscar-winning performance in The Deer Hunter (1978).
From the moment he entered the pop culture zeitgeist—countless classic Christopher Walken impressions have since emerged.
"It kind of happened right away that people started impersonating me. The interesting thing about it is people often do it, even friends of mine, do it in front of me and it always takes me a minute to figure out what they're doing," Walken joked.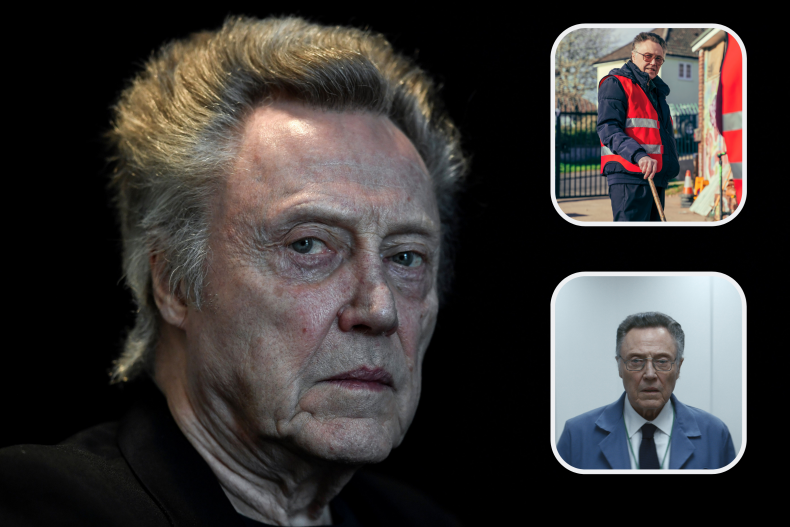 "I look at them and I think 'Why are you speaking that way? Why are you doing that?' And then I realize they're doing me." He continued, "I have a friend who does me on his answering machine so that when I call him it's me picking up the phone on the other end, which is rather odd."
While he's enjoyed great success throughout the years and never been short of work, Walken refused to be drawn on the first time he ever thought "I've made it." Instead, he said, "I've felt mostly lucky throughout my career, but also lucky to still be here.
"At this point, I try to take care of my health and stay viable and strong enough to go to work and get sleep and exercise and eat well. Yes, self-preservation is mostly what I do these days."
Why Walken Works
While he may be approaching the age of 80, Walken is still eager to look for "what comes next." In the first half of 2022, he's got two TV shows launching on streaming platforms: The Outlaws and Ben Stiller's Apple TV+ thriller, Severance. Perhaps it's a lack of hobbies that keeps Walken motivated.
"I've been married 53 years, I live in a house. I don't play golf or tennis. I don't have children. I don't like to travel. So I go to work," Walken said when pondering what makes him say yes to a project. "These streaming things, and these episodic things that are now part of entertainment just weren't there before. This is a whole new world of entertainment.
"When I was a kid, you went to the movies, to one of those gilded palaces, with two features and cartoons, with balconies and the ceiling lit up like stars. That's how you went to the movies."
And now?: "Now you go to the movies by opening your laptop or with DVDs, and that's just the way it has evolved. Of course, as an actor I'm part of that. So I'm just doing what comes next."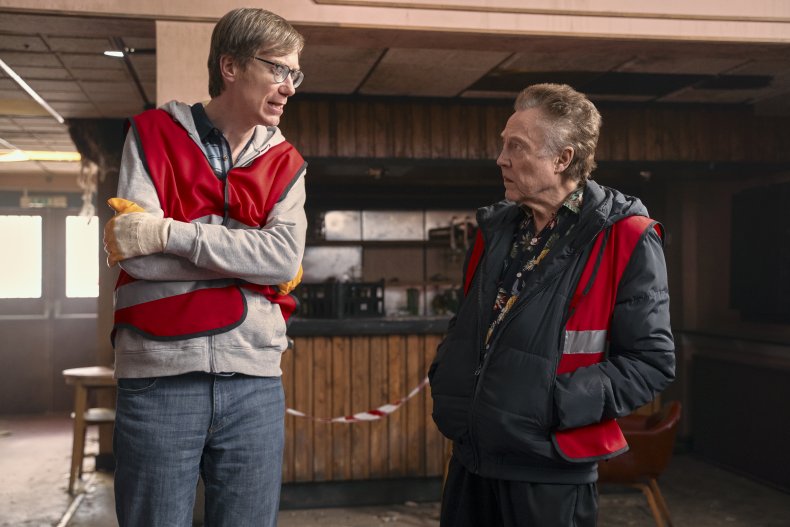 What came next for Walken was a lead role in a England-based comedy series, written by The Office co-creator Stephen Merchant. In The Outlaws Merchant and Walken are part of a group of small-time criminals who must complete community service together in the south-western city of Bristol.
Merchant told Newsweek he's incredibly impressed that at this stage of Walken's career, he's pushing himself to try knew things.
"I think when you're an actor with that success, I assume you don't need to work any more," Merchant said. "I don't know anything about his bank balance but I would assume that he could just do voice-overs from his room if he wanted. So I think the only reason to continue doing it is because you enjoy the work.
"The fact that he was willing to come to England and even consider this project says a lot about that something that must have connected with him."
Merchant also recalled a "Dear Diary" moment with Walken during a day off from shooting The Outlaws. They left Bristol and went to visit nearby Stonehenge, where Walken explained the "healing properties" of the prehistoric monument.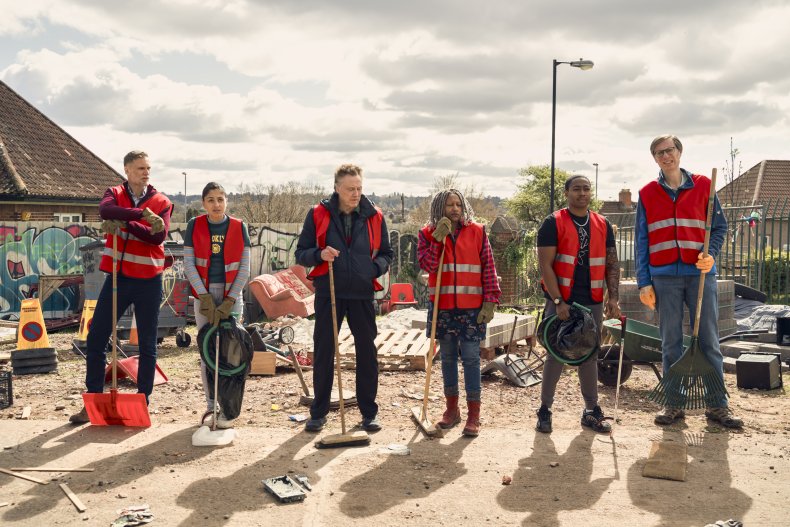 Destroying an Original Banksy
Ahead of shooting in February 2021, Walken had to suffer through a week-long quarantine period after flying into the U.K. Even though he was locked down on his own, he tried to use the time efficiently.
"I was in my hotel room with my script so it was a great time to learn lines," he said. "I'm very slow at that and it's always been difficult for me to learn lines so in a way it was good to have that enforced time to just sit there every day with my script."
Walken made international news after The Outlaws first aired, when it was revealed that his character Frank painted over a piece of artwork that was genuinely created by the secretive graffiti artist Banksy.
Defending his actions, Walken says some news outlets misinterpreted what happened. "The way they've written about it in the States, it sounds as though we desecrated a Banksy but it was all part of the show. He painted it for the purpose of it being painted over, that's his MO. You know that painting he sold that was destroyed as soon as it was sold? That's part of what he does, so it was not an act of vandalism [by us]."
The complete first season of The Outlaws is out and available to watch on Amazon Prime in the United States on Friday, April 1.