An active-duty Marine was arrested on Thursday for allegedly breaching the Capitol doors during the January 6 insurrection and getting into a physical altercation with a police officer.
Photos show a man authorities believe to be Christopher Warnagiris pushing his way through a door at the Capitol and helping others to gain entry. When an officer attempted to shove him out of the doorway after ordering him to move, Warnagiris allegedly pushed the officer back in a struggle for command of the doorway was captured on film.
Hundreds of alleged rioters have been arrested in the wake of the insurrection and many of them, including Warnagiris, were turned in by people they know. A former coworker contacted the FBI after seeing Warnagiris' picture on the internet and a current co-worker at his military base confirmed his identity when the FBI showed the coworker photos of the Marine.
Warnagiris has been stationed at the Marine Corps Base Quantico in Virginia.
"The Marine Corps is clear on this: There is no place for racial hatred or extremism in the Marine Corps. Our strength is derived from the individual excellence of every Marine regardless of background. Bigotry and racial extremism run contrary to our core values," a spokesperson for the Marine Corps told Newsweek.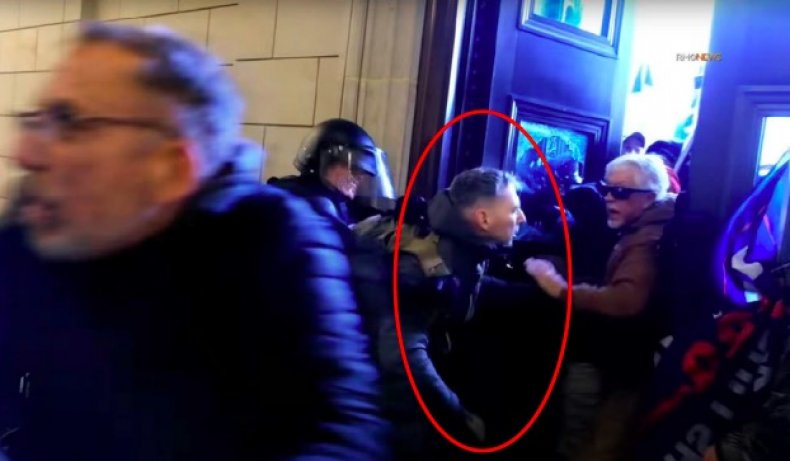 Security images showed a group of individuals, which allegedly included Warnagiris, struggling to "fight their way" through the Capitol doors around 2:30 p.m. on January 6. Officers who were stationed outside the building attempted to guard the doors as individuals sought entry with the help of rioters who were already on the inside.
Warnagiris is accused of being the first individual to break through the police barrier and enter the building. His entrance gave way to others who pushed their way past officers who were still trying to block the doorway, according to a criminal complaint. The Marine is also accused of positioning himself in a way so as to help others make their way inside, as well.
Warnagiris faces five charges related to his alleged role in the riot, including assaulting an officer, obstructing law enforcement, obstruction of justice, knowingly entering a restricted building and violent entry.
The Marine Corps called participation with "hate or extremist groups of any kind" contradictory to its core values and said it isn't tolerated.
"Those who can't value the contributions of others, regardless of background, are destructive to our culture, our war-fighting ability, and have no place in our ranks," the Marine Corps told Newsweek.