Is the Mueller Probe Biased Against Trump? FBI Director Says Agents Are Allowed Political Opinions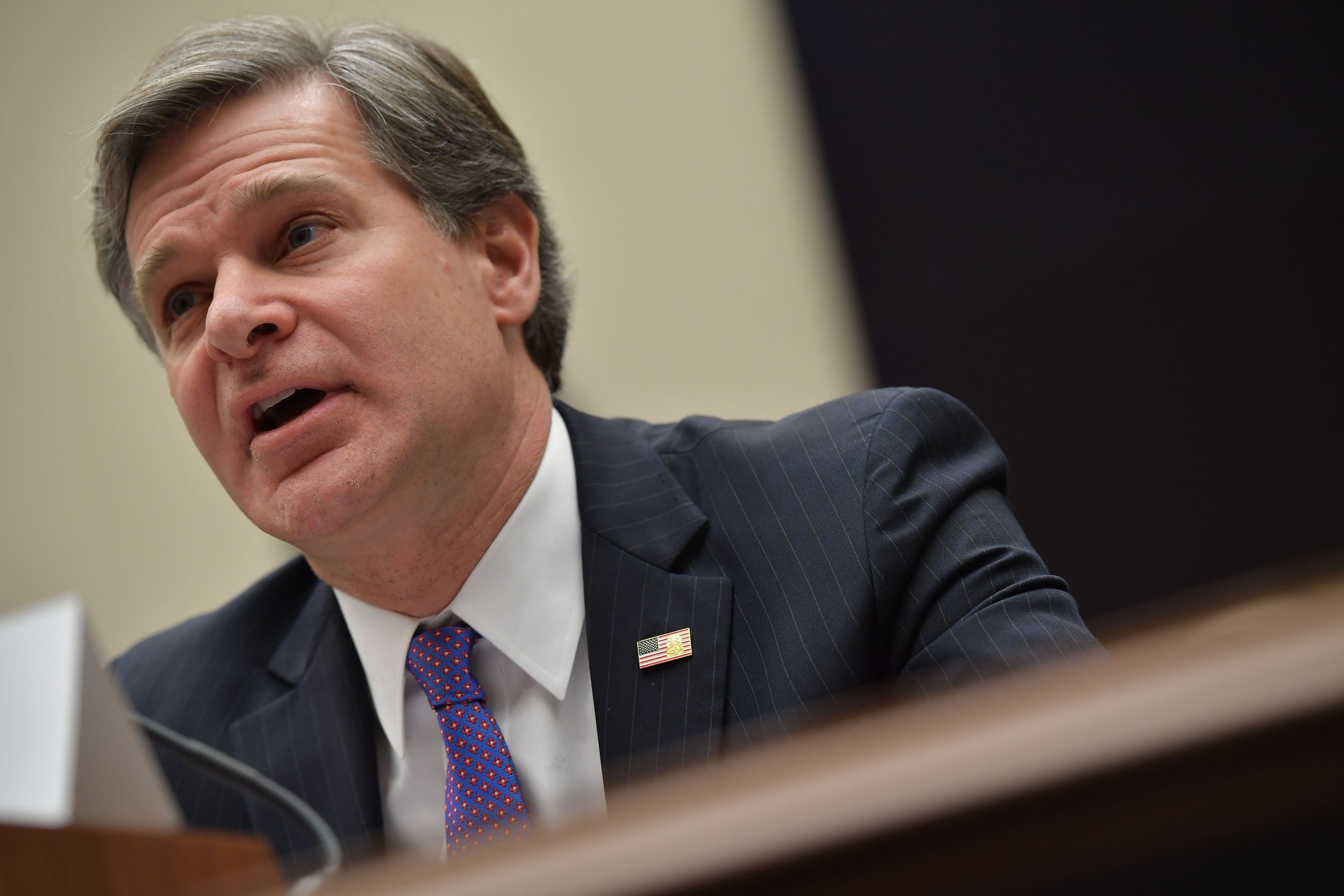 House Republicans grilled FBI Director Christopher Wray on Thursday amid renewed allegations of political bias within the bureau and the Department of Justice. During a House Judiciary Committee hearing, Wray faced questions about the completed investigation into Hillary Clinton's use of a personal email server and the special counsel probe into Russia's election meddling and possible collusion.
"At the very least, the FBI's reputation as an impartial nonpolitical agency has been called into question recently," Representative Bob Goodlatte, the Republican chairman of the committee, said in the hearing. He cited President Donald Trump's December 3 remark that the FBI's reputation is "in tatters" and spoke of potential bias in the probe by special counsel Robert Mueller.
Responding to those comments and similar ones, Wray defended his workforce. "The FBI that I see is tens of thousands of agents and analysts and staff working their tails off to keep Americans safe from the next terrorist attack, gang violence, child predators, spies from Russia, China, North Korea and Iran," he said. "The FBI that I see is tens of thousands of brave men and women who are working as hard as they can to keep people that they will never know safe from harm."
Related: Republicans Demand Answers About FBI's Clinton Probe
The hearing was to be about general oversight of the FBI. But Republicans on the committee claimed the FBI and Justice Department had a pro-Clinton bias that has continued into the special counsel investigation into Russian meddling in the 2016 presidential election and possible coordination with the Trump campaign.
Clinton attributed her 2016 election loss to former FBI Director James Comey's handling of the emails case. But Republicans claimed the bureau treated her too favorably, pointing to recent revelations, including that Comey began drafting his July 2016 statement announcing the outcome of the investigation months in advance. They also spoke about how Mueller's office removed an investigator amid allegations that he had exchanged text messages that could be considered critical of Trump. That investigator, Peter Strzok, led the Clinton case.
On Tuesday, BuzzFeed reported that Andrew Weissmann, a prosecutor on Mueller's team, emailed Sally Yates the day Trump fired her as acting attorney general for refusing to defend one of his executive orders, writing, "I am so proud." Weissmann remains on Mueller's team. Trump and his allies have also accused FBI Deputy Director Andrew McCabe of misconduct, pointing out that when his wife ran for state senate, she received campaign contributions from entities associated with Virginia Governor Terry McAuliffe, a Clinton ally.
The Justice Department inspector general is reviewing Comey and McCabe's conduct and expects to release its report in March or April. On Thursday, asked about Comey and the Clinton case, Wray repeatedly mentioned that ongoing review. "The handling of the investigation, and in particular whether or not decisions made in that investigation were the product of any improper considerations, is precisely what the outside independent inspector general is investigating," he said. "And when we get his findings, I will look and see what appropriate action we can take at the FBI in response to that."
Asked about Strzok, the agent Mueller removed over possible text messages, Wray said an FBI agent was allowed to have a political opinion and share that opinion with a romantic partner, as Strzok is believed to have done. The FBI director clarified that Strzok was reassigned, not disciplined.
Later, he said that in certain instances the bureau might remove an agent from an investigation if that person showed a bias.
In addition to the Justice Department inspector general, the Senate Judiciary Committee, the House Judiciary Committee and the House Oversight and Government Reform Committee also are investigating Comey's conduct. House Republicans have called for a special counsel to investigate Comey and Clinton. In November, Assistant Attorney General Stephen Boyd wrote that the attorney general had "directed senior federal prosecutors to evaluate" the possibility of appointing one.
The increased criticism of the FBI in the past week coincided with the advancement of Mueller's special counsel probe. On December 1, Mueller's office announced its latest charge: against former national security adviser Michael Flynn, who pleaded guilty to lying to federal agents about his contacts with the Russian ambassador. On December 2, Trump tweeted: "So General Flynn lies to the FBI and his life is destroyed, while Crooked Hillary Clinton, on that now famous FBI holiday 'interrogation' with no swearing in and no recording, lies many times...and nothing happens to her? Rigged system, or just a double standard?" He added: "Many people in our Country are asking what the 'Justice' Department is going to do about the fact that totally Crooked Hillary, AFTER receiving a subpoena from the United States Congress, deleted and 'acid washed' 33,000 Emails? No justice!"
A day later, Trump tweeted: "After years of Comey, with the phony and dishonest Clinton investigation (and more), running the FBI, its reputation is in Tatters - worst in History! But fear not, we will bring it back to greatness." The president also retweeted a post about Strzok, and one that said, "Wray needs to clean house."
Following those tweets, Wray wrote in an email to bureau employees that he was "inspired by example after example of professionalism and dedication to justice demonstrated around the bureau. It is truly an honor to represent you." He told them, "Keep calm and tackle hard."
The scrutiny has continued. On Wednesday, a half-dozen Republicans from the House of Representatives held a press conference calling for answers about Comey and Clinton. On Tuesday and Wednesday, Senator Chuck Grassley, chairman of the Senate Judiciary Committee, wrote to Wray and the Justice Department inspector general asking for information about Strzok. Grassley has also written this month to Deputy Attorney General Rod Rosenstein, claiming that FBI Deputy Director McCabe appeared to have violated the Hatch Act, which forbids certain government employees from participating in some political activities.
Asked on Thursday about how bureau employees felt about the president's comments and scrutiny, Wray responded: "The agents, analysts and staff of the FBI are big boys and girls. We understand that we will take criticism from all corners, and we're accustomed to that." He added, "My experience has been that our reputation is quite good."
People close to Wray said critics were unlikely to rattle him. "There's a calm and a composure about him beginning with the moment that he hears the issue," J. Michael Luttig, general counsel at Boeing, for whom Wray clerked when Luttig was a United States Court of Appeals judge, told Newsweek earlier this year. "He's just unflappable."