FBI Director Nominee: Russian Offer to Trump Jr. Is 'Kind of Thing That the FBI Would Want to Know About'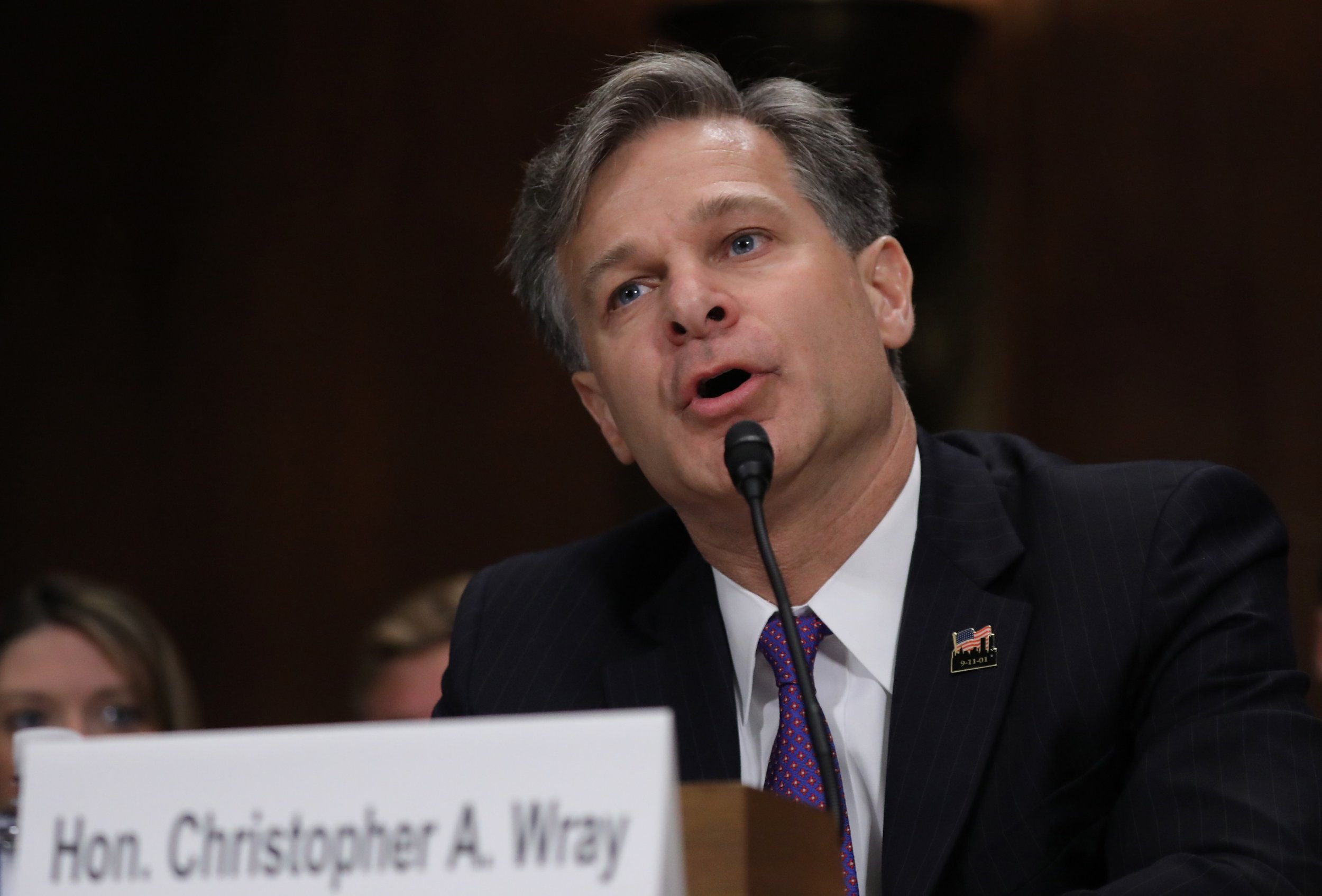 Christopher Wray, President Donald Trump's pick for FBI director, said on Wednesday that the offer of information about Hillary Clinton to Donald Trump Jr. is the "kind of thing that the FBI would want to know about."
At Wray's Senate Judiciary Committee confirmation hearing, Senator Lindsey Graham asked the nominee about the news that the president's son met with a Russian lawyer during the 2016 presidential campaign to discuss damaging information about Clinton. Wray declined to speak specifically about the Trump Jr. situation, but Graham pressed him about whether the offer of such details about a political opponent is generally the sort of thing that a person should report to the bureau.
Related: Christopher Wray is the anti-Comey
"If you get a call from somebody suggesting that a foreign government wants to help you by disparaging your opponent, tell us all to call the FBI," Graham said.
"Any threat or effort to interfere with our elections, from any nation state or any nonstate actor, is the kind of thing that the FBI would want to know about," Wray responded.
Wray went on to say that "Russia is a foreign nation that we have to deal with very warily," and that "in some situations" it is an adversary to the United States. He added that he has no reason to disagree with previous assessments by certain U.S. intelligence officials that Russia meddled in the 2016 election. "An effort to interfere with our elections is an adversarial act," he said.
The New York Times first reported on Saturday that Trump Jr. met with Natalia Veselnitskaya, a Russian lawyer with ties to the Kremlin, at Trump Tower last June. Jared Kushner, the president's son-in-law and adviser, and Paul Manafort, who was Trump's campaign manager, also participated in the meeting. On Sunday, the Times revealed that the person who arranged the meeting had told Trump Jr. that Veselnitskaya would discuss damaging information about Clinton.
The intermediary wrote in an email to the president's son that the information "would incriminate Hillary and her dealings with Russia and would be very useful to your father." Trump Jr. replied, "If it's what you say I love it especially later in the summer."
Trump Jr. released emails between him and the intermediary and called the Timesreport "a big yawn." On Tuesday, the president said of his son, "He is a great person who loves our country!"
If the Senate confirms the FBI nomination, Wray will succeed James Comey, who Trump fired in May. Wray was once the assistant U.S. attorney general overseeing the criminal division of the Department of Justice. Since 2005, he has been a lawyer at the firm King and Spalding. In interviews with Newsweek, more than a dozen people close to Wray praised his nomination.
Some Democrats have called attention to his work representing New Jersey Governor Chris Christie, who is a Trump ally, and his law firm's having reportedly represented Rosneft and Gazprom, two Russian state-owned energy companies that are under U.S. sanctions. They also point out that a partner at the law firm is an adviser to the Trump Organization, and that Wray has donated to Republican political campaigns.