Ron DeSantis' Press Aide Slams Twitter for Booting Her and Allowing the Taliban
Florida Governor Ron DeSantis' press secretary has criticized Twitter for suspending her from the social media platform while allowing two Taliban spokespeople to have active accounts on the site.
Christina Pushaw saw her Twitter account suspended for 12 hours on Friday after she "violated the Twitter rules on abusive behavior" amid her feud with the Associated Press after the news outlet alleged that one of DeSantis' top donors invested in Regeneron, a monoclonal antibody treatment for COVID that the governor has repeatedly promoted.
Although Twitter has not yet said what tweets breached their policies, Pushaw has been engaged in a feud with the AP over the story since Wednesday and tweeted "drag them" in a now-deleted post captioning the article about DeSantis from reporter Brendan Farrington.
In a later tweet she told Farrington that if the story was not changed by the AP she would "put you on blast" and retweeted a post that said "Light. Them. Up." referencing the outlet and the story, according to Insider.
Following Pushaw's tweets, the AP sent a letter to the governor's office asking for the press secretary to stop posting about them, writing that "this type of behavior can cause great harm," in reference to the inflammatory nature of her tweets.
"While we can disagree about stories, it is unacceptable and dangerous for a public official to encourage the systemic bullying of journalists. It is the type of behavior that the United States government routinely criticizes in other nations."
Pushaw's Twitter account was frozen by the social media site shortly after, but in a statement to Insider, she pushed back against the AP again and said the outlet's headline was "misleading" and "directly endangered Floridians by inappropriately politicizing Regeneron treatment, just for a cheap attack on Governor DeSantis."
In a statement to Newsweek, Pushaw then referenced the ongoing situation in Afghanistan, saying: "It's appalling for a social media platform to ban the press secretary of a democratically elected official while allowing the Taliban to live-tweet their conquest of Afghanistan."
Following the drawdown of U.S. troops from Afghanistan, the Taliban took control of Kabul late last week, leaving thousands of American citizens stuck in the country and prompting hundreds of Afghans to try to flee the country by climbing onto military planes.
There have also been reports in recent days of the Taliban starting to torture women after seizing power in Kabul. The two official spokespeople for the Islamic organization still have active Twitter accounts with more than 400,000 followers between them.
Pushaw reiterated her comments in a statement to The Washington Times on Friday, saying: "The Taliban is live-tweeting their takeover of Kabul and nobody censors that, whereas I can't debunk a false AP story that puts lives at risk."
Regeneron, which has been authorized for emergency use in the U.S. has repeatedly been promoted by DeSantis, with Salon reporting that he has hosted four events in the space of a week for the treatment, but did not hold one specifically for vaccines.
According to the Food and Drug Administration (FDA), the Regeneron monoclonal antibody medicine is made up of a combination of two antibodies to fight off COVID that are administered through an IV drip.
However, the FDA states that the treatments are "not authorized for patients who are hospitalized due to COVID-19 or require oxygen therapy due to COVID-19," and made it clear in the emergency authorization release in November 2020 that it is not a substitute for vaccination against COVID.
Newsweek has contacted Twitter for comment.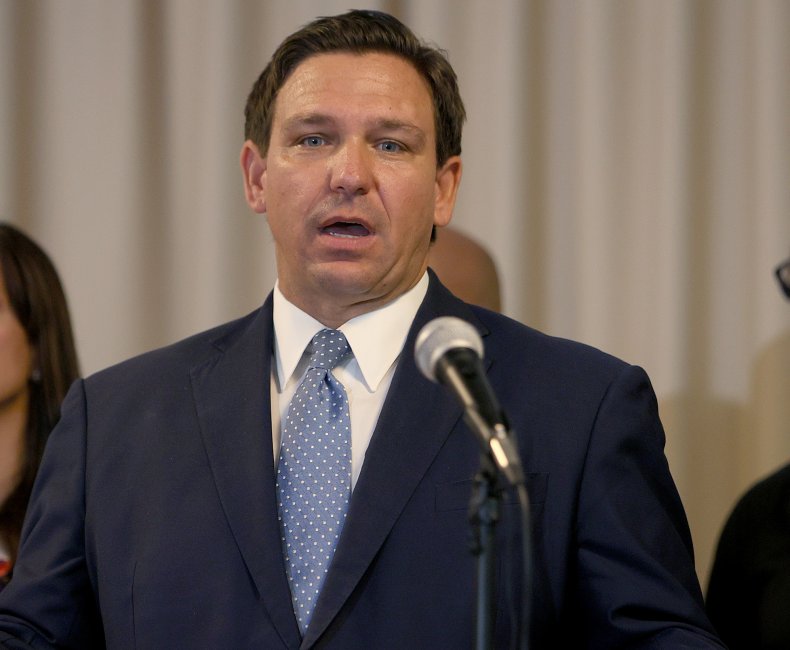 Update 8/21/2021 10:30 a.m. ET: This article was updated with a statement from Christina Pushaw.