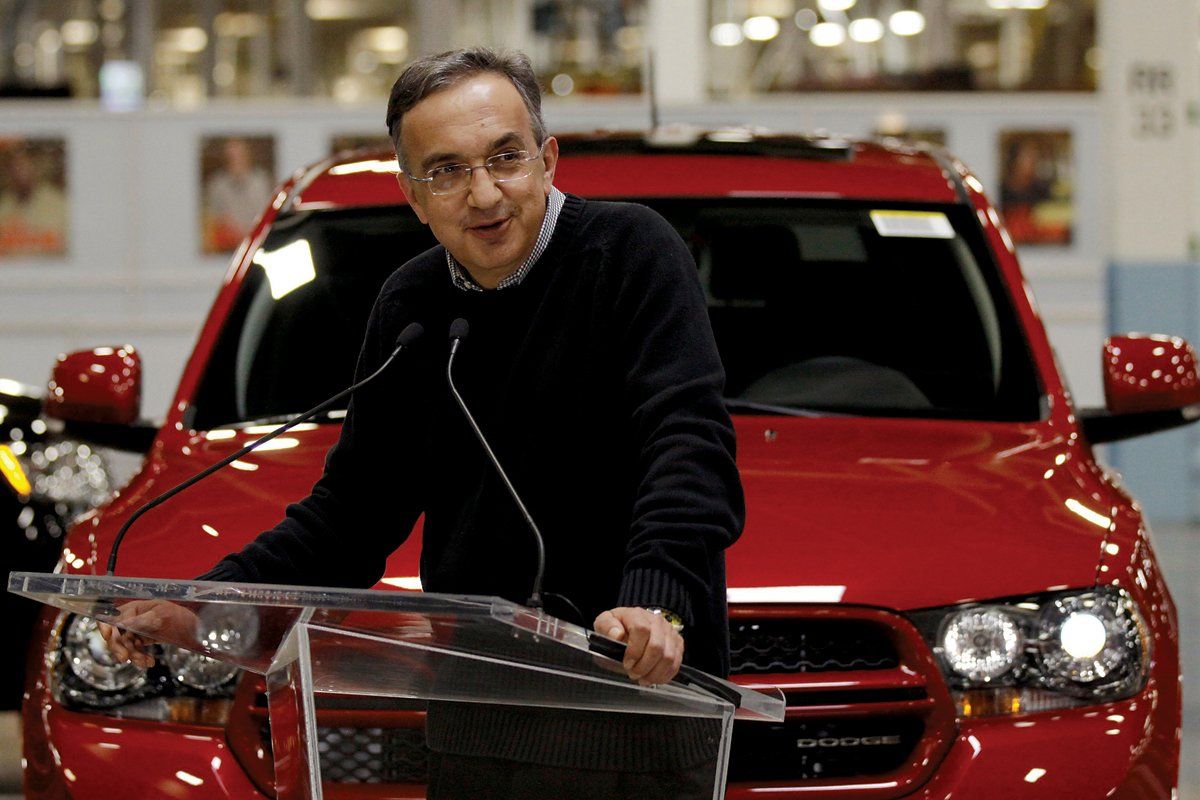 It was two years ago when Fiat CEO Sergio Marchionne appeared at the airline-terminal-size Chrysler headquarters near Detroit to address a demoralized staff. They were as skeptical as the rest of the auto industry about their newly installed chain-smoking, sweater-clad, Italian-Canadian CEO and his mission to rescue Chrysler, a company burning through $1 billion a month.
Fast forward to the present, when Chrysler stands out as an improbable bright spot in a still-struggling U.S. economy. Not only is the company showing faster sales growth than its rivals, but paying back its $7.6 billion in U.S. and Canadian loans well ahead of schedule. So when President Obama, who had approved the long-shot bailout and merger with Fiat, visited the Chrysler plant in early June in Toledo, Ohio, where Jeep Wranglers are made, the factory tour had the feeling of a victory lap. "I placed my bet on you," Obama told workers. "What you've done vindicated my faith." Marchionne doesn't mind being part of Obama's PR offensive. "I love Obama to talk about Chrysler," he says. "It's the cheapest bloody advertising I can get."
If Chrysler's Marchionne still isn't exactly a household name (pronounced "Mar-key-OWN-ee"), his workers now hang on his words. Last month a sea of faces looked to their leader expectantly at company headquarters as 11,000 employees crowded to see him. Marchionne spoke about their status as survivors, recognizing aloud how hard he had pushed them. As he spoke of their commitment, his voice broke, forcing him to stop to regain control. After all, car guys don't cry.
Later, in his Chrysler office, he described the moment of silence to me as "a never-ending period of time that was absolutely still quiet … not a chair moved, not a phone went off" as the crowd waited for him to continue. What had caused that moment of emotion for Marchionne? "When I asked them to go further and further and kept on saying, 'No, that's not good enough, we're going to go there,' and this house never said no. The more I asked, the more they gave."
Marchionne, a lover of opera, jazz, and classical music, can himself be operatic. The drama of the automaker's revival includes a cosmopolitan CEO who consciously leads by example and stays visibly onstage. At Chrysler, where he boldly laid out a five-year plan for the company six months after joining it, Marchionne has stripped out layers of management and vacated the lavish penthouse office used by previous chairmen for a cookie-cutter fourth-floor office in the technology center—close to the engineering, design, and production executives. He flattened the organizational structure, creating a system—as he did first at Fiat—where 25 executives report directly to the chairman. It's his way, he says, of creating a tribal bond among top managers. In a Harvard Business Review article, Marchionne described how the "great man" CEO model was dead. More likely, he is in the process of updating it, just as he's overseen ways to recast dated Chrysler models like the Sebring into the Chrysler 200, or launched the Fiat 500 here as a retro-chic competitor to the Mini Cooper.
At the depth of its woes in 2008, Chrysler was such a lost cause that Cerberus, the private-equity firm that controlled it, reportedly offered to sell the automaker to the federal government for $1. In a close-call decision, Obama decided to offer the financing in support of the Fiat deal, based at least in part on Marchionne's stunning turnaround of the long-troubled Italian automaker. For Marchionne, taking on Chrysler was an audacious personal gamble: betting the future of Fiat and Chrysler's 47,000 employees on an automaker long past its prime. The company he took over in June 2009 was battered by a decade of inattention, massive layoffs, and cheapening tactics by previous owners. From the beginning, Marchionne raised quality standards and gave managers room to innovate. ("You've got to allow people to make mistakes, even though your gut tells you that the guy is going to get torched.") But he also made it clear that only a little failure is tolerated; beyond that, "you're gone." Others have talked this way, but the mood at Chrysler is palpably different, from the shop floors to dealers. In May, Chrysler sales rose 10 percent over the previous year, pushing it ahead of Toyota in sales for the first time since 2006, while Ford and GM sales stalled. "It's a simple thing," says Marchionne, who turns 59 this month. "I just want to make things that people want to buy. I have no confusion about this."
That sense of clarity carried over to Chrysler's advertising, including the celebrated Eminem Super Bowl commercial, a two-minute mini-movie that followed the rapper in a gleaming Chrysler 200 through the streets of Detroit. What gets forgotten in these days of Chrysler success was the riskiness of using a controversial star ("Eminem's not a universal cup of tea," Marchionne says dryly) and the year's most expensive airtime. "The last thing you want is a group of senators who just lent you seven and a half billion dollars to sit back and go, 'Look at these jerks and how they're using taxpayer money,' " he says.
If the typical Detroit CEO is a buttoned-down, terse engineering type, Marchionne is the opposite: with his bohemian appearance and intellectual range, he seems to belong on a college campus or boulevard café. Marchionne was a philosophy major in college, before earning degrees in law and business from Canadian universities. He disdains linear thinking, peppers his speeches with quotations from Kierkegaard and Einstein, and speaks to commitment and passion as much as he preaches quality control. He pulled up to a new Fiat dealership outside Detroit recently in a Maserati—one of the many brands Fiat controls, including Ferrari and Alfa Romeo. "In a gray world, he's creating a lot of color," says former Michigan governor Jennifer Granholm.
The son of an Italian military officer and a Croatian-born mother, Marchionne spent his early years in Italy, before being transplanted to Toronto at the age of 14. The culture clash was painful at the time but ultimately paved his ability to move between cultures, time zones, languages, and industries. By the time he was 20, he'd successfully extinguished most traces of his Italian accent, finding it "was not a cool thing."
While much of Chrysler's comeback is of its own making, the company is also benefiting from good fortune. As industry expert David Cole points out, Chrysler's lower costs post-bankruptcy and favorable currency valuations now give the company a couple-thousand-dollar price advantage over Japanese and European competitors. With private financing now available at cheaper rates, Chrysler announced May 24 that it would pay back all its government loans, and earlier this month said Fiat would buy back the 6 percent ownership stake held by the Treasury Department. Challenges remain—from rising gas prices, expiring UAW labor contracts, and the urgent need for Chrysler to introduce an appealing, thrifty, small car. But Marchionne has achieved head-snapping acceleration toward his goal, as he told employees, "to bring about, in the shortest possible time, the birth of a single group." Emblematic of the transatlantic fertilization is a redesigned Dodge Viper that uses Ferrari technology, due next year. While Marchionne's career has straddled disciplines from law and accounting to banking and automaking, he is now, adamantly and believably, a car guy running a company, he tells employees, "that's been to hell and back and yet still dares to dream."