Michael Avenatti Says Chuck Grassley Made 'Major Mistake' in Referring Him and Kavanaugh Accuser Julie Swetnick to DOJ
Senate Judiciary Chairman Chuck Grassley on Thursday referred Julie Swetnick, one of the women who brought accusations of sexual misconduct against Supreme Court Justice Brett Kavanagh, and her attorney, Michael Avenatti, to the Department of Justice. Grassley is seeking a possible criminal investigation into whether the two provided a false statement under oath to the committee and whether they tried to obstruct a congressional investigation.
The letter, sent to FBI Director Christopher Wray and Attorney General Jeff Sessions, stated that Avenatti and Swetnick should be investigated for "materially false statements they made to the Committee during the course of the Committee's investigation."
Before Kavanaugh's confirmation, Avenatti provided the committee with a sworn statement in September from Swetnick that detailed her allegations. She alleged that Kavanaugh, along with his friend Mark Judge, would drink "excessively" at high school parties in the 1980s and become "abusive and physically aggressive" toward girls. Swetnick also alleged the two men were involved in efforts at parties to get girls drunk so that they would "lose their inhibitions and ability to say no."
Kavanaugh, along with Judge, have denied these accusations, along with other sexual misconduct and assault accusations made against him.
In a text message to Newsweek, Avenatti said that Grassley, who is the leading Republican on the committee, had "just made a major mistake."
"Let the investigation into Kavanaugh and his lies begin," Avenatti added.
Avenatti also said on Twitter that it was "ironic" that Grassley wanted an investigation into his and Swetnick's possible false statement, rather than investigating the original claims.
In a statement attached to Grassley's letter, the Republican said: "When a well-meaning citizen comes forward with information relevant to the committee's work, I take it seriously. It takes courage to come forward, especially with allegations of sexual misconduct or personal trauma. I'm grateful for those who find that courage."
"But," the chairman added, "in the heat of partisan moments, some do try to knowingly mislead the committee. That's unfair to my colleagues, the nominees and others providing information who are seeking the truth."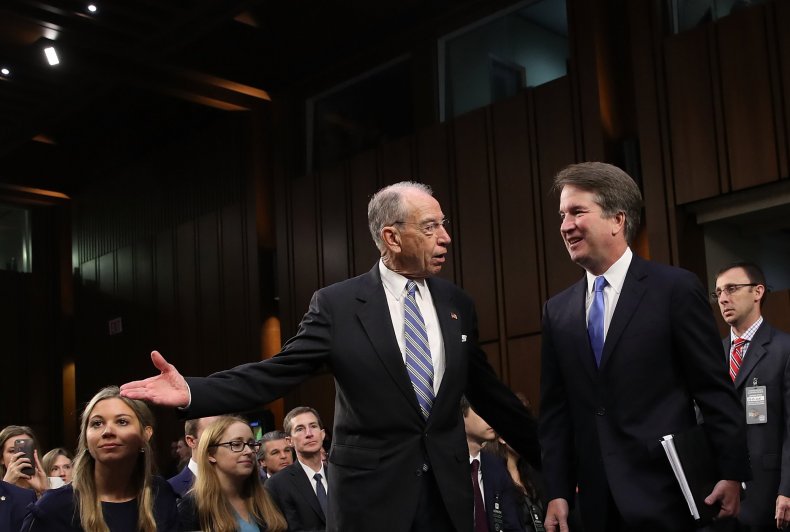 Swetnick's claims were not investigated during Kavanaugh's confirmation hearings. She was neither interviewed during the Senate Judiciary Committee's investigation nor during a supplemental FBI investigation. The supplemental investigation was conducted after Kavanaugh's first accuser, Christine Blasey Ford, testified publicly before the committee. Two other women, Swetnick and Deborah Ramirez, later came forward after Ford's claims had been made public.
The FBI investigation, which was not released to the public, reportedly did not find any credible or additional evidence that suggested criminal wrongdoing by the then-nominee. Kavanaugh was confirmed by the Senate and sworn in on October 6.
Update: This story has been updated to provide additional information and a second tweet issued by Michael Avenatti.