Chuck Norris Says Sports on TV is Vital To America's Recovery From COVID-19
Legend has it that Chuck Norris once contracted COVID-19, and the virus had to go into a 14-day quarantine. Ok, so that might be another myth among Chuck Norrisisms, the legendary actor and martial artist who recently weighed in on the importance of sports in America.
In particular, professional sports on TV in America.
"There is so much said and written about this pandemic on a daily basis that it becomes difficult to sort things out," Norris wrote in a recent column. "But observing the unfolding social experiment that is the return of professional sports in the midst of a pandemic can serve as a teachable moment for all of us."
The column was titled "Return of Televised Professional Sports Is More Than a Game," and it dives into various opinions of different sports writers from various outlets.
Norris is a notorious athlete so good that one time when he ran around the world, and when crossing the finish line, he ran into his own backside that hadn't crossed the starting point yet. And after that, instead of cutting the lawn at his Texas ranch, he stood on the porch and dared the grass to grow.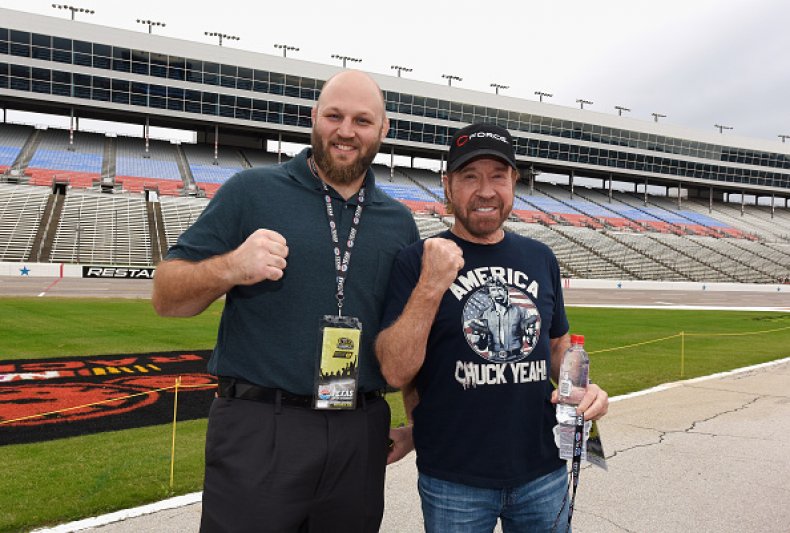 Norris has been an advocate for promoting health among the youth, as evidenced by his Kickstart for Kids programs, which teaches martial arts to middle school-aged kids who want an activity to replace physical education classes.
He knows the importance of fitness, but he has also shown his affinity for sports. Each sport has shown its strengths and flaws in dealing with coronavirus, and Norris highlighted them.
"Major League Baseball teams are traveling around the country," he wrote. "After games, every baseball player is going home or to a hotel. They are coming in contact under various circumstances with who-knows-how-many people. As a result, players are getting sick."
The Miami Marlins had to cancel games during the MLB's restart because of so many virus infections on the team. The St. Louis Cardinals were the next team to cancel or postpone games. It doesn't just affect the Marlins or Cardinals, but the teams they were scheduled to play.
"Other professional leagues are staying put and, for the moment, staying healthy," Norris continued. "Professional hockey, basketball and soccer are operating in a protective bubble to reduce the risk of infection. At present, they are staying healthy."
Norris said families around the country, and the world, have already formed their own "bubbles" to help prevent the spread or contracting of coronavirus, which recently topped more than 5 million cases in the United States.
"It could be close friends, extended family members or neighbors. In sports, as in households, the goal is to keep the coronavirus out of the bubble," Norris said. "As pointed out by an MIT report in June, forming social bubbles is shown to relieve isolation without spreading COVID-19. With the bubble approach, if the virus starts to spread within the isolation zones, it becomes easier to trace the path it traveled."
Professional football seems to be all-systems-go to play the 2020 season, with protective protocols and bubbles in place. MLB, NBA, NHL and other sports have restarted. For college sports, the Big Ten and Pac-12 have already said they will postpone football for this fall.
Now there are just three major conferences—ACC, Big 12 and SEC—that appear to continue moving forward with their seasons. It doesn't mean they will be played, but they are staying positive.
Sports in America give people an outlet from day-to-day life, dealing with the markets, unemployment, the virus and the upcoming election season.
Norris said the country needs sports, even if just on TV, as much now as ever.
"It is anyone's bet whether any of these sports leagues make it through a full season," he said. "But as of now, even under its restrictive environment, viewing is not only a pleasure but also a needed stress-reducing activity."