Chuck Schumer Calls for Firing of Border Patrol Head, Entire Leadership Amid 'Toxic Culture'
The top Senate Democrat has called for the ousting of leadership at the U.S. Customs and Border Patrol Agency, amid fierce backlash from Democratic lawmakers about the discovery of a social media page comprised of current and former CBP agents making crude remarks about migrants and lawmakers. The discovery occurred at the same time allegations have been made that the government agency is mistreating detained immigrants.
Senator Chuck Schumer, the Senate minority leader, said that an internal government watchdog investigation into a private Facebook group with thousands of members discussing throwing burritos at lawmakers and posting illustrations of Democrat Alexandria Ocasio-Cortez performing sexual acts on migrants did not go far enough.
The page, uncovered by ProPublica, lead CBP senior officials to condemn the racist and sexist posts and for the Department of Homeland Security's Office of Inspector General (OIG) to launch an investigation. Acting DHS Secretary Kevin McAleenan Wednesday morning also ordered "an immediate investigation."
Still, Schumer suggested that CBP Acting Commissioner Mark Morgan, as well as his "top leadership," must be purged from the agency in order to rid the CBP of a "toxic culture."
"Internal investigations aren't enough because the leadership at CBP, particularly Acting Commissioner Mark Morgan, are too callous about the way in which children and their families are treated, which is why we need untainted professionals to be brought in from outside the CBP structure immediately," the New York Democrat said in a statement.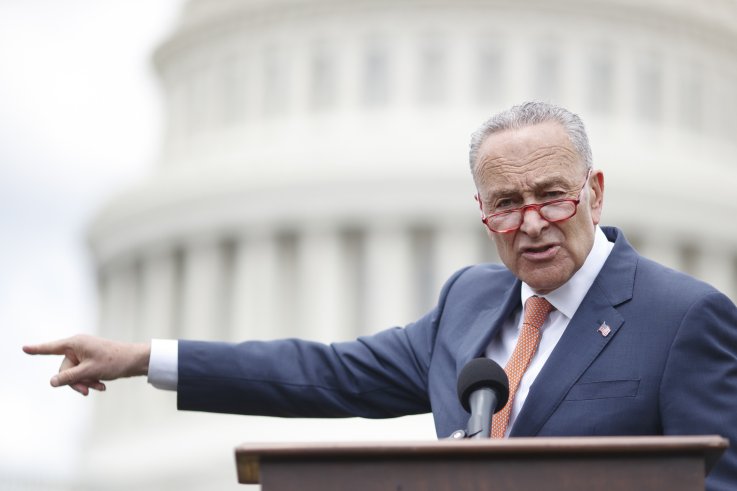 The former acting CBP head, John Sanders, announced his resignation last week amid scrutiny of conditions at overcrowded detention facilities, particularly one in Clint, Texas. The departure created yet another void at the highest levels of the Trump administration, prompting the president to appoint Morgan—acting Immigration and Customs Enforcement director at the time—his acting head of CBP.
The border patrol agency has continued to receive strong backlash from Democrats, who in recent days toured overcrowded detention facilities housing migrants seeking asylum and accused of illegally crossing the southern border.

With the press barred from entering, lawmakers have detailed the packed spaces where migrants pleaded to them for help through glass or chain-link fencing. Some reportedly held up signs with the number of days they've been detained at that location while others indicated to lawmakers they've gone weeks without proper food, water or hygiene products, including a shower.
Another report released Tuesday by Homeland Security's OIG described urgent situations at detention centers in southern Texas, with government investigators warning one facility was a "ticking time bomb." Photos showed severely overcrowded facilities with migrants packed behind chain-link fencing or in holding cells, some wrapped in aluminum blankets. Others laid on the concrete floors.
The OIG report urged Homeland Security officials to take "immediate steps to alleviate dangerous overcrowding and prolonged detention of children and adults" at the center in Rio Grande Valley, Texas.
Other Homeland Security OIG investigations of CBP detention facilities turned up similar results. A child migrant detention facility in Homestead, Florida, toured by a group of Democratic Congress members on Tuesday, has housed children far longer than is legally allowed, according to The New York Times.
Representative Elijah Cummings, a Democrat and chairman of the House Oversight Committee, scheduled a July 12 hearing about the reportedly inadequate conditions facing migrants at the CBP detention facilities. He invited both McAleenan and Morgan on Tuesday to testify, but it is still unclear whether the two Trump officials will accept the invitation to be grilled before Congress.
"The horrid conditions CBP has subjected children and families to at the border are nothing short of inhumane and downright inexcusable," Schumer said. "Too much of CBP has been an out of control agency for too long and it must be reined in immediately."
Chuck Schumer Calls for Firing of Border Patrol Head, Entire Leadership Amid 'Toxic Culture' | U.S.