Chuck Schumer Criticized for Praising Peter King After Retirement Announcement
Senate Minority Leader Chuck Schumer faced criticism for praising Republican Representative Peter King after news broke of the senator's decision to not seek re-election in 2020.
"Peter King stood head [and] shoulders above everyone else ... I will miss him in Congress [and] value his friendship," Schumer wrote on Twitter.
On Monday morning, King announced on Twitter that he would be retiring from Congress after 28 years when his term concludes in 2020. The New York congressman called not seeking reelection a "difficult decision" and noted that the years he spent fighting for his constituents were "extremely fulfilling."
King is the latest Republican congressman to announce that their name would not be on the upcoming election's ballot. To date, four Republican senators and 17 Republican representatives publicly said they would not seek reelection, according to Fox News. Some speculated Republicans deciding to leave Washington, D.C., could make their seats vulnerable to a Democratic successor, thereby enabling the Democratic Party to increase their presence in Congress.
Schumer, who also represents New York in Washington, D.C., credited King with being principled and a person who never let "others push him away from his principles." He added that King left a "lasting mark," on America, Long Island and his Irish heritage, which he "fiercely loved."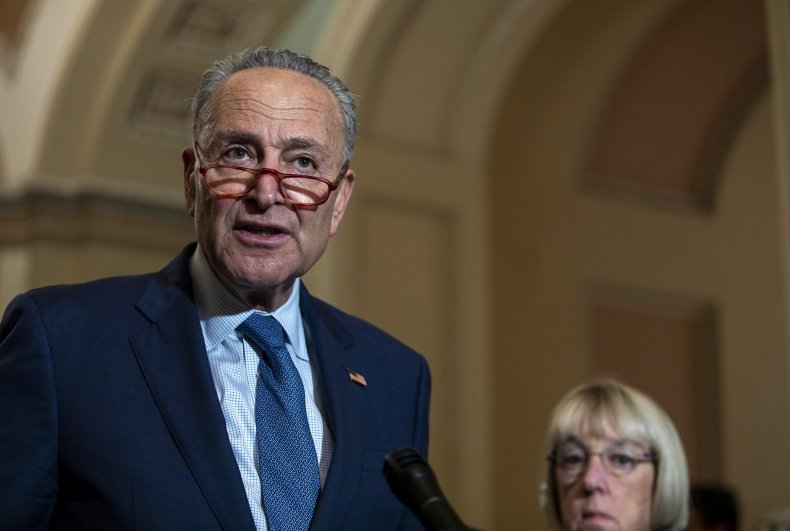 In August, the two politicians spoke in support of bipartisan universal background check legislation. They jointly urged Senate Majority Leader Mitch McConnell to bring the bill, which passed the House of Representatives, to a vote in the Senate. The bill would require federal background checks for all gun sales.
At hearing the news of King's retirement, not everyone was as complimentary of the senator as Schumer.
Representative Ilhan Omar characterized King as an Islamophobe and Senator Bernie Sanders' Foreign Policy Advisor Matt Duss called him "one of Congress' most outspoken anti-Muslim bigots."
In 2011, King was chairman of the House Homeland Security Committee and held hearings focused on the radicalization of Muslims in the United States. King called the hearings "absolutely essential," in a post-9/11 world, according to CNN, but others accused him of bigotry and Islamophobia and compared him to former Senator Joseph McCarthy, who held hearings targeting alleged communism in the United States.
He was also criticized in 2014 for claiming that had Eric Garner not been overweight with a heart condition, he "almost definitely" would not have died from a police chokehold.
Given these incidents, as well as comments he made about NFL players kneeling, and King's support of President Donald Trump's immigration policies, people criticized Schumer for putting him on a pedestal.
Will Bunch, a Philadelphia Inquirer columnist, told Schumer to delete the tweet and political strategist Peter Daou posted on Twitter it was a perfect example of why he criticizes Democratic leaders for enabling Republicans.
"We need a new Democratic Party," Daou added.
With the time he has left in Congress, King said in a Facebook post that he will vote against impeaching Trump and support the president's bid for reelection.