Chuck Schumer Cuts Deal to Avert Shutdown as Nancy Pelosi, Progressives Head for Showdown
Senate Majority Leader Chuck Schumer has announced that congressional Democrats and Republicans have reached a continuing resolution agreement that will fund the government and avert a shutdown.
Congress members will be voting on it Thursday morning at 10:30 a.m., Schumer said. The Senate is expected to first vote on several amendments before voting on the continuing resolution.
The House will likely vote on the measure after the Senate votes. Although the government funding officially expires at midnight on Thursday, Democratic congressional leaders expressed confidence at avoiding a shutdown.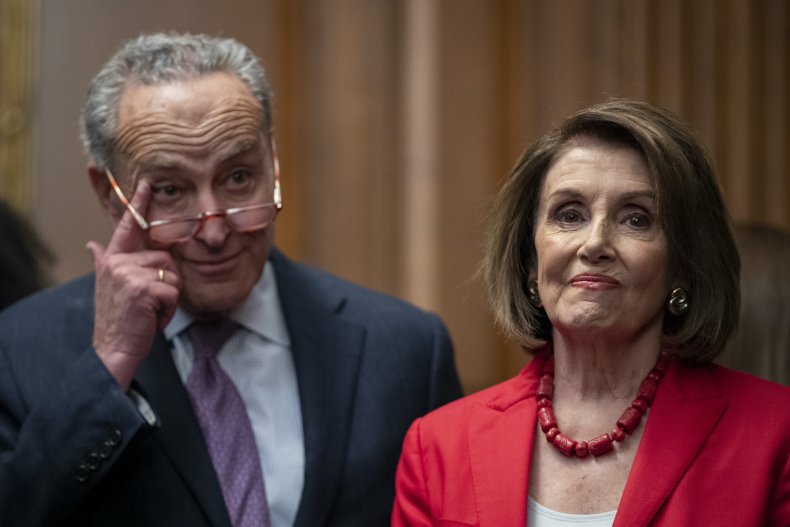 Democratic House Speaker Nancy Pelosi said she doesn't support raising the ceiling by using a "budget reconciliation" process. Such a process would bypass a Republican filibuster by relying only on 50 Democratic votes and using Vice President Kamala Harris' vote as the tiebreaker, if needed.
Pelosi added that she'll still follow through with her plans to vote on the contentious infrastructure plan tomorrow.
"That's the plan," she told reporters. She added that she's taking the process "one hour at a time."
Republican Congress members have largely washed their hands of the bills, stating they no longer wish to support them because of their costs. However, the vote will show how well Pelosi has been able to work with progressive House members within her party who have opposed the vote.
Progressives have threatened to vote the $1.2 trillion bipartisan infrastructure plan down because Pelosi decoupled it from a larger $3.5 trillion "human infrastructure" proposal. Pelosi originally promised to allow House members to vote on the two proposals in-tandem.
The bipartisan bill includes funding to repair roads and bridges, modernize transit and rail systems, upgrade the nation's broadband infrastructure, clean up environmental areas harmed by industrial waste as well as upgrade airports, ports and waterways. It would also fund zero- and low-emission buses and ferries, rebuild the electric grid and upgrade water infrastructure.
The $3.5 trillion reconciliation bill includes key Democratic priorities that are largely popular among progressives. The proposals include free community college, childcare credits, Medicare expansion, public housing, green cards for some undocumented immigrants, a child tax credit and multiple proposals for fighting climate change.
The proposals would be paid through tax increases on large corporations and wealthy Americans, Democrats said.
On the Senate Democrat side, West Virginia Senators Joe Manchin and Arizona Senator Kyrsten Sinema haven't yet indicated whether they will support the reconciliation proposal. While both have complained about its high cost, neither has publicly indicated what changes they would like to see made to it.