Chuck Schumer Fact-Checks Trump's USA Today Op-Ed With More Than a Dozen Corrections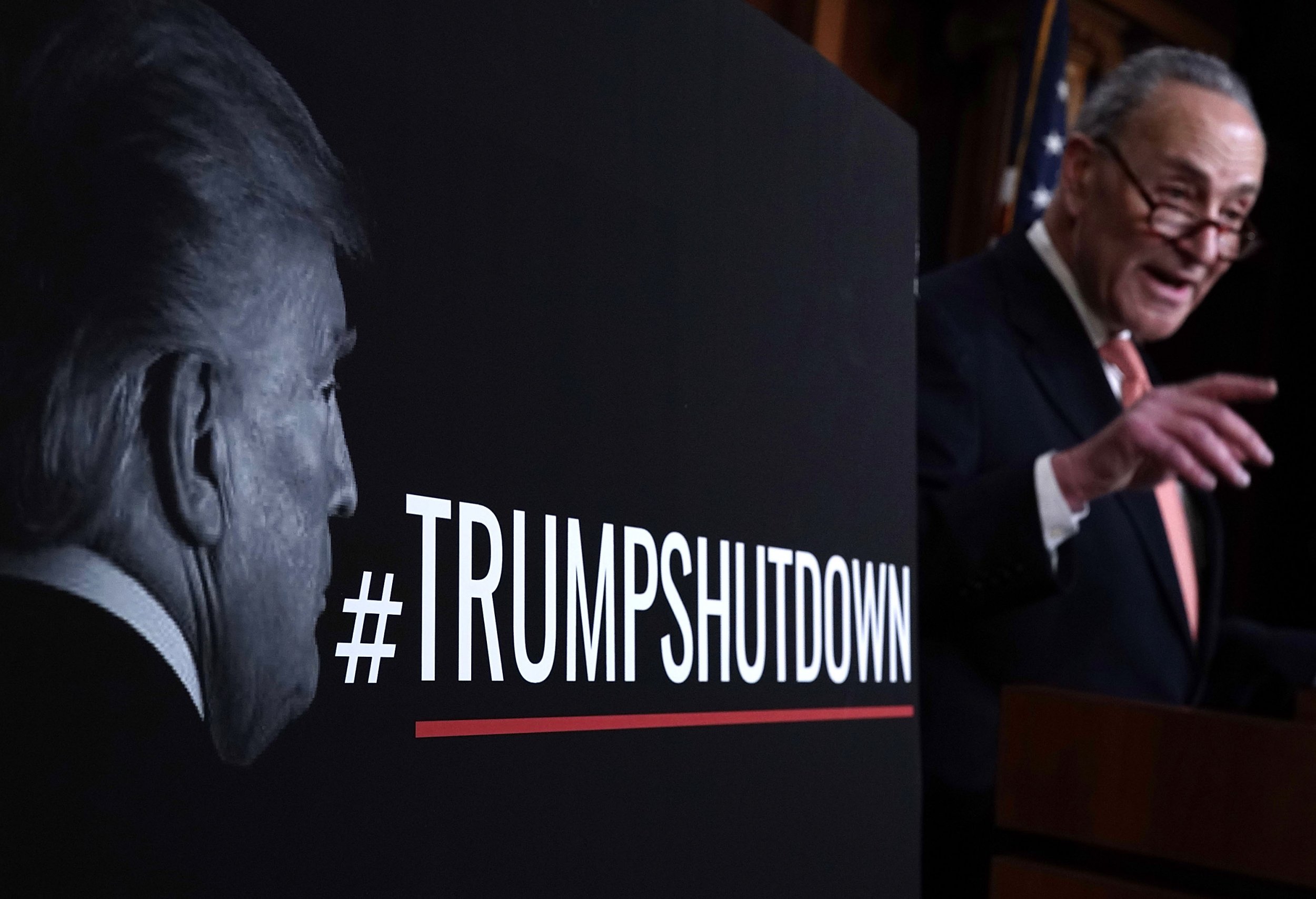 In a rare op-ed penned by President Donald Trump and published by USA Today on Wednesday morning, the president painted a grim—and at times an inaccurate or untrue—picture of his view of the Democratic Party and its mission to "model America's economy after Venezuela." Trump's main focus was his belief that the Democrats' "Medicare for All" plan would devastate senior citizens, that the party has a desire for "open-borders socialism," and that he and the GOP are fighting to save social security and Medicare from Democrats.
Democratic Senator Chuck Schumer took it upon himself to fact-check the president's claims, marking up his op-ed with a red marker as though he were a college professor or newspaper editor. The New York senator listed more than a dozen corrections, crossing out large paragraphs and writing the headline of reputable news sources that called particular claims into question.
"I took a look at your op-ed, @realDonaldTrump. It needs some work," Schumer said in a tweet. "All of the false and misleading words in the world can't cover up how your administration and Republicans in Congress are forcing millions of Americans to pay more for health care."
In the op-ed, Trump wrote that "as a candidate, I promised that we would protect coverage for patients with pre-existing conditions and create new health care insurance options that would lower premiums." The original op-ed included the external links.
However, Schumer pointed out that months earlier in June, the administration and the Justice Department chose not to oppose a lawsuit by a group of 20 Republican state attorneys general that sought to no longer require the Affordable Care Act's provision forcing insurance companies to accept people with pre-existing conditions. The suit also advocated to allow companies to charge people more with pre-existing conditions.
In a June 7 court filing, the Department of Justice argued that by requiring pre-existing conditions to be covered and priced equally without an individual mandate penalty for those who chose not to purchase health insurance, which Republicans eliminated in its tax overhaul, Obamacare would "allow individuals to game the system by waiting until they were sick to purchase health insurance, thereby increasing the price of insurance for everyone else."
At another point, Trump wrote: "Republicans believe that a Medicare program that was created for seniors and paid for by seniors their entire lives should always be protected and preserved. I am committed to resolutely defending Medicare and Social Security from the radical socialist plans of the Democrats."
The president made a similar claim on Thursday at a political rally in Montana. The New York Times, Schumer mentioned, found that Trump's claim about Democrats planning to weaken both programs while he intends to strengthen them is false.
A government report commissioned by the Treasury Department secretary, Health and Human Services secretary, Labor Department secretary and others in June noted that Trump's new tax law, which in large part offered tax cuts to large corporations, was partly to blame for the prediction that Medicare would run out of money by 2026 rather than 2029, as was projected last year. The nonpartisan Congressional Budget Office projected in April that the president's new tax law would likely increase the national debt by $1.9 trillion between 2018 and 2028.
The report cited "lower income from the taxation of Social Security benefits as a result of legislation" as part of the problem, in addition to the repeal of the individual mandate. It also stated that, because of the lack of mandate creating more uninsured people, Medicare expenditures were slightly higher than last year's estimates "mostly due to higher-than-expected spending in 2017, legislation that increased hospital spending and higher Medicare Advantage payments."
Using his red pen to slash through sentences, Schumer rejected the notion that Democrats are "radical socialists" who want open borders and to "model America's economy after Venezuela." Citing an Associated Press story, Schumer said the president distorted his party's views and reasoning for advocating for Medicare for All, a government-funded health care system. Proponents say it would offer more affordable coverage and help more people obtain protection by ridding the system of middle-man insurance companies. Critics have argued it would cost taxpayers more to fund a universal health care system and would lead to less choice in medical physicians and decreased quality of care.
The president's op-ed ends with a plea for voters to head to the polls in just a few short weeks, with hopes that Republicans will retain the House of Representatives. "For the sake of our country, our prosperity, our seniors and all Americans—this is a fight we must win," he wrote.