Chuck Schumer: Trump's Attacks On 'Overwhelmingly Friendly' Fox News Show What Thin Skin He Has
Senate Minority Leader Chuck Schumer defended Fox News Tuesday after President Donald Trump appeared to attack the cable news network offering "90 percent" favorable coverage of his administration.
The Democratic Party leader in the U.S. Senate appeared incredulous as he responded to Trump's own criticism of Fox News during the president's Sunday tirade in which he labeled their coverage "unimaginable" as a news outlet who "forgot the people who got them there." Trump's derision toward the network sits in stark contrast to the overwhelmingly favorable coverage its hosts and anchors give the administration, which Schumer acknowledged during his Tuesday remarks.
"Dictators shut down the press, try to shame the press, when they speak truth to power, which is what our press has done in all the years of this republic," Schumer said Tuesday. "We need to prepare our democracy for the challenges ahead."
"President Trump amazingly attacked Fox News in the last few days in a series of tweets for coverage as unfavorable to his administration," Schumer continued. "This is Fox News, a news outlet that frankly is 90 percent or more on the president's side—their most popular shows appear to be just cheerleaders for President Trump. To me, it is the most biased newscast there is of the major news stations—not that any of them are free of any bias."
He added: "And yet when President Trump hears a small dissonant tweet, or dissonant note from Fox News now he attacks it? What kind of thin skin does this man have? But it's worse than his thin skin."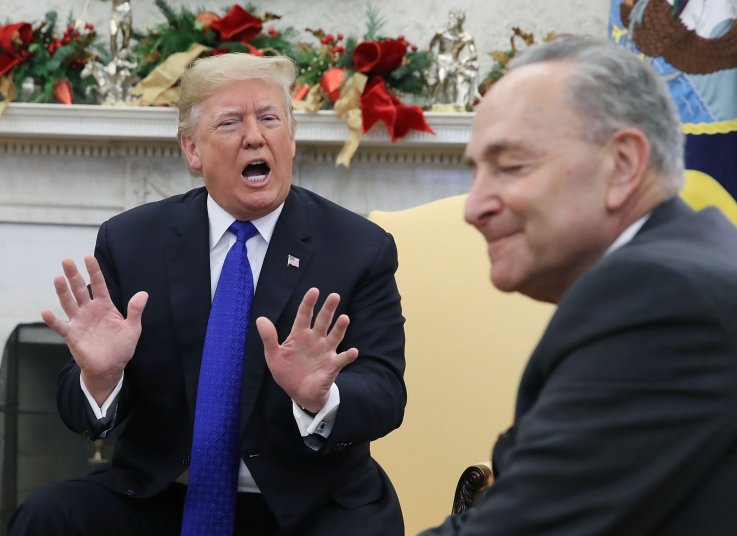 Trump has a long history of criticizing Fox News, although he typically reserves his most dismissive and scathing remarks for its competitors at CNN, MSNBC and NBC News. Trump has routinely blasted morning and weekend Fox News figures including Shepard Smith, Chris Wallace and Bret Baier as "biased" against him for reporting on even the most basic criticisms of his administration.
This past weekend, Trump tweeted:
"Watching Fox News weekend anchors is worse than watching low ratings Fake News @CNN, or Lyin' Brian Williams (remember when he totally fabricated a War Story trying to make himself into a hero, & got fired. A very dishonest journalist!) and the crew of degenerate .Comcast (NBC/MSNBC) Trump haters ...
"But @FoxNews, who failed in getting the very BORING Dem debates, is now loading up with Democrats & even using Fake unsourced @nytimes as a "source" of information (ask the Times what they paid for the Boston Globe, & what they sold it for (lost 1.5 Billion Dollars), or their old headquarters building disaster, or their unfunded liability? @FoxNews is changing fast, but they forgot the people who got them there!"
Trump ridiculed Fox News' decision to hire former DNC chief Donna Brazile and went on to once again criticize Smith for his own coverage of daily news unfavorable to the Trump administration.
Schumer continued Tuesday, "When a president can attack a news organization overwhelmingly friendly to him, with some of his leading advocates getting prime time space—some of them go to his rallies—it shows he really doesn't believe in freedom of the press."
Chuck Schumer: Trump's Attacks On 'Overwhelmingly Friendly' Fox News Show What Thin Skin He Has | U.S.