'Fox & Friends,' Donald Trump Reference Chuck Schumer's 2009 Anti–Illegal Immigration Comments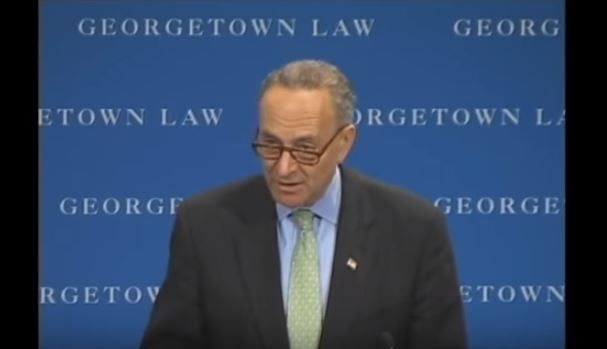 President Donald Trump referenced a June 2009 speech made by Democratic Senate Minority Leader Chuck Schumer, which was played on Fox & Friends, to compare his change of stance on illegal immigration.
Taking to Twitter on Wednesday morning, Trump double-posted a tweet quoting the New York Democratic senator's comments from a 2009 Georgetown Law talk about passing comprehensive immigration reform legislation. The clip was played just minutes before on Fox & Friends as the show looked to point out Schumer's conflicting stances on undocumented workers between 2009 and 2018. The Fox News segment claimed Democrats have only recently "politicized" the issue in order to personally oppose Trump.
"The American people are fundamentally pro-legal immigration and anti-illegal immigration," Schumer said during the 2009 Georgetown Law talk. "We will only pass comprehensive reform when we recognize this fundamental concept." Schumer then listed what he described as seven fundamental elements to a successful, bipartisan immigration bill to be sent to Congress.
"First, illegal immigration is wrong," said Schumer. "And a primary goal of comprehensive immigration reform must be to dramatically curtail future illegal immigration."
Trump's tweet referenced the Fox News TV show segment, and his first tweet quoting Schumer contained a typo, which caused him to send the nearly identical message out twice within a half hour on Wednesday morning: "People who enter the United States without our permission are illegal aliens and illegal aliens should not be treated the same as people who enters the U.S. legally." Chuck Schumer in 2009, before he went left and haywire! @foxandfriends."
The Fox News television show frequently referenced by Trump played several clips from recent months showing Schumer criticizing the president's stance on immigration. "Thanks to our president's actions, we've seen a crisis unfolding on our southern border and across the country," Schumer is heard saying from a June 27 clip in Washington. "The crisis was willfully and purposefully created by this president through his 'zero tolerance' policy at the border," Schumer is shown saying from a June 20 speech on the Senate floor.
"But Schumer hasn't always sounded so opposed to illegal immigration, here's a look back," said Fox & Friends host Brian Kilmeade, before introducing Jessica Vaughan, the director of policy studies at the Center for Immigration Studies. Vaughan described how Democrats in 2018 have politicized what previously was an agreed-upon opposition to illegal immigration embraced by both parties.
"[Democrats] Supported, endorsed and promoted the kinds of policies that President Trump is now trying to enact," said Vaughan.