Chuck Schumer Says Mitch McConnell Has 'Defiled' Senate With Push to Replace RBG
Senate Minority Leader Chuck Schumer said Mitch McConnell had "defiled" the upper chamber on Wednesday night as he rebuked the Republican Senate majority leader for pushing ahead with plans to fill the seat of the late Supreme Court Justice Ruth Bader Ginsburg.
The New York Democrat told CNN that McConnell's move to fill Ginsburg's seat with President Donald Trump's candidate would "hurt his party" ahead of key Senate election contests on November 3.
He also accused the top ranking Republican senator of trying to "take over" the Supreme Court and have it "do things that the American people abhor" as other Democrats called on the GOP to delay any SCOTUS vote until after the 2020 elections.
Speaking to CNN last night, Schumer said: "Mitch McConnell has defiled the Senate. He's about to destroy the Senate because it was he who within a few hours after Justice Scalia's death in February before election year said we ought to wait for an election.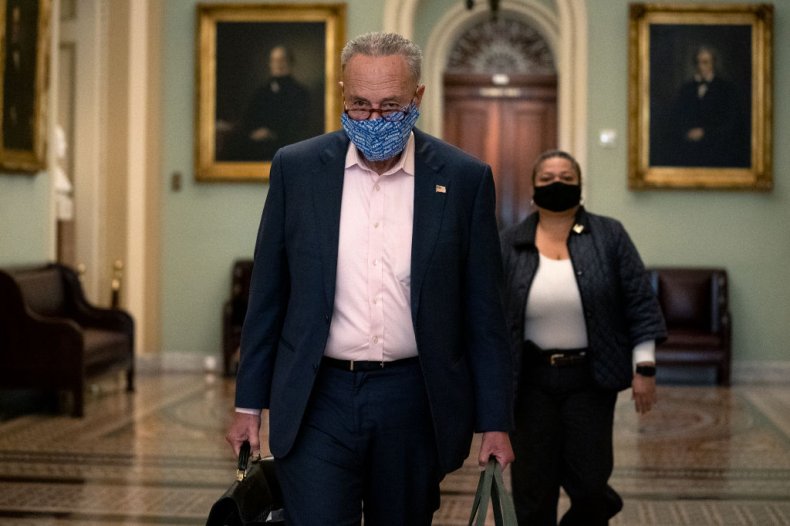 "And now all of a sudden, with only 40 days, 45 days before an election, with people already casting their ballots he does a 180 degree about face. The American people are wise to it.
"This is going to hurt him. It's going to hurt his party. It's going to hurt the people who defend this total, total hypocrisy, which is the only word you can use to describe it."
He added that the next Supreme Court pick would make a "huge" difference to Americans on issues ranging from healthcare, civil rights and labor union rights.
"The American people know this," Schumer added. "The American people know what McConnell and his hard right friends are doing: they're trying to take over a court and have it do things that the American people abhor."
Newsweek has contacted the office of Sen. McConnell for comment. This article will be updated with any response.
The Senate majority leader told reporters on Tuesday that the upper chamber had a constitutional "obligation" to fill the Supreme Court's empty seat as he rebutted calls to wait until after the November 3 elections.
"We have an obligation under the Constitution should we choose to take advantage of it with a president of the same party as the Senate to advance a nomination," McConnell said. "And we will certainly do that this year. This current senate, elected the last time in 2018, will be here until the end of the year and the president will be here until January 20."
The Kentucky Republican added that it was "very likely" that the GOP-controlled Senate would replace Ginsburg with Trump's third nominee to Supreme Court since taking office in 2017.
It is expected that any vote on a new Supreme Court nominee ahead of the 2020 elections will be close, with Republican senators Susan Collins of Maine and Lisa Murkowski of Alaska both railing against the move to replace Ginsburg before polling day.
The graphic below, provided by Statista, illustrates public opinion on the appointment of a new justice before and after the presidential election.
Update 9/24/20, 9:55 a.m. ET: This article was updated to include an infographic.