Nuclear Dilemma: Schumer Agonizes Over Obama's Iran Deal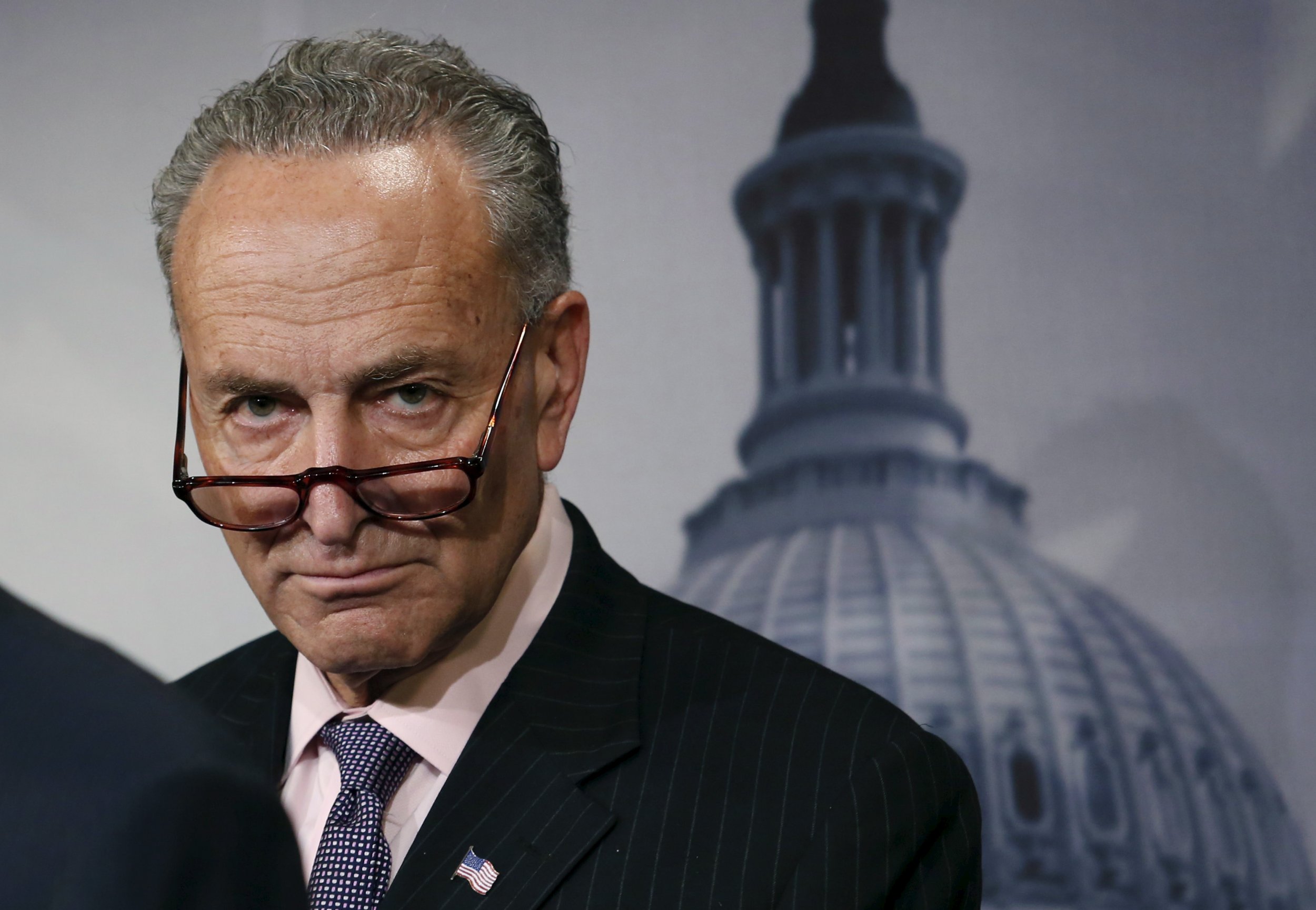 Bob Dole, the wry former Republican leader of the Senate, once quipped that "the most dangerous place in Washington is between Charles Schumer and a television camera." He was referring, of course, to the New York Democrat's well-known weakness for the media spotlight. But as Congress prepares for a critical vote on President Barack Obama's nuclear deal with Iran, Schumer has gone uncharacteristically quiet.
That's because the 64-year-old Jewish lawmaker, poised to become the next Senate Democratic leader when Harry Reid steps down next year, is facing one of the most agonizing decisions of his 40-year career. He's under intense pressure from the White House and many in his party to support the agreement, which severely restricts Iran's nuclear program for at least a decade in return for an easing of economic sanctions.
Yet critics of the accord are insisting that Schumer's long-standing support for Israel, which opposes the deal, requires him to reject the agreement and use his influence to rally other Democrats against it. Their hope is that Schumer can help pry enough Democrats away from Obama to hobble the deal when Congress votes on it in September and then kill it once and for all with enough votes to override an Obama veto.
But no matter which way Schumer decides to vote, he will suffer, analysts say. "Schumer is in a tough spot, both morally and politically," Steven J. Rosen, a former senior official at the American Israel Public Affairs Committee, or AIPAC, the largest pro-Israel lobby, tells Newsweek. "He's got a real dilemma."
With the agreement only a week old, Schumer is already in the crosshairs of groups advocating for and against the deal. On Wednesday evening, opponents plan to hold a demonstration in New York's Times Square, where organizers are expecting to draw as many as 15,000 people. The rally is specifically aimed at pressuring Schumer to rally Democratic opposition against the deal in Congress. "New York Senator Charles Schumer has the votes as presumptive leader to override this deal if he wants," says Jeff Wiesenfeld, one of the group's organizers. "If this deal is not stopped, New York voters will know whom to blame."
Other groups are pressuring Schumer too. The Emergency Committee for Israel, a hawkish lobby whose board includes the influential neoconservative journalist William Kristol, is running a television ad campaign in New York City that urges Schumer to "stand firm" on his earlier demand that the deal provide for "anywhere, anytime" nuclear inspections, which opponents charge the agreement does not include.
On the other side of the issue, J Street, the left-leaning pro-Israel lobby, and the National Jewish Democratic Coalition, a group that promotes Jewish support for Democratic candidates, have come out in favor of the deal and pledged their support for lawmakers who also endorse it. The left-wing lobby Credo has taken a tougher line, warning in a statement that "Democrats who sabotage the Iran deal will face consequences." The group singled out Schumer, who is running for re-election in 2016, as one of its main targets. None of these groups, however, has the kind of clout and money of the right-leaning AIPAC, which says it will spend as much as $40 million on a campaign that will target lawmakers who support the deal.
When Schumer addresses Jewish audiences, he often points out that his last name means guardian in Hebrew, a role he emphasizes when it comes to standing up for Israel's security. But Schumer says he's not going to comment on the Iran deal until he's had ample time to study it in detail. "Over the coming days, I intend to go through this agreement with a fine-tooth comb, speak with administration officials and hear from experts on all sides," Schumer told Newsweek Wednesday. "Supporting or opposing this agreement is not a decision to be made lightly, and I plan to carefully study the agreement before making an informed decision."
In an interview with MSNBC last week, Schumer said, "What I've learned over the years is, on important things, just do the right thing."
Speculation over how Schumer will vote has become a Washington parlor game. Rosen, the former AIPAC official, says that as details of the Iran accord began to trickle out of the negotiations, Schumer held conversations with donors and Jewish leaders that suggested he was highly skeptical of the deal. He predicts Schumer will vote against what he calls a "deeply flawed agreement."
But others who know Schumer say he is genuinely torn over the right thing to do in this case. He feels a deep personal commitment to Israel, and he's demonstrated that in dozens of votes over the years. In 1981, he defied President Ronald Reagan and voted against his plan to sell sophisticated surveillance aircraft to Saudi Arabia—a sale Israel opposed as a threat to its security. And in 1991, he sided with Israel again in its diplomatic battle with the George H.W. Bush administration over Jerusalem's use of U.S. loan guarantees to expand West Bank settlements.
The fact that Reagan and Bush were both Republicans made Schumer's dissent an easier political lift. But the Iran nuclear deal presents Schumer with a much more difficult challenge. For starters, Obama is a fellow Democrat, and Schumer is the third-ranking Democrat in the Senate. With Israeli Prime Minister Benjamin Netanyahu calling on Congress to reject an accord that is widely seen as Obama's signature foreign policy achievement, much is at stake for the senior senator from New York, analysts say. "No matter which way Schumer decides, he will pay an enormous political price," says Aaron Keyak, a former Democratic congressional staffer and a political consultant for Jewish groups.
A vote for the accord is likely to earn Schumer the contempt of many Israelis, who will almost certainly brand him as disloyal. He'll also risk losing the support of New York voters who oppose the deal and—perhaps more important—hundreds of thousands of dollars in campaign contributions for his 2016 Senate race. He also could face a primary challenge, although political analysts doubt Schumer would lose his seat.
The price could be much higher if Schumer votes against the accord and takes enough Democrats with him to build a veto-proof majority against Obama. If the New York lawmaker helps Republicans override the president's veto, Schumer can probably forget about winning the party's endorsement for Senate Democratic leader. If Democrats regain control of the Senate in 2016, Schumer could lose his chance to become majority leader—one of his lifelong ambitions.
In the end, Schumer may wind up voting at the last moment for a resolution that disapproves of the deal, to minimize the number of Democrats who follow suit under his political cover. He could follow up that vote with a second vote against a veto override to signal his loyalty to Obama. Or he could embrace a third option: to reject a separate resolution of "approval," a complicated legislative move that would allow Obama to implement the agreement but leave the door open for a future administration to renegotiate its terms.
But the issue of the Iran deal may be too momentous for such tactical maneuvers. "Chuck Schumer has to decide," says Keyak. "There's no wiggle room here. It really doesn't get harder than this."