Chuck Schumer Begins 'Uphill' Filibuster Fight Against GOP and Some Democrats
Senate Majority Leader Chuck Schumer has outlined his plans to advance voting rights legislation, possibly setting up a showdown over the chamber's filibuster.
A memo sent by Schumer to Senate Democrats Wednesday lays out how he plans to sidestep procedures that have been used by Republicans to block consideration of voting rights legislation. The Senate requires 60 votes to initiate debate on most bills, which has been a stumbling block for Democrats as they've sought to advance voting rights legislation in the evenly divided chamber.
Schumer plans to get around the 60-vote requirement by considering the legislation as a "message," according to the memo, obtained by The Hill. Although the bill will still need to clear the 60-vote threshold before it can pass, Schumer said the maneuver will at least overcome the GOP's lockstep opposition and allow the Senate to begin debate. Schumer's office did not respond to a request for comment from Newsweek Wednesday evening.
"With this procedure, we will finally have an opportunity to debate voting rights legislation – something that Republicans have thus far denied," Schumer said in the memo.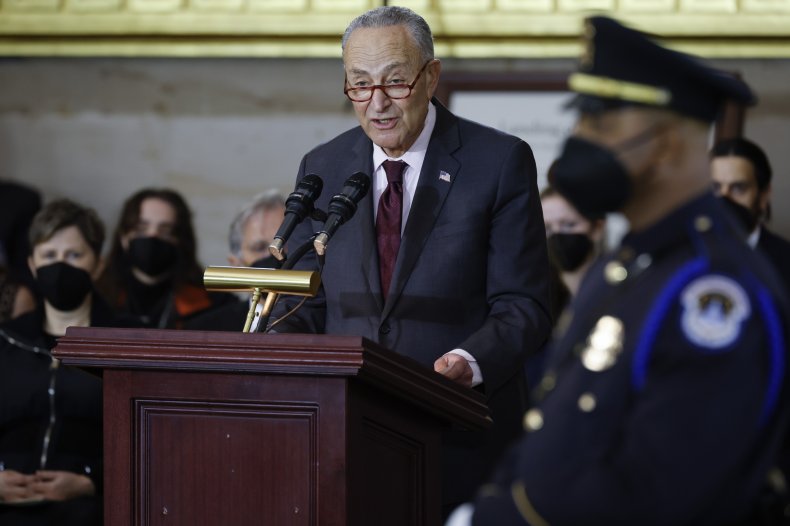 Democrats have been seeking to pass two bills: the John Lewis Voting Rights Act and the Freedom to Vote Act, of which proponents say are needed to counter restrictive measures passed or being considered by GOP-led legislatures following the 2020 election.
However, Democratic Senators Joe Manchin, of West Virginia, and Kyrsten Sinema, of Arizona, have opposed changing the filibuster, warning their fellow Democrats they could regret the move if and when Republicans retake the chamber. Manchin and Sinema are not the only Democrats to oppose the filibuster—Sen. Jon Tester of Montana and Sen. Mark Kelly of Arizona have also signaled concern.
Schumer said in the memo that starting a floor debate "sets up a process in which Senators can finally make clear to the American people where they stand on protecting our democracy and preserving the right of every eligible American to cast a ballot," according to The Washington Post.
During an appearance on MSNBC's "Morning Joe," Schumer said he still hadn't won over the two moderates. But he added that "this is too important to concede," and that other Senate Democrats have continued to press the holdouts, arguing the country's democracy is at stake.
"Do I want to delude people? Do I want people to think we're almost there? No. It's an uphill fight," he said.
Manchin's office did not respond to a request for comment from Newsweek Wednesday evening.
Sinema's office responded with an email reiterating her "strong support" for both pieces of voting rights legislation from a statement originally made last month. But Sinema again raised concerns that removing the filibuster could mean a future GOP-controlled Senate could easily enact voting restrictions.
"Senator Sinema has asked those who want to weaken or eliminate the filibuster to pass voting rights legislation which she supports if it would be good for our country to do so, only to see that legislation rescinded in a few years and replaced by a nationwide voter-ID law, nationwide restrictions on vote-by-mail, or other voting restrictions currently passing in some states extended nationwide," Sinema's office wrote in the re-sent statement.
"If there are proposals to make the Senate work better for everyday Americans without risking repeated radical reversals in federal policy, Senator Sinema is eager to hear such ideas and—as always—is willing to engage in good-faith discussions with her colleagues," Sinema's office added.
The GOP's lockstep opposition has renewed calls to rework or end the filibuster. Notably, President Joe Biden said in a speech in Atlanta on Tuesday that the Senate should "stand against voter suppression" and end the filibuster.
Schumer has previously said the Senate will debate rule changes by January 17, Martin Luther King Jr. Day.
Update (1/12/2022, 11 p.m.): This article has been updated to include additional quotes from Sinema's office, and to make it clear Manchin and Sinema are not the only Democrats with concerns about changing the filibuster rules.