President Joe Biden is facing increasing pressure within his party to cancel up to $50,000 student debt per borrower, with Senate Majority Leader Chuck Schumer reiterating his call for the loan forgiveness amount to be implemented through executive action.
Since he took office, Biden has resisted calls from progressives to increase to $50,000 the amount of student debt that could be forgiven, and doubled down on his campaign trail pledge that it should be no more than $10,000.
"I will not make that happen," Biden said when asked about the higher loan forgiveness amount during a CNN town hall last month, saying that that would unfairly favor those from more privileged backgrounds who went to expensive schools.
He has said that the money would be better spent on early childhood education and free community colleges.
However, the pressure on Biden to go all-in on student debt got ramped up following the $1.9 trillion American Rescue Plan agreed last Saturday, which contained a provision pushed by Senate Democrats that would mean that forgiven students loans would not have tax consequences.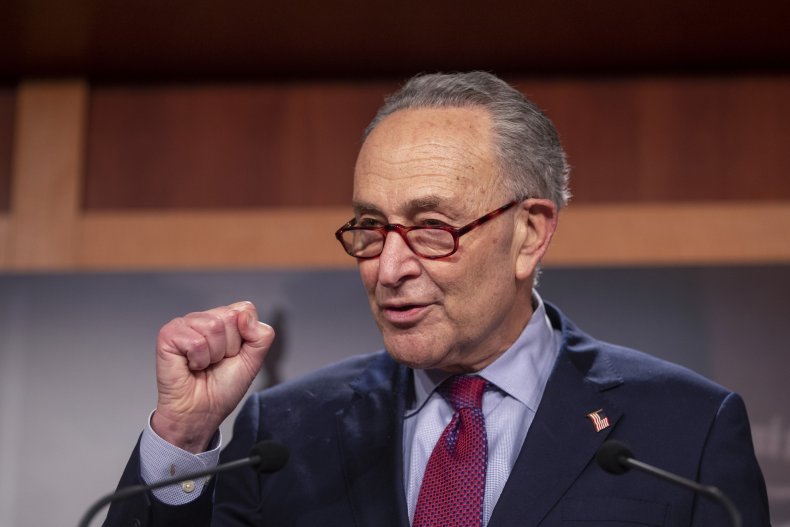 Debt cancellation is usually treated as taxable income, so the measure would mean a forgiven loan would not be accompanied by a tax bill.
Chair of the Congressional Progressive Caucus, Pramila Jayapal, who is among Democrats pushing to increase the student loan amount that should be forgiven, tweeted: "@POTUS should cancel $50,000 of student loan debt," adding, "RT if you agree."
Schumer duly did this, adding the message: "More than 43 million Americans are crushed under more than $1.5 trillion in federal student loan debt."
"A crisis of this magnitude requires bold action," he added, "President Joe Biden can #CancelStudentDebt through executive action."
Biden, who in one of his first actions as president, paused student loan payments and interest to October 1 due to the coronavirus pandemic, has said that he did not believe he had the authority to wipe out $50,000 without the backing of Congress.
This has been disputed by progressives such as Representative Ayanna Pressley (D-MA) who told MSNBC last month that such a move would benefit low-income households.
Senators Bob Menendez (D-NJ) and Elizabeth Warren (D-MA), consider that ending tax liability for forgiven student debt can nudge Biden into forgiving $50,000, rather than $10,000.
"This clears the way for President Biden to #CancelStudentDebt without burdening student borrowers with thousands of dollars in unexpected taxes," Warren tweeted on Saturday.
Meanwhile, a poll this month from Monmouth University showed that 61 percent of Americans backed Biden's pledge to eliminate $10,000 of college debt. When this amount increased to $50,000, public support dropped to 45 percent, with 53 percent opposed to such a move. Newsweek has contacted the White House for comment.