Chuck Schumer, Susan Collins Exchange Barbs as Long-Running Feud Heats Up Once Again
Tensions escalated once again between Senate Majority Leader Chuck Schumer and Republican Senator Susan Collins on Tuesday night.
Host Anderson Cooper asked Schumer on CNN's Anderson Cooper 360 Degrees whether Democrats could have done more early on to get Senate Republicans on board with President Joe Biden's $1.9 trillion relief package, which Biden is expected to sign into law on Friday.
In response, Schumer said, "We made a big mistake," referring to the $831 billion American Recovery and Reinvestment Act that was passed in 2009 during the Obama administration. Schumer blamed Collins, a member of bipartisan group of lawmakers who drafted the law, for Democrats having to concede too much to the Republicans on the bill's provisions.
"Susan Collins was part of that mistake," Schumer responded. "We cut back on the stimulus dramatically, and we stayed in recession for five years."
The New York Democrat added that "what was offered [this year] by the Republicans was so far away from what's needed, so far away from what Biden proposed, that he thought that they were not being serious in wanting to really negotiate."
White House chief of staff Ron Klain retweeted Schumer's comment to Cooper, drawing attention to the majority leader's remarks about the Maine senator.
Collins responded to Schumer's comments on Wednesday, noting that Schumer voted for the same economic relief package in 2009 that she did. That year, both Schumer and Collins supported striking $870 million in pandemic preparation from the stimulus bill, which was meant to provide relief from the previous year's recession.
"So for Chuck Schumer, who was intimately involved in the negotiations as the assistant leader, to somehow criticize me for taking the same position that he did is simply bizarre," Collins told reporters.
The comments are the latest in the escalating tensions between the senators. On Inauguration Day, Collins told reporters that she and Schumer hadn't talked since the election. She added that she anticipated a "very difficult relationship" with the majority leader, despite her meeting with Biden multiple times.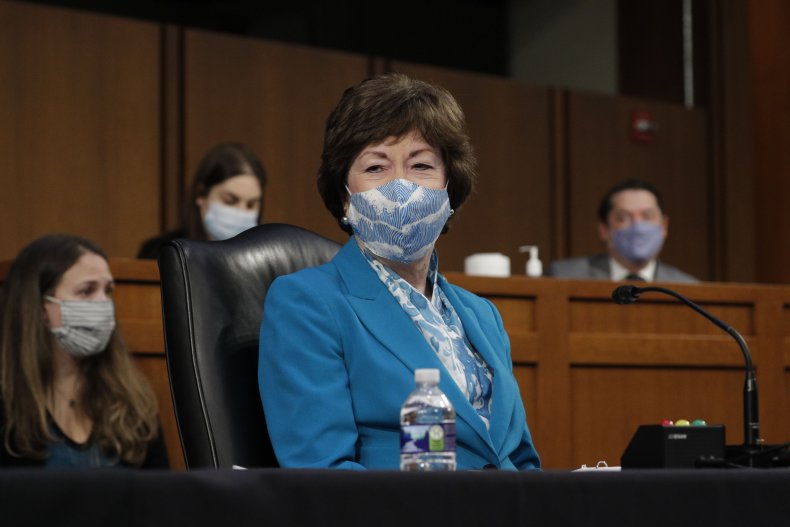 Collins is a moderate Republican who has often crossed party lines in her voting. While Democrats have a slim majority in the Senate chamber, internal divisions have threatened that majority, forcing Schumer to rely on moderate senators like Collins to push through bipartisan legislation.
Collins has been vocal about Schumer reportedly supporting efforts to take away her Maine Senate seat in last year's election. Spectrum News in New York City reported that a political action committee associated with Schumer put out ads that accused her husband of profiting from the opioid crisis.
"And I think it reflects regrettably his inability to accept the fact that despite pouring $100 million into defeating me, the people of Maine said no," Collins said.
Newsweek reached out to Schumer and Collins for comment but did not receive replies by publication time.