Schumer Warns TSA of Security Issues With TikTok, Says Use Will Not 'Fly'
Senate Minority Leader Chuck Schumer has called on the Transportation Security Administration to end its use of China-owned video app TikTok, citing potential national security concerns.
In recent months, the TSA has used TikTok to post a number of videos, with some being reshared on other social media platforms, including Twitter.
The majority of the videos are meant to be humorous, including one in which a TSA spokeswoman explains which kinds of Nutella containers can be brought in carry-on luggage while appearing to have the contents of those that haven't been approved spread on her face.
In a letter sent to TSA Administrator David Pekoske on Saturday, Schumer warned that there was nothing funny about the agency's use of TikTok, with the Democrat questioning its use following repeated warnings from national security experts and a ban from the Department of Homeland Security and U.S. military.
Get your unlimited Newsweek trial >
In the letter, reviewed by Newsweek, Schumer stressed the importance of concerns around TikTok's collection and handling of user data and personal information, including a users' locations. The letter underscores Chinese law dictating that companies cooperate with the country's government and intelligence collection programs.
With the Department of Homeland Security and U.S. military having issued their own bans on use of TikTok on department-issued cellphones, Schumer also questioned how the TSA could think it would be okay to use the platform to promote its own policies.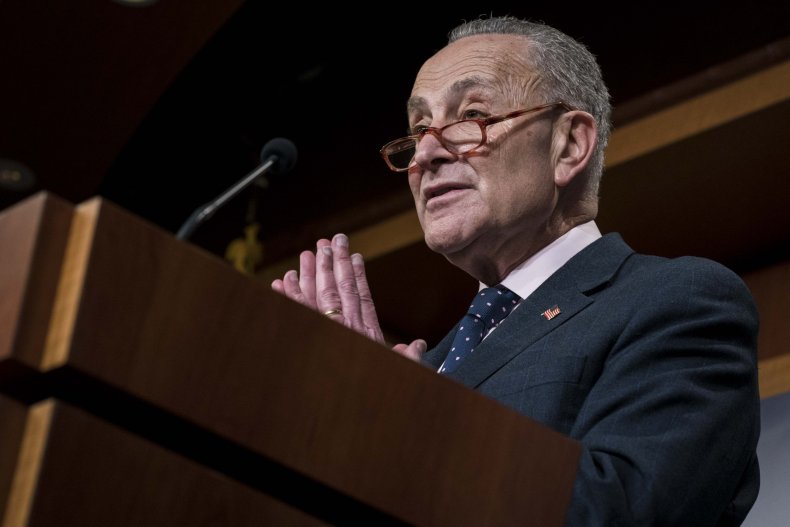 "Recently, both the U.S. military and the Department of Homeland Security, which oversees the TSA, detailed social media policies and guidelines as it relates to use of the China-owned app TikTok due to security and privacy concerns," Schumer wrote. "Despite these restrictions, including at TSA's parent DHS, your agency continues to utilize TikTok to communicate with the American public in an official capacity.
Get your unlimited Newsweek trial >
"While I recognize that the TSA must adapt its outreach techniques in order to communicate with a variety of Americans, I urge you to assess the potential national security risks posed by China-owned technology companies before choosing to utilize certain platforms," he wrote. The full letter can be seen below.
In a separate statement provided to The Associated Press, Schumer said: "Given the widely reported threats, the already-in-place agency bans, and the existing concerns posed by TikTok, the feds cannot continue to allow the TSA's use of the platform to fly."
The TSA's use of TikTok appears to be part of its ongoing and outsized social media presence. The agency was nominated for a 2018 Shorty award, which celebrate social media influencers, for its Instagram profile.
The agency's use of TikTok has already made headlines around the world, with The Hindustan Times writing in November of how "in love" Twitter users were with a video the agency put out on Thanksgiving travel rules.
It is unclear whether the TSA will end its use of the platform following Schumer's letter. It is also unclear whether this is the first clear warning the agency has received over its TikTok use.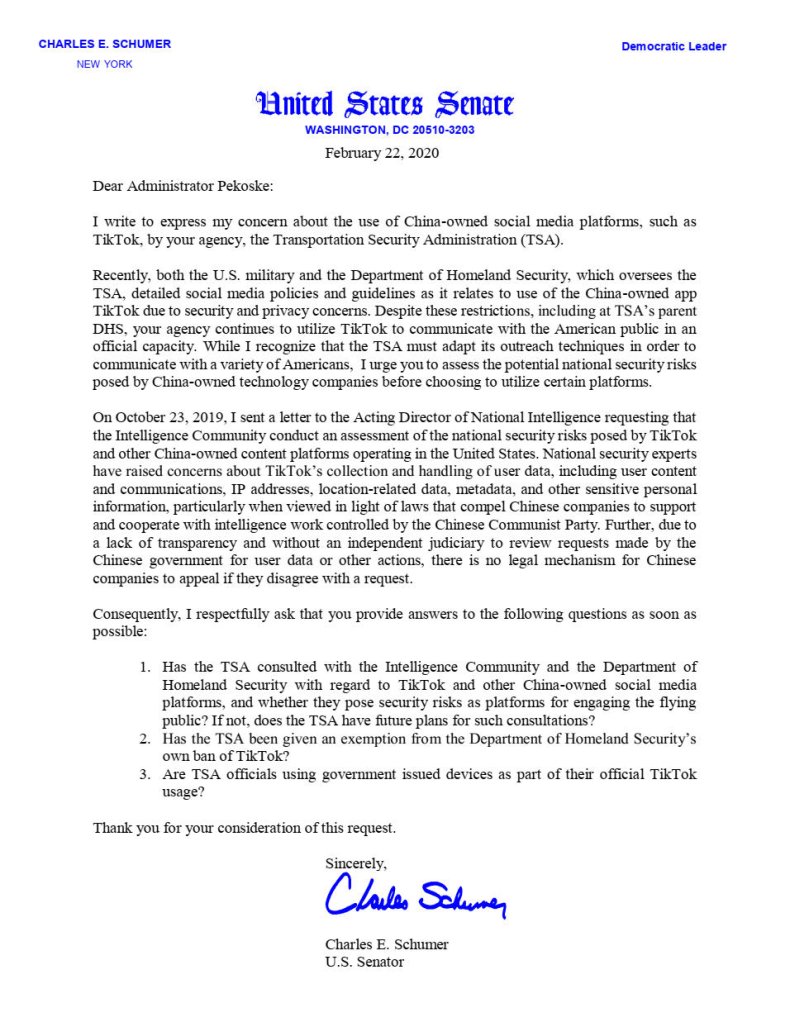 This article has been updated to include Sen. Schumer's letter to the TSA.
Schumer Warns TSA of Security Issues With TikTok, Says Use Will Not 'Fly' | U.S.