Chuck Schumer: William Barr Refused to Provide Assurances on Russia Probe and Mueller Report During Meeting
Senate Minority Leader Chuck Schumer emerged dissatisfied from a private meeting with William Barr on Wednesday, saying the attorney general nominee's answers did not assuage his concerns.
Schumer said Barr refused to provide assurances he would not interfere in special counsel Robert Mueller's Russia investigation, would not guarantee he would issue a full report at the conclusion of the probe and provided few specifics with regard to preserving the inquiry's transparency.
"Despite the fact that there were some nice words at the hearing, he would not have the kind of strong and clear commitments to the report being issued and there being no interference in the investigation that are needed, particularly now, with President Trump treating the Justice department as he has," Schumer said. "I wanted to give him a chance and maybe he could undo my opposition."
Barr assured the Senate Judiciary Committee on Tuesday during the first day of his confirmation hearing he would provide "transparency" and make "as much information available as I can, consistent with the rules and regulations that are part of the special counsel regulations." However, that could mean an edited or summarized report from Barr, rather than the full, unedited report from Mueller.
"You would have to make unequivocal in public that you would not interfere with the... you would issue the full report, except if intelligence sources said that certain portions should be redacted," Schumer said. "He would not give that assurance. Very disappointed."
When the senator asked Barr if he would commit to not interfering in the investigation, such as limiting Mueller's subpoenas, witnesses and questions, Schumer said "he would not commit to that either."
On the issue of recusal, Barr said Tuesday that even if DOJ ethics officials advised him to recuse himself from overseeing the probe, as former Attorney General Jeff Sessions did, he would not.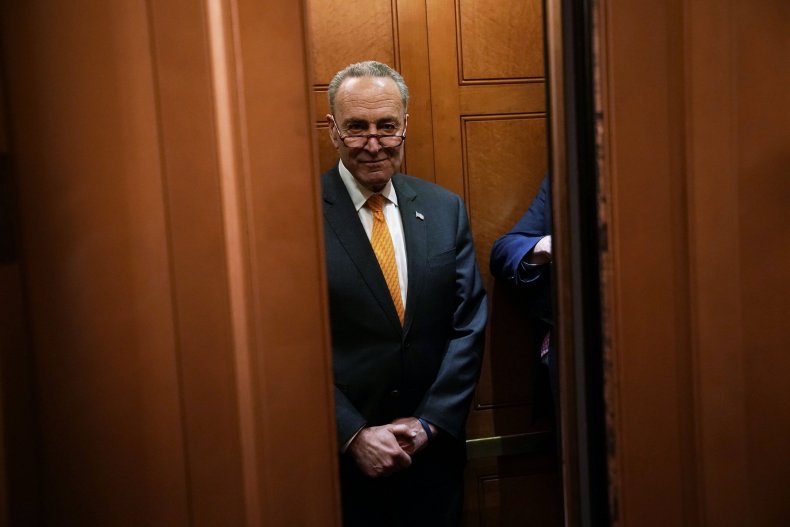 "I will seek the advice of the career ethics personnel, but as head of the agency, I make the decision of my recusal," Barr told the committee. "At the end of the day, I would make my decision based on the law and the facts."
Barr offered wavering answers to the Senate Judiciary Committee on numerous subjects related to Mueller's investigation, particularly the Democrats' concerns over a 19-page memo penned by Barr to DOJ and Trump's lawyers back in June 2018. In it, the nominee strongly criticized Mueller's investigation and took a skeptical view of investigating obstruction of justice by the president. Many Democrats called the memo an "audition" for the job.
Following their questioning of Barr on Tuesday, nearly all the Democrats on the Senate Judiciary Committee told Newsweek they were dissatisfied with his answers. However, they stopped short of rebuking the nominee. They would not commit to voting against Barr and signaled they were still open to being persuaded, should Barr provide more clarifying answers when it came to the Russia probe.
Democratic Senator Dick Durbin called Barr a "strong witness," but said there were "still some fundamental issues involving his June memo and for me particularly, the issue of immigration."
However, Democrats' concerns will likely not matter when it comes to the nominee's confirmation. Barr will only need a simple majority to be confirmed in the Senate, and no Republican members have indicated they plan to vote against him.
Correction: This story has been corrected to label Schumer the Senate minority leader.