Schumer Shutdown: Who Is the Democrat Republicans Are Blaming for Bringing the Government to a Halt?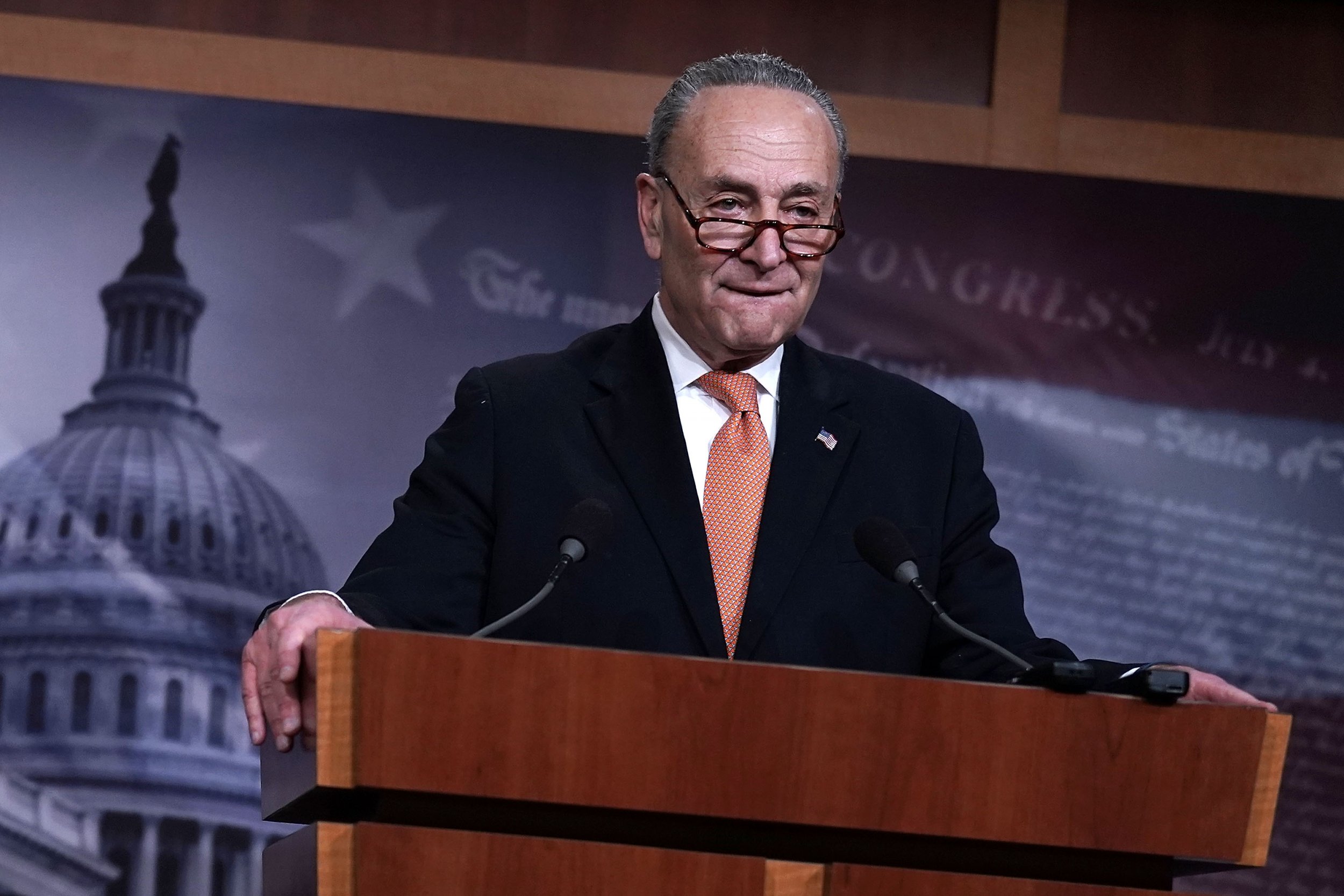 Republicans and Democrats alike are racing to win the "blame game" over who should be held responsible for the federal government shutdown.
For most Democrats, the answer is obvious: President Donald Trump and his administration's refusal to budge on restrictive immigration policies, of course.
However, for Republicans a clear consensus also seems to have emerged, with the blame falling squarely at Senate Minority Leader Chuck Schumer's doorstep.
Schumer, who is arguably the most powerful Democrat in Washington, has been touted as the mastermind of a plan to use a government funding deadline to push for the protection of up to 700,000 Dreamers, the undocumented immigrants who were brought to the U.S. as children.
President Donald Trump ended the Deferred Action for Childhood Arrivals (DACA) program back in September, putting hundreds of thousands of Dreamers at risk of deportation. A judge blocked the U.S. leader's ruling earlier this month, extending protections until at least March 5, but Democrats have been calling for permanent immunity for Dreamers living in the country.
In a bid to force a deal protecting Dreamers, Democrats, led by Schumer, refused to support a budget bill to continue funding government operations unless an agreement could be struck. With neither side willing to back down, the budget bill failed to pass, putting a freeze on most government services.
Despite having control of both the White House and both chambers of Congress, Republicans have pointed the finger at Schumer, accusing the Democrat of playing to the demands of advocacy groups.
The White House and GOP officials have branded the government freeze the "Schumer Shutdown," launching the phrase as a hashtag in a growing Twitter battle that has seen Democrats pushing their own "#TrumpShutdown" hashtag.
Who is Chuck Schumer?
Schumer has served as the senior United States Senator from New York for four terms, being first elected to his seat in 1998.
He has also served as the Senate Minority Leader since he was elected just over a year ago last January.
The Brooklyn-born Democrat is thought to have a penchant for the media spotlight, with former Republican leader of the Senate Bob Dole once quipping that "the most dangerous place in Washington is between Charles Schumer and a television camera."
Despite often enjoying being the center of attention, however, Schumer has not always been seen in a positive light and has long faced criticism from liberals over his Wall Street ties, making him an unlikely leader of the left.
Around the time of 2008 financial crash, Schumer was accused of playing a role in backing measures blamed for contributing to the Wall Street meltdown, with a December 2008 New York Times article stating that he "embraced the [financial] industry's free-market, deregulatory agenda more than almost any other Democrat in Congress."
Schumer also upset many Democrats by opposing the Iran nuclear deal championed by the Obama administration.
The senator has previously been criticized by immigration advocates who say he has not fought hard enough on behalf of young immigrants.
In 2013, he was part of a bipartisan group of senators working on a proposal package that sought to overhaul U.S. immigration laws.
One of the signature proposals of the deal was to provide a pathway to citizenship for people living in the U.S. illegally. It was narrowly approved in the Senate, but was never taken up by the House—a fact that has now likely come to haunt the senator.
Of course, that isn't the only specter from the past that the politician has faced criticism over.
During the last 2013 government shutdown, Schumer implied in an interview with CNN's Jake Tapper that forcing a shutdown was part of "a politics of idiocy" and "confrontation."
"Anyone can do that," he said at the time. "What if I persuaded my caucus to say: 'I'm gonna shut the government down; I'm going to not pay our bills unless I get my way?' It's a politics of idiocy, of confrontation, of paralysis."
The senator was reminded of those comments when a staffer set up a sign quoting him at a press conference on Capitol Hill, where U.S. Representative Cathy McMorris Rodgers (R-WA) commented on the spending freeze.
While immigration advocates are hoping accusations from Republicans holding Schumer responsible for the government shutdown will not deter the senator, a number of Democrats have met with the politician to push for both sides to come to a compromise to end the shutdown, according to Reuters.
Democrats running for re-election in the fall appear to be particularly concerned about how the shutdown might affect their chances.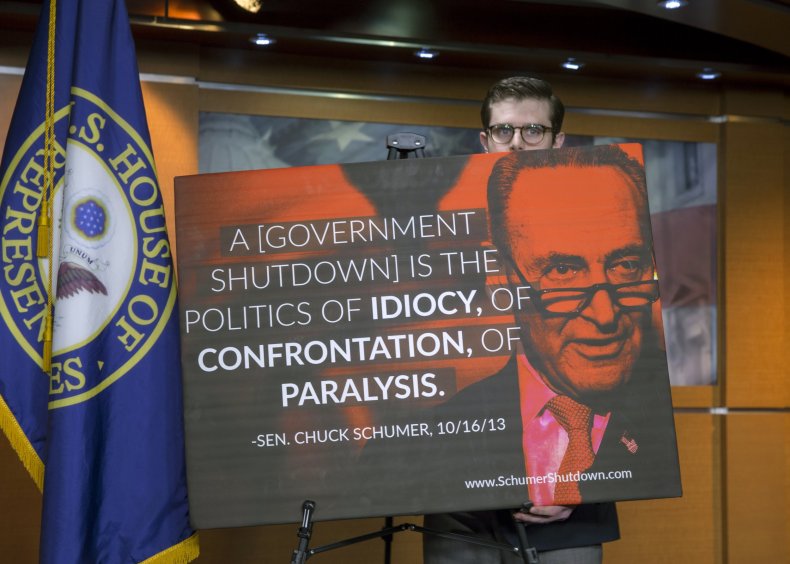 "The question is, how do we get out of here in a way that reflects what the majority of the body wants to do?" asked Senator Heidi Heitkamp of North Dakota, who is one of several Democrats up for re-election.
She urged Schumer and fellow Democrats to come up with a solution over the weekend before the work week could begin, but by Monday morning, a deal had yet to be reached.
As a result, thousands of federal government employees woke up to the message that they should either stay home or work without pay.
What happens now?
The Senate has scheduled a vote for Monday to advance a bill that would extend government funding until February 8.
In a bid to see the short-term funding bill accepted, Senate Majority Leader Mitch McConnell has pledged to take up legislation on immigration, as well as other top Democratic priorities before the extension's expiration date.
It remains to be seen whether McConnell's vow will be enough to win the votes of the handful of Democrats he would need to pass the spending bill.
Immigration advocates have pleaded with Democrats to refuse to bend, despite concerns voters will blame them for the shutdown.
Frank Sharry, the executive director of immigration advocacy group America's Voice, applauded Schumer's resilience so far, saying: "He went to the mats ... He had the backbone to lead his caucus into a high-stakes, high risk battle. It thrilled progressives."
But, he warned: "If the shutdown ends because Democrats blink first, the era of good feeling quickly will be replaced by anger and disappointment."