Chuck Taylor, Converse, and Us: A True American Love Story | Opinion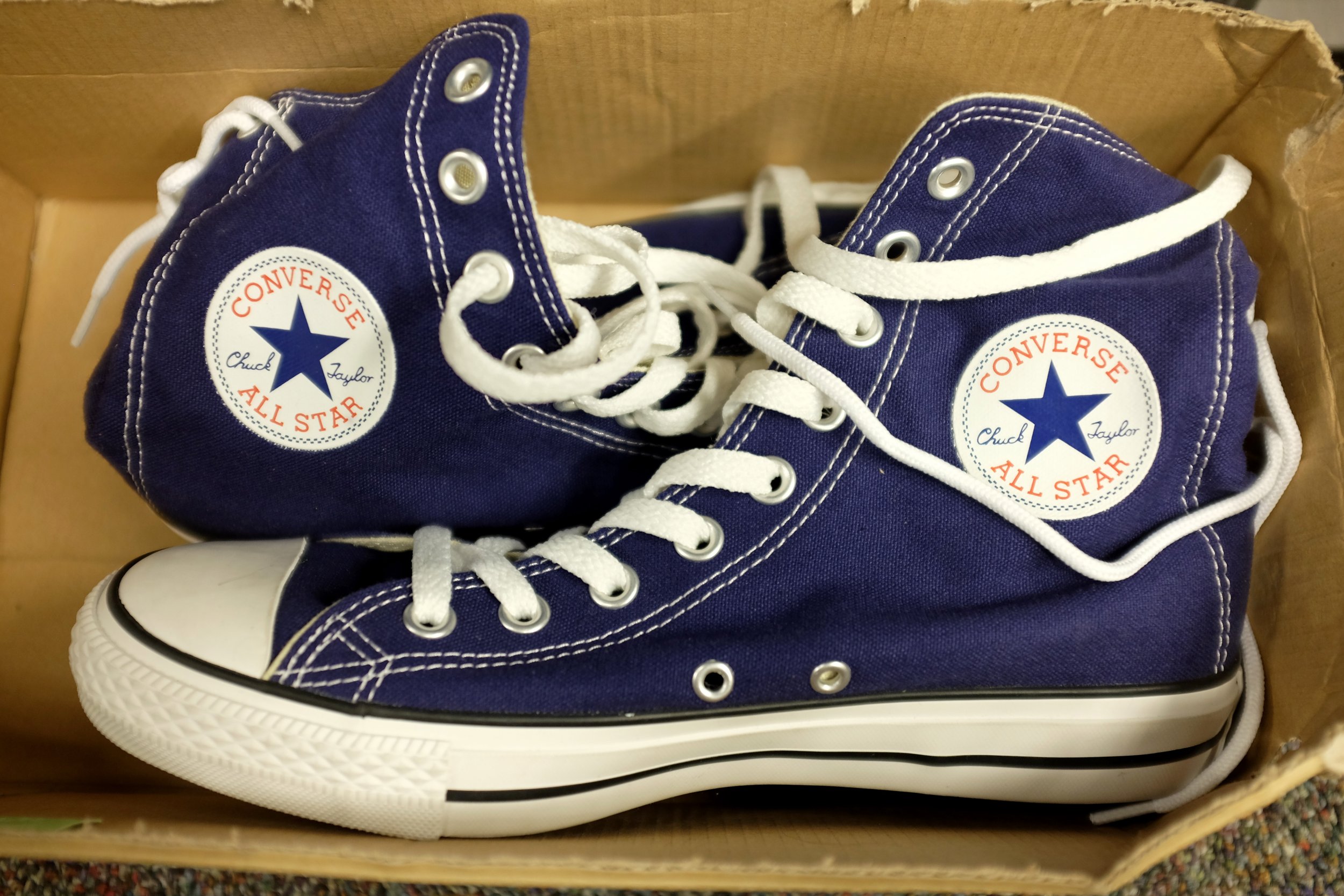 You know his name. You've probably owned one pair of sneakers that bear his signature. Maybe more. I lost count a long time ago, having purchased my first pair back in grade school. There's a fairly new pair in my closet.
My 13-year-old daughter just bought a red pair, and not for sport. She just thinks they look great, and so do all of her friends.
What's remarkable about the man whose name we all know, and whose sneaker is still worn today—nearly a century after it was created—is that he was never a famous athlete like Michael Jordan.
Chuck Taylor was a basketball player, it's true. But he didn't get his name on the Converse sneaker because he was a great NBA player—the league wouldn't come into existence until 1949.
Baseball had most of the famous athletes in the 1920s and 1930s when Taylor was entering adulthood—stars like Babe Ruth and Lou Gehrig. But baseball players don't wear sneakers. Boxing had stars like Jack Dempsey and Joe Louis. But try selling that sport's footwear to a mass public. And then there was horse racing, with stars like Man o' War and Seabiscuit. But those four-legged athletes wear a different kind of shoe.
Chuck Taylor got his name on a sneaker because he just may have been one of the greatest salesmen in American history.
He was born in 1901 in Indiana, not long after the game itself was born. Dr. James Naismith invented basketball in 1891, long before television and smartphones—and the mass media star power that drives sports. And sports merchandising.
He grew up in Columbus, Indiana, where he was a high school basketball star. After graduating in 1919, he played for a number of semi-pro teams, starting with the Columbus Commercials. Their debut game barely got a mention in the local paper.
The game may not have been ready for primetime, and a real professional league, but its popularity spread like wildfire from its Midwest roots to high schools and colleges across the country. Basketball hoops became a fixture in city and rural landscapes. It was a cheap and easy to play. And it was fast and fun.
Making a living playing basketball wasn't in the cards for Taylor, so he joined the Chicago office of the Converse company in 1922, in the sales department.
"Basketball shoes didn't exactly sell themselves, something that Chuck Taylor discovered when he started working at Converse," wrote Nicholas Smith in his great new book Kicks: The Great American Story of Sneakers.
Smith recounted a conversation Taylor had with his mother as being a real catalyst for his life's work.
"Who needs the shoes?" his mother asked him.
"Basketball players," he replied.
"Who buys them for the players?" she asked.
"The coach and high school officials," he replied.
"I think you've been going to the wrong people," his mother said. "Why don't you go to the coaches and show them your shoes?"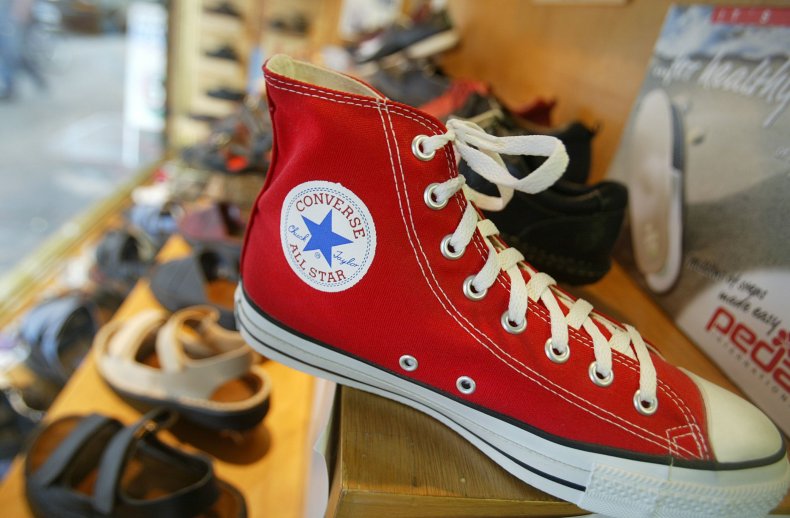 Taylor acted on that insight, exploiting his time spent playing semi-pro ball, and his deep knowledge and love of the game.
For the next forty years, he barn-stormed across America holding clinics for players and coaches, teaching them the in and outs of the game.
"He put on clinics all over the country, helping kids learn how to play better," explained Joe Dean, who spent time at Converse as an executive, and was a great player and athletic director at LSU. "At one point, he knew every college basketball coach in the country."
His clinics were so entertaining that local newspapers covered them when they rolled into town. Taylor dazzled audiences with his skills.
"In 1937, a Notre Dame junior named Ray Meyer was picked out of the stands," wrote Smith. Meyer had been a part of the national championship team that the Chicago Tribune described as the most feared in college basketball.
"Taylor issued a simple challenge, one that he regularly featured in his clinics: try to stop the ball," Smith wrote.
Taylor was by now in his mid-thirties, pudgy and with a high receding hairline, and Meyer "was fighting fit and a decade younger."
How hard could it be, the kid thought, to pick off a pass from this old guy?
"I couldn't stop his passes," Meyer recalled years later. "He was a great ball handler."
It turns out that long before Magic Johnson, Taylor mastered the no-look pass. It was one of many tools in his hoops tool-kit.
Beside playing the role of the Johnny Appleseed of basketball, Taylor's other contribution to the game was the Converse Basketball Yearbook.
It featured articles on strategy from leading coaches, along with rosters, season reports, and team photos. But there was a sales catch: if you wanted your photo in the yearbook, most of the team needed to be wearing Converse shoes.
And then there was the "Taylor All-Americans." It was the yearbook's centerpiece, as Taylor's time on the road gave him great credibility, and an eye for spotting talent.
Taylor made certain to pick players from across the country, and not just big cities. "If you were a player from, say, a high school in Nebraska, the yearbook might be your one shot a nationwide recognition, appearing in the tens of thousands of copies mailed out each year," Smith explained.
The yearbook was a masterstroke, one that put Converse at the epicenter of the basketball world.
Taylor would do more than just promote the sport and brand. He would also offer critical suggestions on sneaker designs and engineering as well.
By 1934, it was clear Taylor was a star in his own right, and his signature was added to the ankle patch of the sneaker that still bears his name.
One would be hard-pressed to name another iconic brand in American retail that was named after a salesman. But calling Taylor a salesman would be like calling Vladimir Horowitz a piano player. Or Arnold Schwarzenegger a weightlifter.
Taylor was a lifelong evangelist for the sport. He was the Billy Graham of basketball. The sneaker sales followed.
After decades on the road preaching the gospel of basketball and Converse, he retired in the mid-1960s. The entire time, Taylor never asked Converse for a royalty on the sneaker. He asked only for an expense account for his travel.
Taylor didn't spend much time nurturing his private life. He married, divorced and married again. He had no children. "He went years without having a house or an apartment or anything," Joe Dean explained. "He lived out of a hotel 365 days a year."
That's because Taylor's true love was the game itself.
In 1968, he was inducted into the Basketball Hall of Fame. One year later, he passed away.
Converse began to lose its dominance on the hardwood in the 1970s. But in the years and decades to come, an odd assortment of misfit cultural pioneers—skateboarders, rappers, punk rockers and grunge artists—adopted his sneaker, and turned the brand into a part of America's cultural fabric.
"People started to see through their lens that the Chuck Taylor was not just an athletic sneaker," Rodney Rambo, Converse's vice president of marketing, told SI.com. "It was a blank canvas and badge of self-expression."
"He's an American character in the sense that we talk about people reinventing themselves," explained Abraham Aamidor, who wrote Chuck Taylor, All-Star. "You can't say what he did. He didn't win a Nobel Prize. He's not a great mathematician. He's not Johann Sebastian Bach. But his brilliance was in being an American and just an entrepreneur, and it's great."
Chuck Taylor was the American Dream personified, and the proof of America's love affair with his sneaker is in my closet. And my daughter's. And the closets of hundreds of millions of other customers and fans, new and old, around the world.
Lee Habeeb is a Vice President of Content at Salem Media Group, and is host of Our American Stories, a nationally syndicated radio show and podcast.
The views expressed in this article are the author's own.