Chuck Yeager, the First Man to Travel Faster Than Speed of Sound, Dies at 97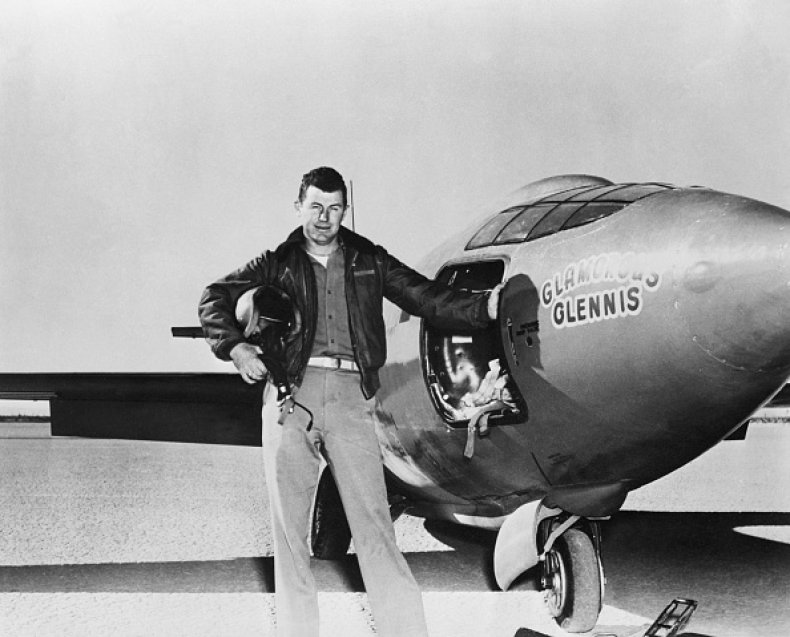 Chuck Yeager, the U.S. Air Force pilot who became most well-known for being the first human to travel so fast that it broke the sound barrier, died Monday. He was 97.
Born Charles Elwood Yeager in 1923, Chuck became one of the world's most-renowned test pilots after the second World War. Yeager tested rockets, experimental crafts and rocket-powered machines.
On October 14, 1947, he became the first human to break the sound barrier when he flew the Glamorous Glennis at Mach 1, and he did it at 45,000-feet altitude over Rogers Dry Lake in the Mojave Desert. That was just the first of many speed and altitude records he would go on to break in his lifetime.
Victoria Yeager broke the news Monday night of Chuck Yeager's death. Here's what she wrote on Chuck Yeager's Twitter: "It is w/ profound sorrow, I must tell you that my life love General Chuck Yeager passed just before 9pm ET. An incredible life well lived, America's greatest Pilot, & a legacy of strength, adventure, & patriotism will be remembered forever."
The cause of death was unknown at time of this report.
Yeager was born in West Virginia and enlisted into the U.S. Army Air Forces in September of 1941, just a few months before the Japanese attack on Pearl Harbor. His decorated career ended on December 7, 2020, 79 years to the day after those attacks.
Yeager wasn't old enough to join the Army Air Forces at the time—which later became the U.S. Air Force—but he had unbelievable eyesight for his young age. Yeager could shoot a deer from 600 yards, and his sharp eyes not only got him into the service, but through the ranks.
His adept skill eventually got him into flight training, and through it.
In his career, Yeager was awarded lots of distinguished medals. Here are the top one:
Air Force Distinguished Service Medal
Distinguished Service Medal (1954 from the Army)
Silver Star with broke oak leaf cluster
Legion of Merit (with bronze oak leaf cluster)
Distinguished Flying Cross (with two bronze oak leaf clusters)
Bronze Star Medal (with bronze valor device)
Purple Heart
Air Medal (with two silver oak leaf clusters)
Air Force Commendation Medal
Presidential Medal of Freedom
Here are some of the highlights if his distinguished career:
| | |
| --- | --- |
| 1966: | Inducted into the International Air & Space Hall of Fame. |
| 1975: | Yeager and Glennis moved to Grass Valley, California, after his retirement from the Air Force in 1975. |
| 1981: | Inducted into the International Space Hall of Fame. |
| 1988: | Invited to drive the pace car at the wheel of an Oldsmobile Cutlass Supreme. |