As Church Attendance Declines, Evangelical Counterculture Bets on Revival
It was a semi-cloudy but warm August evening; the kind of night when most people would ordinarily be hanging out near Seattle's ample waterfront. Instead, about 1,000 people were gathered at Powell Barnett Park, a modest piece of acreage in the city's historically black Central District.
The reason? Revival.
At one end of the park was a stage covered with a large black awning proclaiming "Let Us Worship" in gold lettering. Standing onstage wearing a #40 Seattle Sonics jersey was Sean Feucht, 38, a California musician with long, flowing golden locks.
"Yes, we are those crazy Christians in a park singing our guts out to Jesus tonight," he said. "And we don't give a rip what anyone thinks."
Standing before him on the parched grass was a crowd of young people, an anomaly in an era where the young are showing high rates of church disaffiliation.
Religious observance in America dropped to historic lows. This past March, Gallup reported that U.S. church attendance had, for the first time, fallen below the majority of the population. It's now at 47 percent. Worst hit have been Roman Catholics, who, in 2007 were 24 percent of the population. As of 2020, they ranked at 20.8 percent, according to the Pew Research Center. That is, they sank from being one-quarter of all Americans to being one-fifth. Evangelicals had held on at 25.4 percent of the population but the percentage of "nones" – people with no religious affiliation - have climbed from 19.6 percent to a historic high of 22.8 percent.
The number of "nones" is highest among the young, 43 percent of whom do not identify with an organized religion.
But it was mainly young people who thronged in front of Feucht's stage. Feucht attained some fame last year when he launched a protest movement against California's ultra-restrictive rules against indoor church gatherings. Starting with a defiant rally on the Golden Gate bridge, he toured the country appearing at outdoor worship gatherings, culminating in an Oct. 25 rally on the Washington DC Mall.
Once churches began opening for worship, Feucht needed to pivot toward something else: The desire of many evangelicals for a religious revival that would eclipse America's First and Second Great Awakenings in the 18th and 19th centuries.
Which is why he's rented out space on the Mall for a "Day of Prayer for America" on Sept. 11 and a "Let Us Worship" concert on the 12th. He will need the crowd in prayer for "crisis of leadership and direction in America" and "historic division in the church," he posted August 27 on Instagram.
The evangelical counterculture, especially its subset of charismatic and Pentecostal Christians, has been fixated on revival for years on various web sites and videos. In an interview with televangelist Pat Robertson, Dallas evangelist Dutch Sheets predicted a revival sweeping through America's youth "that will dwarf the (1970s) Jesus Movement."
Ranging from crowded tent meetings in near Tacoma, Washington, by evangelist Nathan French's "Awaken the Planet" ministry to Orlando pastor Daniel Kolenda's three-week-old Nations Church, which is packing 1,600 people into a high school auditorium on Sundays.
"We don't know where to go to find more space," Kolenda said. "A lot of the churches shutting down has created a unique opportunity for other Christians willing to think out of the box."
Orange County, California, evangelist Jessi Green - who moved from New York with her husband Parker to start a succession of beach revival meetings south of Los Angeles - says America is already in the first of seven "waves" of revival.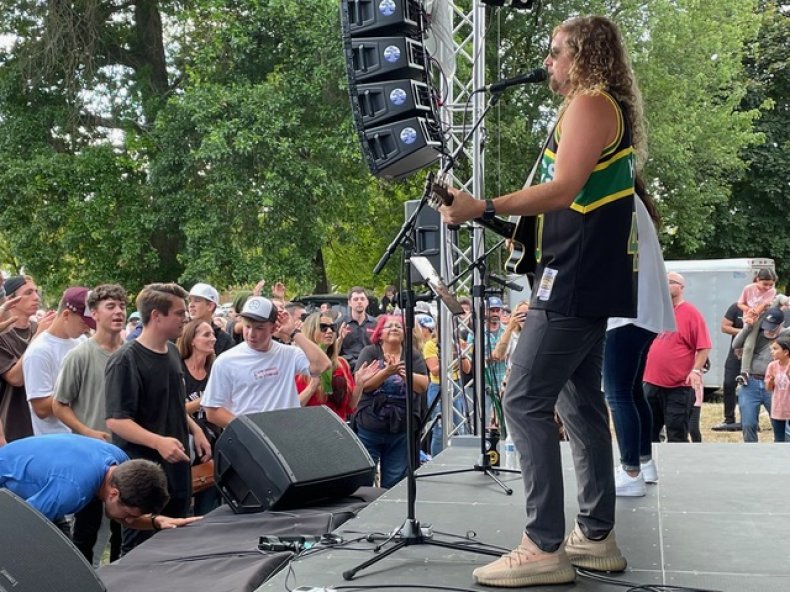 "In 2019, the Lord said to me, 'Green light: The harvest begins the summer of 2020. Prepare the nets,'" Green told CBN in July. Green has also come out with a book: Wildfires: A Field Guide to Supernatural Revival.
Just to the north of her is Shane Idleman, the 51-year-old pastor of Westside Christian Fellowship in Lancaster, who said he fasted 40 days (albeit not consecutively) last spring for revival.
"Revival is literally our only hope," he said in an interview. "The Titanic has been hit and revival is the only way to turn it around." His list of what's wrong included "depravity, the closing of churches, the boys wanting to be girls and the girls wanting to be boys."
In the opening months of Covid, his church lost 125 people, nearly half his Sunday attendance. Membership then tripled this year.
"The finances have gone through the roof, the church is full and there is a lot of hunger with young people," he said. "People are hungry for prayer meetings."
Michael Brown, the president of FIRE School of Ministry in Concord, North Carolina, knows revivals well. He was in Pensacola, Florida, when the "Brownsville revival," which attracted an estimated 2.5 million visitors to services at the Brownsville Assembly of God over a five-year period, burst forth in June 1995. He says he feels something similar to Brownsville is coming.
"Up until 2019, I was greatly concerned that America was in the worse shape than I'd ever seen it but there wasn't a lot of desperation about it," he says. "In 2019, I saw a shift. Churches were inviting me to speak on revival, people were coming to the altar calls. The Covid crisis and racial tensions drove people to their knees even more. We got distracted with Trump and the elections, but we're back on track now. The reality that we either have an awakening or America collapses really strikes me."
The apocalyptic view of America resonates with Feucht's team as well.
"We've seen lots of souls saved," Jay Koopman, an evangelist who emcees Feucht's crusades told me. "It's no longer about our freedoms. It's about revival. Revival will help keep the freedom of America."
Feucht's effort in that direction is a 21st century version of crusade evangelism; meeting and marching in edgy neighborhoods or - in one instance – singing from the steps of the California State Capitol building in Sacramento. His merch table is loaded with T-shirts with slogans like "Worship is Essential" and "The Church Has Left the Building" and if there's been a silver lining to houses of worship being shut down much of 2020, it's been this movement of taking "church" to the public square.
Feucht has already scheduled a September 26 rally in Phoenix, and his "Let Us Worship: West Palm Beach" album hit #1 on iTunes Top 40 U.S. Christian and Gospel Albums on Sept. 1. "We have a lot of momentum," he added. "We'll see what God has next."
Brown, whose own book on revival, Revival Or We Die: A Great Awakening Is Our Only Hope, is due out in October, thinks the action will be in thousands of locales rather than one or two hotspots like Brownsville. As for the disaffection of the young with organized religion, he's betting on millennials and Gen Z to be a major part.
"Once we can get past the political and cultural baggage for the younger generation and just reach them where they are, they will start flocking" to church, he predicts.
Not everyone is buying into this narrative. Bill Stevens, a former Southern Baptist pastor-turned independent, oversees The Well Fellowship in Loveland, Colorado. He feels that evangelicals have brought a lot of cultural baggage into Christianity and that far more repentance needs to happen.
"My heart has been for revival and awakening," he said. "Most of the revivals we see in Scripture are based on people repenting. I think we've missed revival for years. We could have been experiencing it, but the church has made an idol of political power and turned away from God instead of trying to engage and build friendships with people."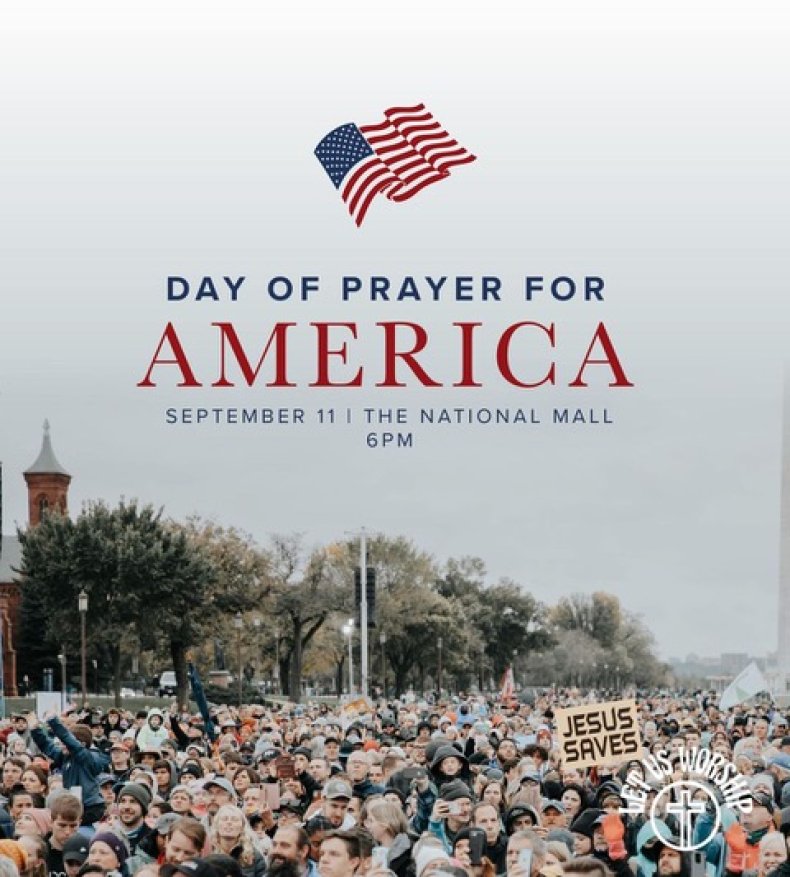 Holly Pivec, author of the book "A New Apostolic Reformation?: A Biblical Response to a Worldwide Movement," said revival is a major thrust among a subset of charismatic evangelicals who believe in modern-day apostles and prophets.
"They see it as bringing God's kingdom to Earth," she said, adding that plans are for "a billion-soul harvest" from massive rallies in sports stadiums. "They've prophesied people will come to stadiums and see miracles - people being raised from the dead - being performed by the apostles and prophets. And these miracles would be televised and that would lead to one billion people being saved."
But flashy miracles aren't what's key, she added. "Biblical revival is measured in terms of obedience and holiness. Anything other than that is not a revival.
Meanwhile, people like French are stocking large tubs for mass baptisms at his stadium gatherings and preaching at outdoor venues in downtown Tacoma. "We are not waiting on revival. Revival is waiting on us," his website reads.
"God is moving," he said, "like I've never seen Him move before."
As for Kolenda in Florida, he trained in evangelism under the late German evangelist Reinhard Bonnke, who preached at overflow gatherings of up to two million people for decades in Africa. "People are hungry," the 40-year-old pastor said. "They want to go to church.
"A lot of the superficial religious stuff isn't working anymore; what is working is the power of the Gospel, signs and wonders, discipleship, the same thing that brought millions of people to Christ in Africa," he added. "We thought that was too simple for America; turns out that when things get tough, the simple stuff works."