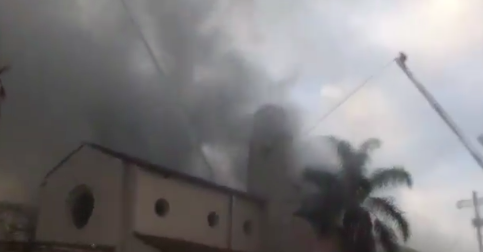 A massive fire engulfed a church in the University Park neighborhood of Los Angeles on Thursday. The abandoned two-story church caught on fire early in the morning and more than 130 firefighters responded to the scene to contain the flames.
It was not immediately clear what caused the fire to start. The now-abandoned structure was built in 1924, according to the Los Angeles Fire Department, and previously served as a mortuary and a church.
LAFD Captain Erik Scott said firefighters were making progress in fighting the flames, KABC-TV reported.
"The first arriving firefighters got on scene and saw the large two-story structure with extensive fire billowing out the front door and second-story windows," he said, according to the station. "We may have had a brief offensive attack, however, we were driven back by the intense flames."
The LAFD said in an update it expected "several more hours" of operations in battling the "stubborn and largely smoldering fire."
There were no immediate reports of injuries resulting from the fire, and it appeared not to be threatening any nearby structures. The LAFD said the building was now considered unfit and unsafe for human occupancy after being structurally compromised in the fire.
This is a developing story and will be updated as more information becomes available.