Church Group Assisting Nearly 300 Haitian Migrants Released into U.S.
The El Paso Baptist Association has offered Haitian migrants COVID-19 testing, food, clothes, and shelter as those seeking refuge try to contact family members and sponsors in the United States.
The El Paso Baptist Association has helped more than 300 migrants, mostly Haitian, and was expecting many more seeking aid to arrive in El Paso area, according to Larry Floyd, the group's executive director.
Other churches in the area, which belong to a variety of religions, also started outreach efforts to provide water, over 10,000 sandwiches, and other essentials for those at the border.
The outreach coalition began with about 20 churches offering aid and quickly grew to over 100 churches and other organizations seeking to help the Haitian migrants, according to Shon Young, president of the Val Verde Border Humanitarian Coalition and associate pastor at City Church Del Rio. Young's church also collected donations and said the response from donors and organizations has been overwhelming.
As the Haitian migrant crisis continues, these churches are seeking to care for those they have seen hurt by Border Patrol tactics or eventual deportation and separation of families.
A Houston-area leader in the Church of Jesus Christ of Latter-day Saints, Carlos Villareal, believes that helping these families and individuals is part of the church's mission and religious duty.
"Our concern is mainly with the families, that we can help them," Villareal said. "It's also the Golden Rule – do unto others as you would have done unto you."
His church along with many others have sent volunteers to a short-term transition center in Houston that was recently set up by the request of the White House to care for and aid the hundreds of migrants crossing from Del Rio.
For more reporting from the Associated Press, see below.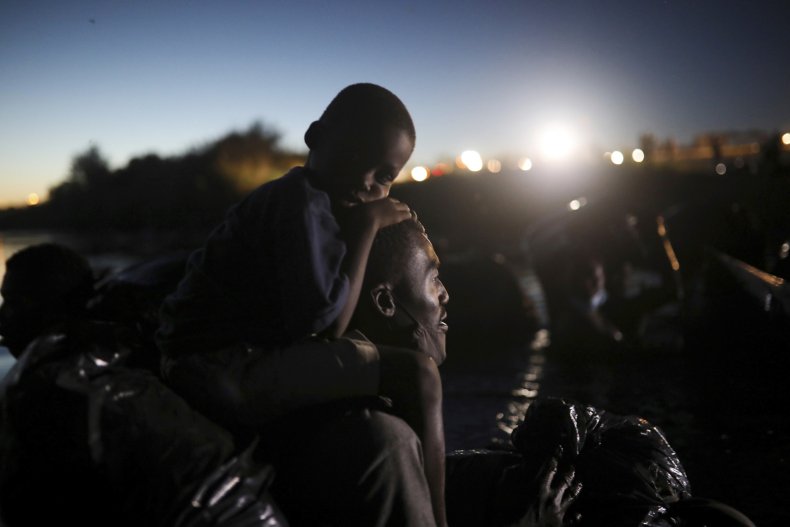 Mobilization of faith-based groups began almost from the start of the sudden migrant surge in Del Rio, with Haitians converging from various Latin American countries to which they had fled from their beleaguered Caribbean homeland.
The camp held more than 14,000 people at its peak. Many of the Haitian migrants are being expelled and flown back to Haiti, but many others who gathered in Del Rio have been released in the United States, according to two U.S. officials.
The Department of Homeland Security bused Haitians from Del Rio to El Paso, Laredo and the Rio Grande Valley along the Texas border, and added flights to Tucson, Arizona, one of the officials said. They are processed by the Border Patrol at those locations.
Catholic-led and other faith-based nonprofits have long been at the forefront of efforts to support migrants and asylum seekers along the Mexican border, providing crucial services on both sides of the Rio Grande.
Pope Francis has praised the work of Sister Norma Pimentel, the executive director of Catholic Charities of the Rio Grande Valley. Other well-known groups include Jewish Family Service of San Diego, which provides housing and other assistance to migrants, and Annunciation House in El Paso, which provides shelter to migrants while they arrange travel to other U.S. cities.
Annunciation House, which says its mission is based on Catholic social justice teaching, has geared up to receive several hundred migrants coming from Del Rio, said executive director Ruben Garcia.
"First they're tested," Garcia said. "Once they're COVID tested, we begin to accommodate them."
At times, faith-based groups have injected themselves into a polarizing national debate over immigration policies. Although many praise their work to help migrants, some critics say it encourages more people to come to the U.S.
"A lot of these religious groups conflate two issues ... they are rendering assistance to people who are in front of them who need help. That's different from advocating government policy that would import more people like that," said Mark Krikorian, executive director of the Center for Immigration Studies. The center favors more restrictive immigration policies.
Many religious leaders joined a call last week organized by the national nonprofit network Faith in Action urging President Joe Biden's administration to stop deporting migrants to Haiti without giving them a chance to seek asylum in the U.S. and to protest their treatment after images surfaced of Border Patrol agents on horseback using aggressive tactics.
"That is unconscionable and cannot be tolerated today," said the Rev. Alvin Herring, Faith in Action's executive director.
The Network Lobby for Catholic Social Justice has called for more oversight of U.S. Customs and Border Protection. The network's government relations director, Ronnate Asirwatham, says CBP has a "history of systemic abuse and racism."
The group joined more than 160 Catholic organizations in a letter asking Biden to end Title 42 authority, named for a section of a 1944 public health law that then-President Donald Trump used in March 2020 to effectively end asylum at the Mexican border.
Herring, who traveled to Del Rio with other faith leaders to assess the situation first-hand, says it is vital to press for Biden's administration to make good on its commitments to migrants.
"We see the singling out of our Haitian brothers and sisters for this despicable abuse, which we believe is racist and immoral," he said.