Church Hosting Trump Says Its Air Filters 'Kills 99.9% of COVID-19'
In a video posted to Twitter on Monday afternoon, Dream City Church, the north Phoenix church hosting President Donald Trump on Tuesday, said that it has installed Clean Air EXP, an air filtration system that, according to the church's leaders, kills 99.9 percent of COVID-19 "within 10 minutes."
Despite the church leader's reassurances, the city's Democratic Mayor, Kate Gallego, wrote in a statement issued Monday that the city neither "sanctioned nor permitted" the upcoming event. Additionally, the event will not abide by current guidelines from the Centers for Disease Control and Prevention (CDC), Gallego wrote.
"The church has indicated that they will be handing out masks to eventgoers & taking temperatures upon check-in," Gallego added, saying that she has no desire to issue legal citations to church members not wearing masks.
In the video, the church leaders repeated marketing copy from the company's website, and said that "independent testing" of the local company's technology, which they say was developed by members of their church, uses ionization to take "particulants" out of the air so that "COVID can not live in that environment."
Specifically, Clean Air EXP's website says its product eliminates 99.9 percent of a "coronavirus surrogate" from the air, suggesting that the virus could continue to live on people's bodies and other surfaces.
In a statement given to Newsweek, Clean Air EXP wrote, "We understand there is recent confusion around the claims made by one of our customers around our laboratory testing."
"We tested with a third-party Certified Biosafety Laboratory on the best coronavirus surrogates available (Coronavirus 229E and Cystovirus Phi6) and found our patented technology leads to a 99.9 percent elimination of airborne coronavirus surrogates. We do not, however, eliminate COVID-19 at this time," the statement continues, adding that it supports the CDC's guidelines on hygiene habits to prevent the spread of COVID-19.
Newsweek reached out to Dream City Church for further information. This story will be updated with any response.
"So when you come into our auditorium, 99 percent of COVID is gone, killed, if it was there in the first place" said church pastor Luke Barnett in the video. "You can know when you come here, you'll be safe and protected. Thank God for great technology and thank God for being proactive."
The church holds at least 22,500 people, though it's unclear if the church will be operating at reduced capacity for Trump's visit.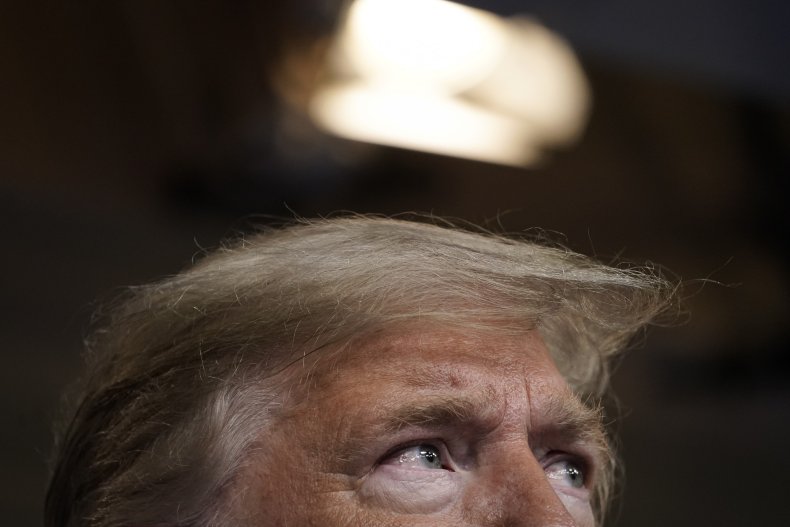 Since May 26, Arizona has experienced a dramatic uptick in COVID-19 cases, going from roughly 200 to 400 cases a day to 3,246 new cases on June 19, the state's highest-ever daily toll for newly confirmed cases. As of June 22, Arizona has had 54,586 cases and 1,342 related deaths. Maricopa County, the county containing Phoenix, has reported the most cases and deaths of the entire state.
Churches have proven a thorny battleground for states during the coronavirus epidemic, creating a church-versus-state battle over the First Amendment's promise to free exercise of religion and the state's power to protect public health.
Numerous churches have re-opened nationwide in defiance of state and local shutdown orders. Arizona has allowed its own churches to reopen. Republican Governor Doug Ducey's stay-at-home order never required the state's churches to close though many halted or reduced services as coronavirus case numbers continued to rise.
Update (6/23/2020, 9:55 p.m.): This article has been updated to include a statement from Clean Air EXP.