Megachurch Pastor Slams Trump's Immigration Comments. Are Evangelicals Turning Their Backs on Trump?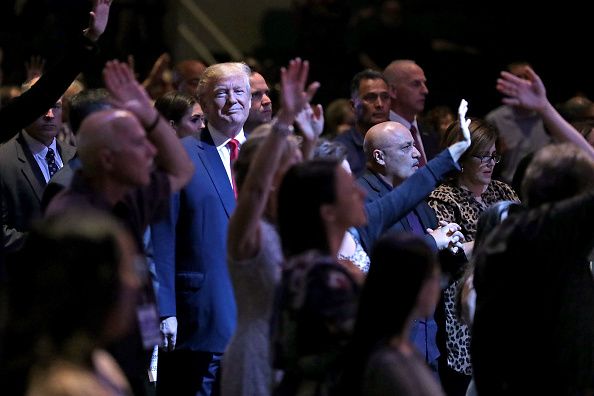 Megachurch pastor Jentezen Franklin, a member of President Donald Trump's evangelical advisory council, slammed Trump's recent comments about immigration after the president reportedly called nations like Haiti and El Salvador "shithole countries."
"I don't agree with what the president said this week. It was wrong what he said….There's no nations that are trash, and I'm putting it kind what he said. There's no people in those nations that are worthless and trash," Franklin said during his sermon on Sunday.
Related: Trump will start the end of the world, claim evangelicals
During a meeting about immigration policy in the Oval Office last week, Trump reportedly asked why people from "shithole countries" are allowed to come into the United States. The president later denied making the comments after sustained backlash, but that didn't stop some religious leaders from criticizing his rhetoric.
Reverend Samuel Rodriguez, another member of the evangelical advisory board, also spoke out publicly against the comments.
"With great due deference, I believe that the comments attributed to our president can best be described as wrong, inappropriate, and hurtful. Why? Because when God looks at these nations, He sees His children," Rodriguez said.
Evangelicals overwhelmingly supported Trump during the 2016 presidential elections, and polls show that today over half of all evangelicals still support the president. Trump's position on issues like abortion and religious liberties made him a favorite among conservative Christians despite the fact that his own language and behavior often runs against Christian values. But Trump's comments were controversial enough to draw the wrath of people who would traditionally make up his base of supporters.
"Your pro-life argument rings hollow if you don't have an issue with this xenophobic bigotry," Baptist pastor Earon James tweeted Friday.
Still, some evangelical supporters defended the sentiment behind Trump's comments despite the harsh language that cloaked it.
"Apart from the vocabulary attributed to him, President Trump is right on target in his sentiment," Texas pastor Robert Jeffress, a regular defender of Trump, said in a statement.
"As individual Christians, we have a biblical responsibility to place the needs of others above our own, but as Commander-in-Chief, President Trump has the constitutional responsibility to place the interests of our nation above the needs of other countries," he continued.