27 Church Members Arrested for Blocking ICE Arrest of Undocumented Immigrant While Singing 'Amazing Grace'
Twenty-seven members of a North Carolina church were arrested on Friday while blocking an Immigration and Customs Enforcement van while agents arrested an undocumented immigrant, The Washington Post reported.
Durham resident Samuel Oliver-Bruno, 47, had an appointment with Citizenship and Immigration Services in Morrisville on Friday. When he arrived for a meeting, where he thought he would merely be fingerprinted, plainclothes ICE officials tackled Oliver-Bruno and his 19-year-old son.
The more than 100 people who had gathered in support of Oliver-Bruno ran toward the building's back door to meet law enforcement officials. The supporters encircled an ICE van, singing "Amazing Grace."
Daniel Oliver-Perez faces charges of assaulting a government official for trying to stop his father's arrest.
Oliver-Bruno, a Mexican who first came to the country in 1994 and returned to Mexico in 2011 before coming back to the U.S. to obtain medical treatment for his wife's lupus, had been living in a classroom in the basement of the CityWell United Methodist Church for 11 months.
His permission to stay in the U.S. ended in November 2017. While in the church, he could not be arrested by immigration enforcement authorities.
ICE initially published a statement referring to Oliver-Bruno as a convicted criminal, according to WTVD. The agency later said that the detained man had only been convicted for a misdemeanor, which he received in 2014 when illegally crossing into the country.
David Price, the House representative for the state's 4th Congressional District, tweeted that he and fellow congressional representative G.K. Butterfield had been told that ICE would not deport Oliver-Bruno before his claim is resolved.
"This weekend, @GKButterfield & I secured a commitment from @ICEgov not deport Samuel Oliver-Bruno until his deferment claim is heard. But the circumstances of his arrest & detention are unacceptable, & I'm continuing to contact top DHS officials for his immediate release," Price tweeted on Monday.
Price and Butterfield previously criticized the arrest of Oliver-Bruno, writing that "Samuel's sudden and inappropriate arrest in the middle of the Thanksgiving season reflects the callous and cruel approach we've come to expect from the Trump administration. As Members of Congress representing the Durham community, we will continue to do everything in our power to keep the Oliver-Bruno family together." They also expressed concern that ICE may have coordinated with USCIS to have Oliver-Bruno arrested when he appeared to talk about his deferred deportation.
"What ICE has done is absolutely reprehensible," Butterfield said. "Mr. Bruno was a law-abiding person. The offense he is charged with is being in the country illegally."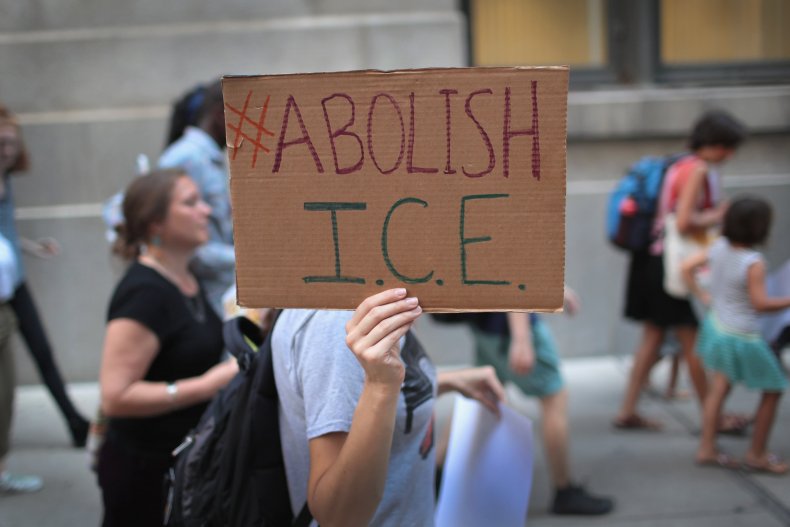 Oliver-Bruno's case is not unique, though. While, before Trump's presidency, most undocumented immigrants met with ICE agents without fear of deportation, they now worry they will be detained and removed from the country when conducting routine check-ins with law enforcement, according to The New York Times.
"His immigration case has already received extensive appeals," ICE spokesman Bryan Cox told Newsweek. "Mr. Oliver-Bruno is a convicted criminal who has received all appropriate legal process under federal law, has no outstanding appeals, and has no legal basis to remain in the U.S."
USCIS spokesman Michael Bars told Newsweek the agency does not comment on specific cases with ongoing litigation but "USCIS is committed to adjudicating all petitions, applications and requests fairly, efficiently, and effectively on a case-by-case basis to determine if they meet all standards required under applicable law, policies, and regulations."