Church Puts Baby Jesus in Cage for Nativity Scene to Comment on Trump Immigration Detention Policy
A Massachusetts church placed a baby Jesus doll in a metal cage to provoke discussion about immigration policy, CBS Boston reported. The St. Susanna Parish in Dedham also used a "fence-like barrier" to separate the three wise men from Mary and Joseph, according to to The Boston Globe.
Worshippers placed a sign reading "Peace on Earth?" above the scene, which was set up over the weekend to note Advent Sunday.
"We thought we would kind of put a mirror image of what it would look like if this happened 2,000 years ago," Father Stephen Josoma told The Boston Globe. "It's kind of a mirror image of where we are at today."
Josoma commented on the use of tear gas to prevent migrants from crossing into the U.S. "It's hard to say we are a people of peace when we are sending soldiers with tear gas to stop people," he said, adding that he didn't think of the decoration as a protest against Trump. Instead, he said, he thought of it as, "a nudge to people of good will."
Josoma said that some did not initially understand the display. "Some people look at it and can't figure out why the child is in the container."
The church has a Pax Christi committee that "seeks to educate the community on matters related to peace and justice issues including war, torture, the environmental degradation of our world, and human rights and to bear witness to the hope of the gospel by bringing prayerful attention and courageous, loving resistance to those things that are disharmonious with God's Kin-dom."
Last year, the congregation used its nativity display to stimulate conversation about mass shootings. Signs bearing the names of shooting locations and the number of victims in the attack were placed above baby Jesus, Mary and Joseph in the 2017 decorations.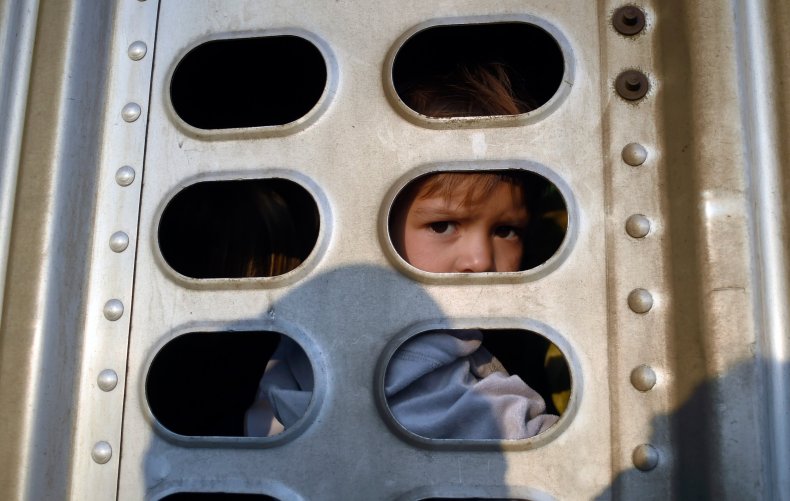 The president has made immigration policy a central focus of his presidency, but his hard push to stop undocumented migrants from entering the country has faced widespread opposition.
Amnesty International said more than 6,000 family separations have taken place in 2018. More than 12,800 migrant children were in detention centers as of September, according to The New York Times.
Policy makers from both parties have criticized the separation of children from their parents. "What the administration has decided to do is to separate children from their parents to try to send a message that if you cross the border with children, your children are going to be ripped away from you," Maine Senator Susan Collins,a Republican, said in June, according to CBS News. "That's traumatizing to the children, who are innocent victims."