Church Protecting Refugees From Deportation by Holding Nonstop Service for Six Weeks in Netherlands
A church in the Netherlands has been holding a nonstop service for six weeks in a bid to protect a refugee family from deportation.
The Bethel Church located in The Hague turned to an obscure Dutch law, which blocks police from interrupting church services to make arrests, in order to shelter the Tamrazyan family from being forcibly returned to Armenia, The New York Times reported on Monday. In 2010, the family—both parents and their three children—relocated to the Netherlands after the father fled Armenia due to political reasons.
Despite the family's multiple attempts to legally remain in the country, the Dutch government pushed for their deportation. Its efforts were initially blocked, but it finally succeeded in denying the family asylum. However, as long as the church service continues and the family remains inside, authorities cannot legally carry out the deportation order.
"I'm not religious, but when I heard about this, I said to my husband, 'Don't be shocked, but I want to go to church,'" said Florine Kuethe, a public relations consultant who agreed to help the church deal with media interest, told the Times. "This type of thing makes the church relevant again."
The service will continue "as long as necessary," Theo Hettema, chairman of the General Council of Protestant Ministers in the Netherlands, told CNN. "We want to love God and our neighbor. And we thought that this was a clear opportunity to put the love for our neighbor into reality."
Initially, the nonstop service was led by just a few ministers, with some preaching all night. However, it quickly grew into a national movement, with pastors from across the country volunteering to take shifts to keep the program going. Now the church is struggling to schedule in all the clerics who want to participate.
Hayarpi Tamrazyan, who at 21 is the family's eldest daughter, told CNN that she was "incredibly happy and grateful to all volunteers."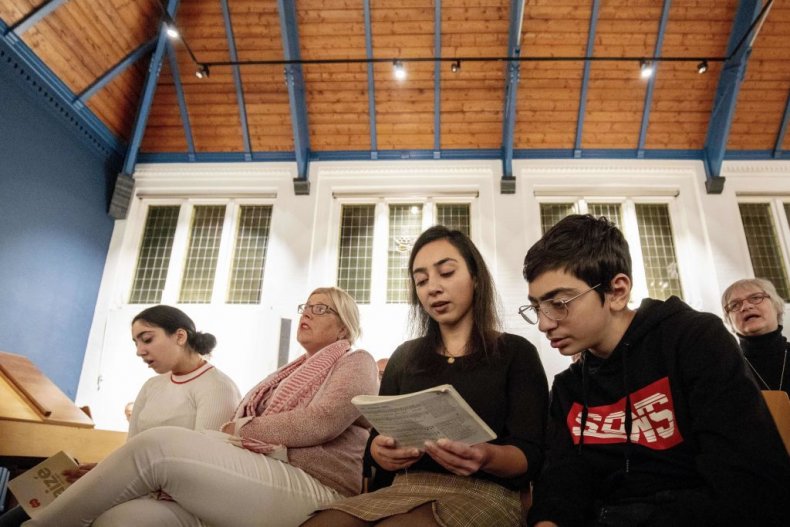 Although the country's right-wing government said it did not plan to rescind the deportation order, the religious leaders don't plan to end their service. National leaders of the Protestant Church in the Netherlands have officially endorsed the service.
"It's about practicing what we preach," participating Pastor Jessa van der Vaart told the Times.
The movement in the Netherlands stands in stark contrast to the views espoused by white evangelical Protestants in the United States. A study released at the end of October by the Public Religion Research Institute found that a slight majority of the religious group was in favor of passing a law preventing refugees from entering the U.S. Fifty-seven percent of white evangelicals also believed that immigrants threaten American society.