Roy Moore Is Like Jesus Because Both Were Falsely Accused, Alabama Church Says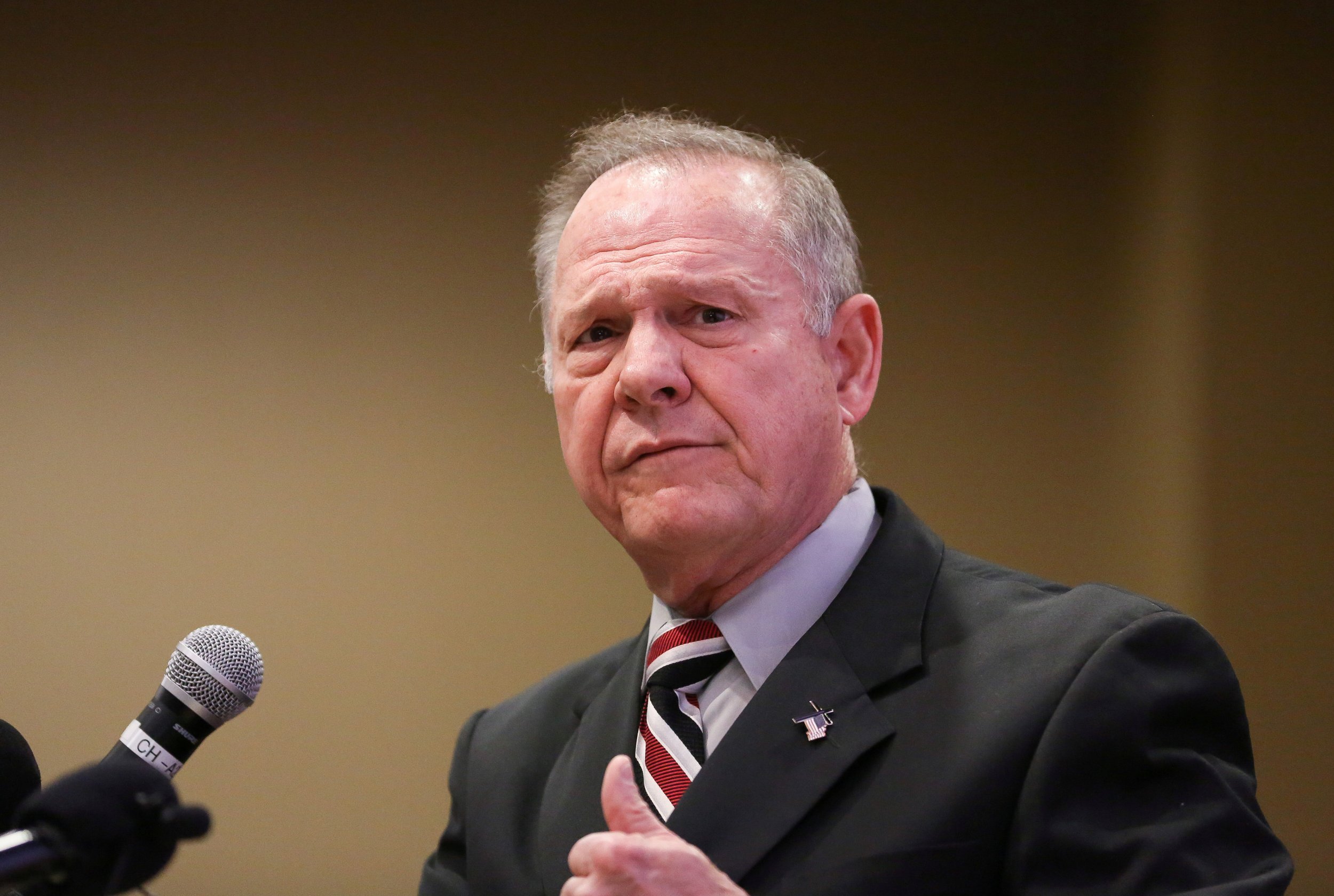 An Alabama church came under fire this week for endorsing Republican Senate candidate—and alleged child molester—Roy Moore and comparing him to Jesus.
The Living Way Ministries Church in Opelika, Ala., was bombarded with angry phone calls for hanging a sign outside of its church reading, "They falsely accused Jesus. Vote Roy Moore," a local station reported.
Eight women have accused Moore of sexual misconduct against them when they were teens, with one saying she was only 14 when Moore, then 32, tried to seduce her. Another woman claims to have had an ongoing relationship with Moore when she was 17 and he was 34. On Monday, another woman accused Moore of pursuing her when she hadn't yet graduated from high school, the Washington Post reported.
Moore has maintained his innocence and refused to drop out of the Senate race. President Donald Trump, who has also been accused of sexual misconduct, endorsed Moore on Monday, and the Republic National Committee followed with its own endorsement.
The church's endorsement—which explicitly states that Moore is falsely accused like Jesus Christ, who was accused of treason against the Roman empire—put it in the crosshairs of protesters, who say the church should be stripped of is tax-exempt status because it openly expressed support for a political candidate. According to the Internal Revenue Service, churches and other religious institutions are prohibited from participating in political campaigning or supporting a specific candidate.
Republicans have long sought to overturn that restriction, known as the Johnson Amendment, which barred political actions by tax-exempt churches. It is unclear if the repeal of the 1954 law made it into the final GOP tax bill, but Trump has called repeatedly for its repeal.
"Trump's insistence on mixing politics and religion rings un-American, too, as our founding fathers had the wisdom to cement the distance between religious worship and the nation state in the Bill of Rights," columnist Fabiola Santiago wrote in the Miami Herald.
"Throughout the ages, religion has been one of the deeply rooted causes of war, genocide and persecution. Why would the United States in the 21st century want to open that retrograde, dangerous, and divisive door?"
A church official told local media that a pastor had asked for the sign to be removed two days after it was placed in front of the church. Representatives of the Living Way Ministries Church did not immediately respond to requests for comment.
"The phone has been ringing off the hook from protesters," WHNT News reported.