U.S. Churches Hold Public Sunday Services Despite Coronavirus Outbreak: 'This is Dangerous'
Multiple churches across the U.S. reportedly chose to ignore social distancing guidelines in favor of in-person services yesterday, citing exceptions for religious institutions in state restrictions that are currently being enforced on the public in an attempt to limit the spread of COVID-19.
While some churches have followed the advice from state officials and transitioned their services to a digital-only streaming format, others have seemingly chosen to continue with traditional worship.
COVID-19, an illness caused by a new coronavirus, spreads by person-to-person contact and authorities urge citizens to avoid crowded places and keep distance from others.
The Solid Rock Church in Warren County, Ohio, was one religiously institution that remained open to the public on Sunday and held religious services both in the morning and evening, the Journal News reported.
"We are open! Thankful the governor hasn't placed restrictions on churches. Join us today! If you can't make it or aren't feeling well, watch us online," it said on Facebook.
According to the newspaper, a live-stream of one service showed a choir standing to attendees, and some people who were speaking from the stage during the proceedings appeared to be sharing microphones. The social media announcement has since attracted 2,800 comments, and a lot of criticism.
"Loving your neighbor means not killing them. No one is impressed with your perceived holiness, because it isn't actually holy. It's reckless," one Facebook user wrote under the post.
Another user added: "I have faith, I pray, but I also believe in common sense and precaution. You can do all this from home without putting anyone at risk, like other churches are doing."
Ohio Governor Mike DeWine this weekend released a "stay at home" order that forced an end to all non-essential business operations. The order said that citizens should "at all times and as much as reasonably possible maintain social distancing of at least six feet from any other person."
For now, DeWine conceded that churches were exempt from the order. But he stressed that does not mean citizens should flock to religious events without being aware of the risks.
"We did not order religious organizations to close, but my message to EVERYONE is that this is serious," the state's governor wrote on Twitter yesterday. "When you are coming together, whether in a church or wherever - this is dangerous. We have the ability to do religious services in other ways. I implore religious leaders to think about their congregations. Gathering in groups is dangerous."
The U.S. Centers for Disease Control and Prevention (CDC) has consistently said that physical or social distancing is a primary method of preventing the spread of COVID-19.
But the Miracle Missions Full Gospel in New York was also appeared open for business yesterday - despite warnings in the state that non-essential gatherings were being banned. According to The Buffalo News, the church's Sunday service at 406 Sycamore Street yesterday attracted up to 25 people.
Pastor Zandra Lewis told the newspaper: "We worry about it. But being a person who stands on the faith and promises and trust in God, we feel like we are covered and protected by the Lord." While most attendees stayed apart, one prayer session reportedly had eight people holding hands.
New York Governor Andrew Cuomo said that all non-essential businesses in the state would be closing indefinitely from 8 p.m. Sunday, but pharmacies and grocery stores would remain open.
Again, churches were exempt. The order noted: "Houses of worship are not ordered closed however it is strongly recommended no congregate services be held and social distance maintained."
In Charlotte, North Carolina, WBTV reported that the United House of Prayer church attracted more than 20 people at around noon on Sunday. The car park appeared full of vehicles.
A church representative told the outlet about 10 to 15 people held a band practice in the building. He said that some people had parked their cars at the church before heading to a service in Florida.
The Mecklenburg County Public Health has had a limit on gatherings of more than 50 people since March 16, but the order explicitly states "places of worship" are not included in the definition.
The CDC guidance on COVID-19 containment that has been in place since March 16—state exemptions or not—has been clear: "All U.S. events of 10+ people should be canceled or held virtually."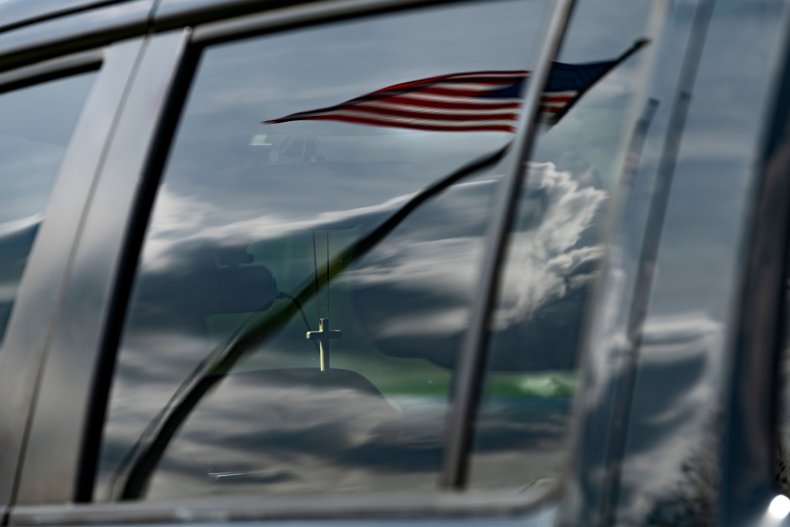 World Health Organization advice for avoiding spread of coronavirus disease (COVID-19)
Hygiene advice
Clean hands frequently with soap and water, or alcohol-based hand rub.
Wash hands after coughing or sneezing; when caring for the sick; before; during and after food preparation; before eating; after using the toilet; when hands are visibly dirty; and after handling animals or waste.
Maintain at least 1 meter (3 feet) distance from anyone who is coughing or sneezing.Avoid touching your hands, nose and mouth. Do not spit in public.
Cover your mouth and nose with a tissue or bent elbow when coughing or sneezing. Discard the tissue immediately and clean your hands.
Medical advice
If you feel unwell (fever, cough, difficulty breathing) seek medical care early and call local health authorities in advance.
Stay up to date on COVID-19 developments issued by health authorities and follow their guidance.
Mask usage
Healthy individuals only need to wear a mask if taking care of a sick person.
Wear a mask if you are coughing or sneezing. Masks are effective when used in combination with frequent hand cleaning.
Do not touch the mask while wearing it. Clean hands if you touch the mask.
Learn how to properly put on, remove and dispose of masks. Clean hands after disposing of the mask.
Do not reuse single-use masks.