Former CIA Director Agrees Donald Trump Is a 'Clear and Present Danger' to U.S. National Security
John Brennan, former director of the CIA, on Tuesday agreed with an assessment that President Donald Trump presented a "clear and present danger" to the United States's national security.
On his show Tuesday, MSNBC host Chris Hayes asked Brennan if he agreed with former Department of Justice counterintelligence head David Laufman, who assessed that Trump was a "clear and present danger" to U.S. national security.
"I know David Laufman well. I worked with him for many years and have tremendous respect for his intellect as well as for his judgment," said Brennan. "A number of people have been saying for quite some time that the actions, and the policies, and the statements that Mr. Trump has been making undermine our national security. So I think David Laufman brought it together in a very crisp and succinct way."
Hayes followed up by pressing for a more direct answer. "So you don't think he's wrong?" the host asked.
"I don't think he's wrong at all, no," Brennan said. "If Donald Trump is thinking about taking the United States out of NATO, the organization that the United States and our European allies have, in fact, formed in order to prevent the Soviet Union's expansion for so many years, and now stands in the way of Russia moving westward. This is something that is just totally mind-blowing, that the president of the United States would actually entertain this notion."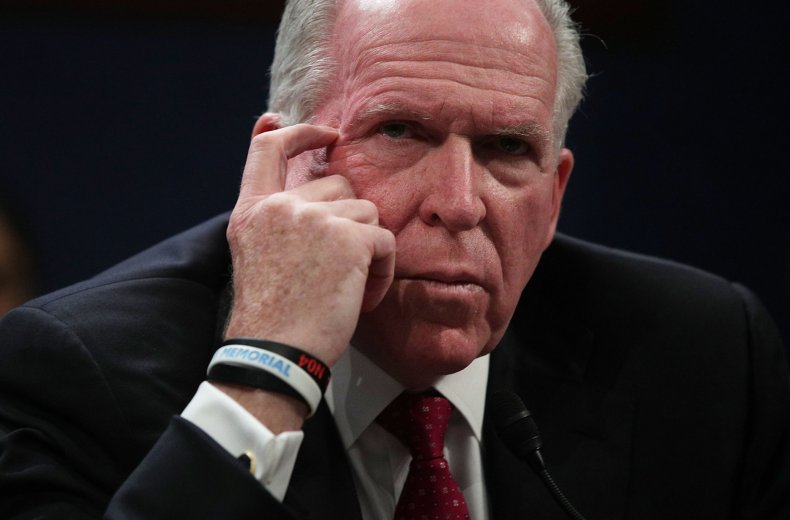 Laufman had earlier told MSNBC host Rachel Maddow that he felt a "moral obligation" to speak out when a Washington Post article reported that Trump had concealed notes and details from a meeting with Russian President Vladimir Putin.
"The notion that the president of the United States would be trying to conceal the details of conversations with the leader of our principal foreign adversary was positively chilling," Laufman said.
Trump pushed back against the idea that he was working for Russia, which, The New York Times reported, had been the subject of an FBI inquiry.
"I never worked for Russia," he said to reporters Monday. "And you know that answer better than anybody. I never worked for Russia. Not only did I never work for Russia, I think it's a disgrace that you even asked that question because it's a whole big fat hoax. It's just a hoax."