New CIA Footage Shows Osama bin Laden's Son Is New Face of Al-Qaeda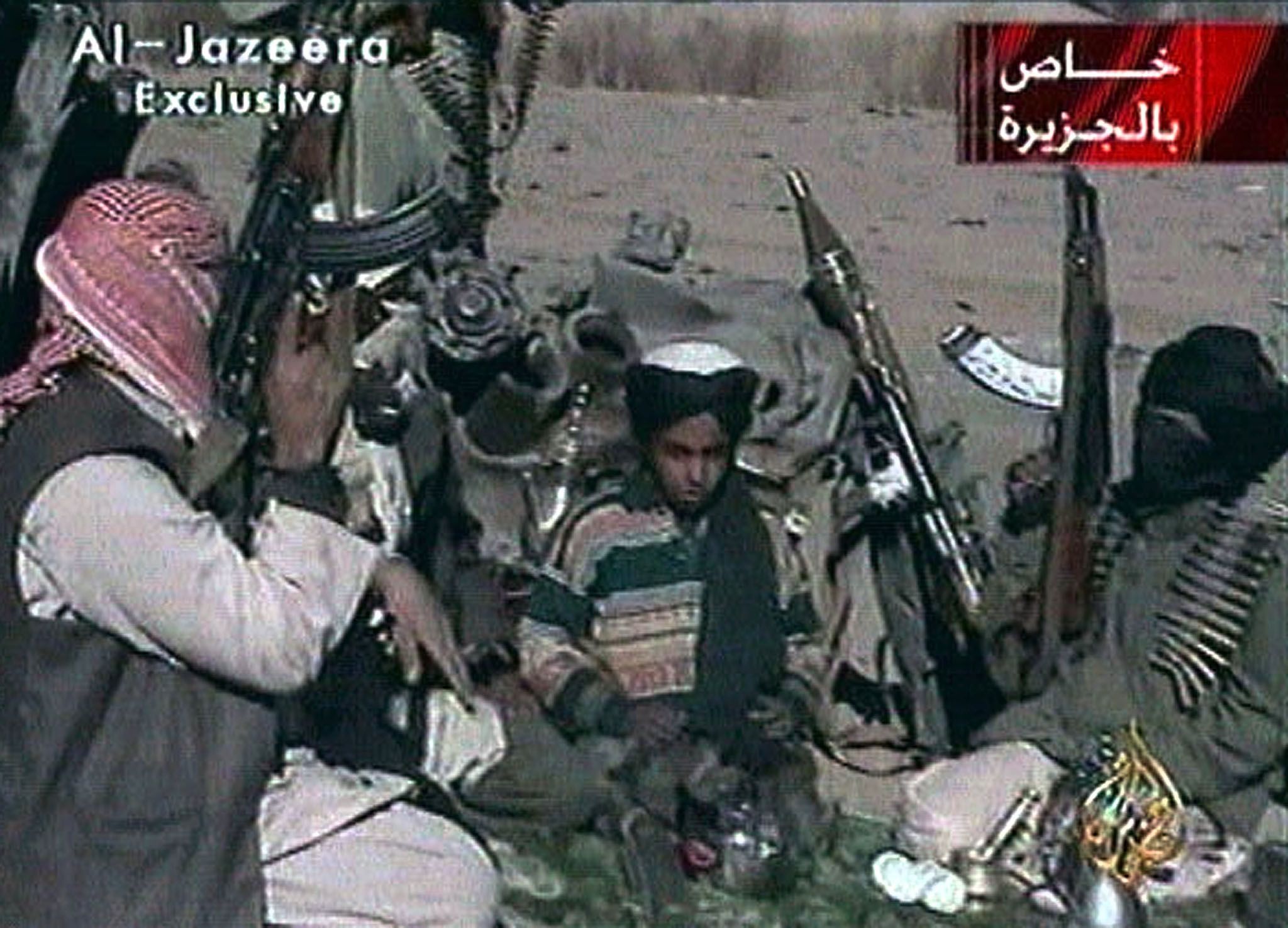 The face of an adult Hamza bin Laden, the favorite son of terrorist mastermind Osama bin Landen and Al-Qaeda's rising star, was seen in new footage released Wednesday by the CIA.
Hamza has taken an active role in Al-Qaeda's propaganda efforts in recent years but had remained hidden from public view. He bears a striking resemblance to his father. The videos released by the CIA show a young man groomed by the terrorist organization's top leadership to take over his late father's role as a mastermind of extremism and propaganda.
The video is part of a large collection of materials taken during the raid on Osama bin Laden's compound in 2011. The Foundation for Defense of Democracies is now analyzing the videos and documents released by the CIA.
"In the video it is very clear that he's being groomed for senior leadership," Bill Roggio, a senior fellow at the foundation, told Newsweek. "He is accompanied by several top Al-Qaeda leaders in this video; he has the attention of top Al-Qaeda leaders. It's the first time we see him as a young adult."
Hamza's mother, Khairia Sabar, was bin Laden's favorite wife. She was an adviser who helped the terrorist leader craft many of his long propaganda speeches. The progeny of these two Al-Qaeda luminaries is now set to become a millennial leader who could possibly unite the global jihadist movement, experts say.
"After his dad's death [in 2011], Hamza little by little began to release propaganda messages, and now they are calling him 'Sheik,' which is their term for leadership. It's what they called his father," Ali Soufan, CEO of The Soufan Group and author of a book about Hamza, told Newsweek.
Hamza was raised by Al-Qaeda's top leadership while his father was in hiding. His mother, meanwhile, adamantly pushed him to learn the theology behind Al-Qaeda's ideology. Bin Laden asked his advisers to monitor his son, and the feedback he got was excellent.
"Bin Laden was thinking more and more, 'This kid can be something,'" Soufan explained.
Hamza, who is almost 30 years old, has spent the past year releasing audio messages calling on followers to attack Jews, Americans, Westerners and Russians. He also has urged followers to perpetrate lone-wolf attacks using whatever means are at their disposal.
"If you are able to pick up a firearm, well and good; if not, the options are many," Hamza's voice is heard saying in a video released by SITE Intelligence Group.
The video released Wednesday shows Hamza during his wedding to a woman experts say is the daughter of another top Al-Qaeda leader. The wedding took place in Iran in 2009, when Osama bin Laden was still alive, but the late Al-Qaeda leader did not attend the gathering because he was in hiding.
As a child, Hamza often posed for photographs while carrying his father's weapons and engaging in militant training. He was reportedly with his father when the September 11, 2001 attacks took place.