The CIA's official Twitter account posted an advertisement Friday for recruits who have knowledge of the Russian language, and the internet's reaction was mixed at best.
The tweet featured a stock photo of a man holding a sign that read "Do you speak Russian?" in Cyrillic. The text read, "It's all about what you know! Do you know Russian? Are you an US [sic] citizen with a college degree? Do you have an interest in serving your country?"
It then called on those interested to visit the CIA's official careers website "to explore and apply for career and student opportunities!"
Many responded to the tweet with ridicule. Some users targeted the post's grammar, pointing out the incorrect use of "an" rather than "a" in front of "U.S. citizen." One commentator pointed out that the usage of the article might be different in the U.K., but another user, apparently from London, wrote, "Nah that's still wrong here in the UK."
Related: U.S. and Russia Military Came 'Close' to Fighting Each Other in Syria, Assad Says
Ilya Remeslo, a lawyer at the Civic Chamber of the Russian Federation, mockingly suggested that the job would be perfect for Leonid Volkov, chief of staff for Russian opposition member Alexei Navalny's failed 2018 presidential campaign. Russian President Vladimir Putin's supporters have accused Navalny of being linked to the CIA, and he has been arrested for stirring up opposition activities on several occasions.
At least a handful of users responded positively, however. Some offered their services in tweets written in English and Russian, and a number said they would love to help but could not because they were not citizens.
The U.S. and Russia have a long history of recruiting each other's citizens to conduct deep espionage, and the current atmosphere of relations is not unlike the Cold War that fueled much of the world's most prominent spy-versus-spy action.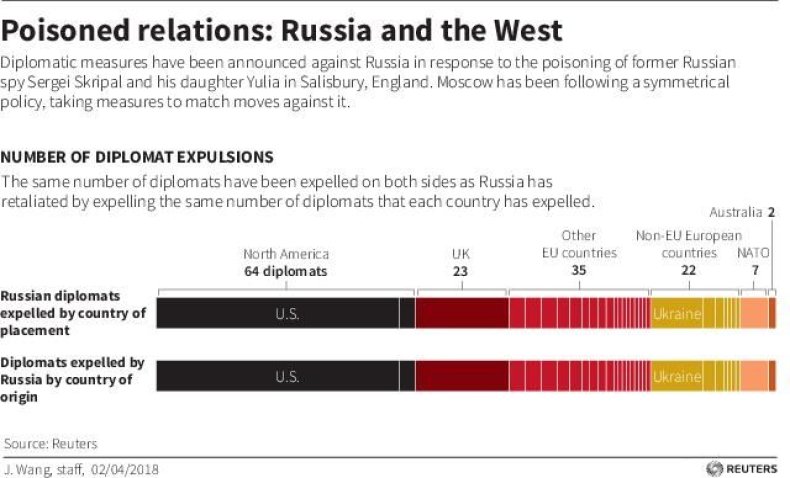 Putin and President Donald Trump initially sought to reset the two powers' relationship, marred by geopolitical competition, but allegations that Trump's campaign colluded with the Kremlin to secure his 2016 presidential victory have distanced the two, as have competing military campaigns in Syria and conflicting views over the security situation in Europe.
After an incident in which the U.K. accused Russia of poisoning Sergei Skripal, an ex-Soviet double agent in Salisbury, a number of Western governments and their allies expelled scores of Russian diplomats, some of which they accused of being spies. Moscow took retaliatory measures, expelling the same number of personnel.
In a speech addressed to the St. Petersburg International Economic Forum last week, Putin warned that Washington and Moscow "must normalize relations and rebuild trust, or else the element of force is the only thing that remains, and this might lead to tragedy."