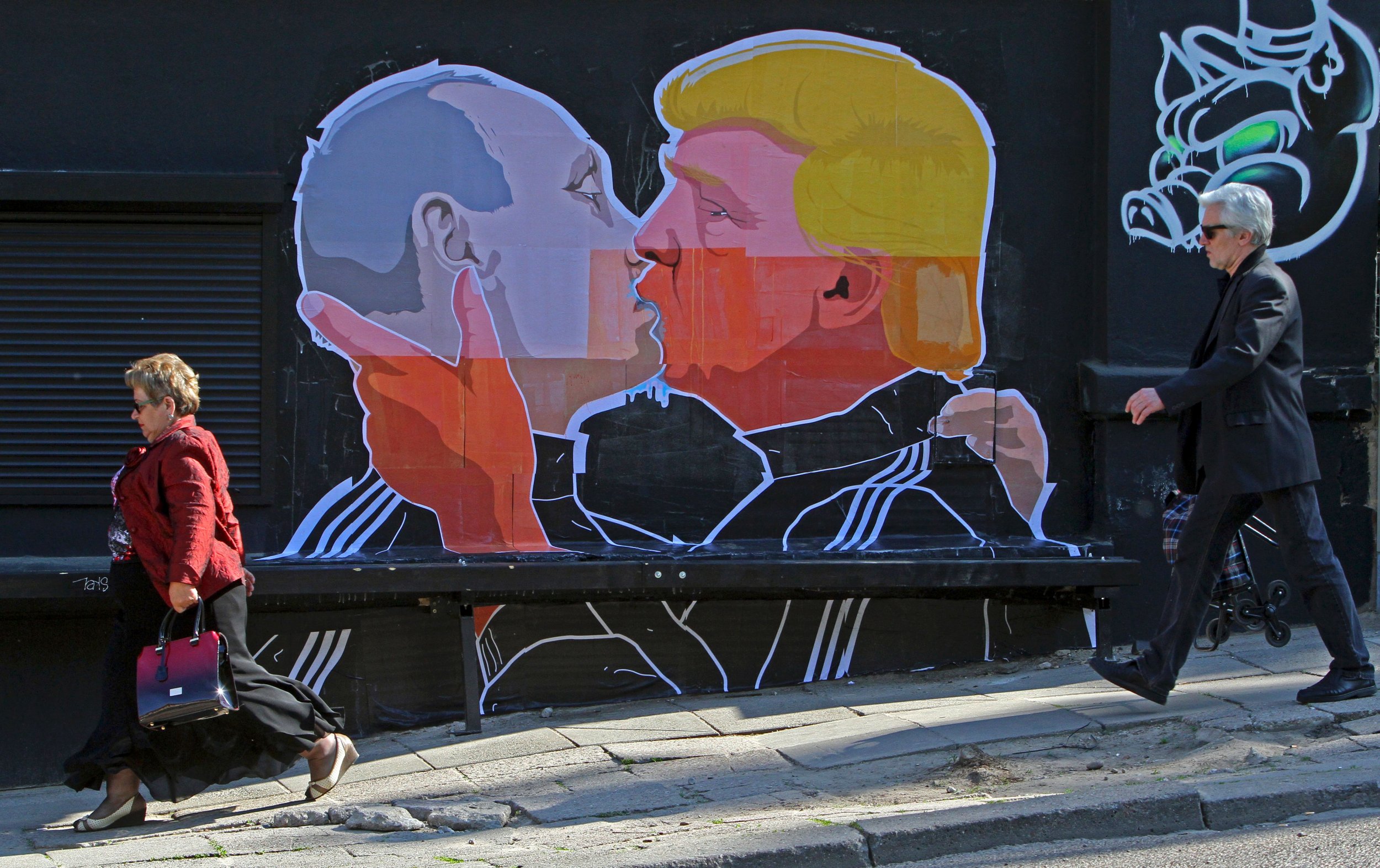 Updated | CIA veterans—none of them fans of Donald Trump–are urging caution about leaked allegations that Russia waged a secret campaign to put the New York Republican into the White House.
"I am not saying that I don't think Russia did this," Nada Bakos, a top former CIA counterterrorism officer tells Newsweek, in a typical comment. "My main concern is that we will rush to judgment. The analysis needs to be cohesive and done the right way."
Reports on the alleged Russian effort have been anything but cohesive, or complete. During a closed-door briefing to the House Intelligence Committee last week, a senior FBI counterintelligence official reportedly scoffed at the CIA's conclusion that Russia had plotted to put Trump in office, calling the evidence "fuzzy" and "ambiguous." Details of the meeting were leaked to The Washington Post.
Related: Trump Dismisses CIA Report That Russia Tried to Help Him Win the Election
Another former senior official, who said he was reluctant to go on the record on "something that has obviously been politicized," tells Newsweek that he, too, is wary of reports that CIA knows for certain that the Kremlin designed a hacking campaign with the specific goal of electing Trump, as opposed to just damaging Hillary Clinton, a hawk on Russia. In order to know Moscow's intentions, he said, U.S. intelligence would have to have more than cyber-tracks showing Russia's spy services transferred emails it stole from the Democratic National Committee to WikiLeaks, the whistleblower group led by Julian Assange.
It would need, he said, a mole in the bowels of the Russian spy services or ruling circles. "Let's assume the agency was able to pinpoint Russian hackers as those responsible for stealing the emails, and also let's assume those Russian hackers were working for Russian intelligence," said the former CIA official, a top intelligence analyst. "OK, then let's assume there is solid proof that Russian intelligence directed hackers passed the information to WikiLeaks/Assange. Even if all that is true, how would the CIA determine the Russian motivation for passing the information? That would presumably require a human agent behind the curtain with certain knowledge of Putin's thinking and intentions."
The Washington Post reported on Friday that U.S. "intelligence agencies have identified individuals with connections to the Russian government who provided WikiLeaks with thousands of hacked emails from the Democratic National Committee and others, including Hillary Clinton's campaign chairman, according to U.S. officials." The Post said "the CIA's presentation fell short of a formal U.S. assessment produced by all 17 intelligence agencies."
Some critics fingered CIA Director John Brennan for leaking the agency's briefing to damage Trump, or even deny him the White House. "Either we need a new election or hang Brennan for putting out disinformation," former CIA operative Robert Baer told Newsweek.
"Brennan seems determined to make a political statement, which is improper for a DCIA, who should maintain scrupulous objectivity and non-involvement in policy matters," said a former senior CIA official who asked for anonymity.
Former acting CIA Director John McLaughlin says that's unfair. "None of us know anything about the circumstances, so that's a cheap shot that someone is taking at Brennan. He doesn't do that sort of thing." Russia analyst Mark Galeotti, a former advisor to the British Foreign Office and State Department, agrees. "The accounts are giving it a more partisan 'Moscow wanted Trump' spin that probably sits badly with both the professional punctiliousness and political interests of Brennan and the like," he said.
The CIA was feeling battered, a knowledgeable intelligence official tells Newsweek. "We're at the center of a class five political hurricane and have been doing everything possible to ensure we are completely nonpartisan and objective," he said in exchange for anonymity to discuss the current chaos, "knowing that anything we say or do will be spun by individuals on both sides of the aisle."
The president-elect has mocked U.S. intelligence findings that the Russians hacked into the Republican National Committee as well as the Democrats "It could be Russia," he recently told Time. "And it could be China. And it could be some guy in his home in New Jersey." He also knocked the CIA, tweeting that: "These are the same people that said Saddam Hussein had weapons of mass destruction." It was time to "move on," he said.
Signs are that's not going to happen anytime soon.
Bakos, a 10-year CIA veteran who worked through a political storm over Iraq intelligence after the September 11 , 2001 terrorist attacks, appealed for a thorough investigation where all the evidence can be examined.
"For the collective good of the American people," she wrote in a stream of tweets starting Friday, "a thorough Intel Community assessment or NIE should be drafted immediately." An NIE, or National Intelligence Estimate, is a deep investigation by multiple spy agencies, led by the CIA, on critical issues facing the United States. They are often the product of intense internal fights and can trigger huge controversy, such as the National Intelligence Estimate on Iran's nuclear program. Paristan leaks often follow.
Bakos, a key member of the CIA team charged with analyzing the relationship between Iraq, Al-Qaeda and the 9/11 attacks, said the public should be cautious about reports citing leaked intelligence from anonymous officials. Ill-founded and false reports–that Iraq possessed chemical and biological weapons and had acquired yellow-cake uranium for a nuclear bomb– she reminded readers, were used by the George W. Bush administration to justify the invasion of Iraq.
"As we all learned from the Iraq war," she tweeted, "there is more to the story than one nugget of yellow cake or intel, that's why an NIE is important." She invited readers to explore the Senate Intelligence Committee's 2004 report on how CIA intelligence was manipulated and misused.
"We have been down this road with lessons learned, use them," she added. "I would also caution if anyone in power says, 'I read the raw intel and it is (or is not) true,' that isn't the whole story."
The problem for Democrats, as well as Republicans worried about Trump's flippant dismissals of U.S. intelligence on covert Russian operations, is that there isn't much time for a definitive report that could affect the December 17 electoral college vote. In January, Trump's picks for key security posts–in the White House, Defense and Justice departments, CIA and NSA–will take office. If his past statements are any guide, he will have no interest, and could actually shut down, any more investigations of Russian meddling in the election.
For months now, leading Democrats have been pressing the Obama administration to release details behind the conclusion of U.S. intelligence, made in an unusual joint statement by Homeland Security Secretary Jeh Johnson and Director of National Intelligence James Clapper in October that "the Russian Government directed the recent compromises of e-mails from US persons and institutions, including from US political organizations." Neither that statement nor The Post's story on Friday named any Russian officials.
On Saturday, Representative Adam Schiff of California, top Democrat on the House Intelligence Committee, appealed for the Obama administration to go further.
"It's my hope," he said in a statement, "that it will declassify as much as possible, while protecting sources and methods, so the review's findings can be shared with the public."
Read more from Newsweek.com:
-How Vladimir Putin is Using Donald Trump to Advance His Goals
-Did Russia Help Trump Win the 2016 Election? The CIA Thinks So
-Donald Trump's Russia Dilemma
Correction: A previous version of this story referred to John McLaughlin as acting director of the CIA. He is the former acting director. This story has also been updated to add a comment from an anonymous CIA official.